---
---
Date produced: 1936
Filmmaker(s):
Description:
"In China's Gifts to the West, we have what may be termed a tour de force of cinematic cutting. The most interesting part of the film is made up of a series of beautifully composed and photographed "stills," but the duration of each of these shots is so carefully timed that the entire sequence is fused into a relationship which conveys a distinct impression of cinematic motion — perhaps not "motion" in the ordinary sense of physical activity, but rather the deeper and more fundamental activity of the mind as it contemplates, one after the other, the various ideas which make up the unity of a conception. This has been accomplished by Mr. Space in his excellent choice of illustrations, which are projected into the mind in exactly the right order and appearance. Beside this purely cinematic achievement, the maker of the film is to be congratulated on his excellent taste in selecting and displaying objects of art to the best advantage. The photographic technique employed in producing closeups and ultra closeups of fabrics, china and other materials is undeniably pretty close to perfection." Movie Makers, Dec. 1936, 551-552.

"A Chinese and an American boy find China's products in the latter's home." The Educational Screen, Jan. 1946, 23.
---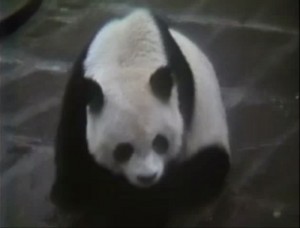 Date produced: 1985
Filmmaker(s):
Description:
"In September 1985, Robbins Barstow and his wife Meg, of Wethersfield, Connecticut, USA, went on a four-week tour of China. This personalized travelogue includes visits to Shanghai, Beijing, the Great Wall, Xian, Guilin, and a cruise down the Yangtze River." Archive.org
---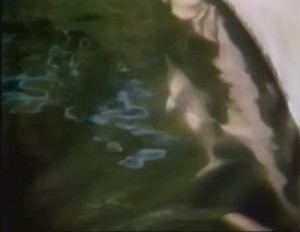 Date produced: 1985
Filmmaker(s):
Description:
"In December 2006, scientific researchers announced that a species of dolphin which had existed for millions of years in the Yangtze River in China had become extinct. This documentary includes scenes of the last living, captive specimen of the Chinese River Dolphin, filmed in Wuhan, China, on a 1985 trip by Dr. Robbins Barstow, of Wethersfield, Connecticut, USA." Archive.org
---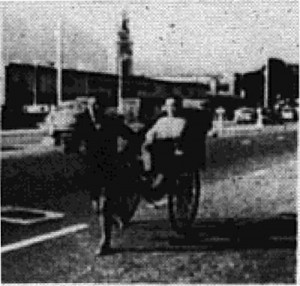 Date produced: 1963
Filmmaker(s):
Description:
"The Hong Kong of today is still one of the most beautiful cities in the world, but under fer facade of sparkling beauty lies poverty, disease, and hunger. Crowded to the point of bursting, housing, sanitation and food cannot keep pace with the stream of humanity pouring into the city. Beautifully photographed, we see the people living their daily lives in make-shift shelters, on sampans, on top of buildings and on every square foot of available space. You can see the hunger and fear in their eyes, yet there is smiling acceptance, with hope for the future. The narrator's voice is full of compassion, yet recognizes the dignity of these work-worn, deprived people. Seeing the children, in their happy innocence and lack of concern for a desperate situation, "Hong Kong can break your heart!" PSA Journal, Oct. 1963, 40.
---
Date produced: 1969
Filmmaker(s):
Description:
"Hong Kong. There have been films and films about Hong Kong, but this one tops them all. Jack Babkes of Brooklyn takes you on a 12.5 minute tour of one of the most interesting spots in the world. Naturally it's in entertaining color, very entertaining otherwise, too. You'll feel that "you-have-been-there" " PSA Journal, Nov. 1969, 57.
---
Date produced: 1939
Filmmaker(s):
Description:
"Tales of doomed and thwarted love are timeless, and this intriguing short film relates a story set in Imperial China. Told to a young couple planning their wedding and marital home, they - and we - learn the tragic tale of Koong-Shee and Chang, her father's servant, as revealed in the traditional pattern on a Willow pattern plate. George Wain, one of the filmmakers, plays the role of the fiancé." (BFI Player)
---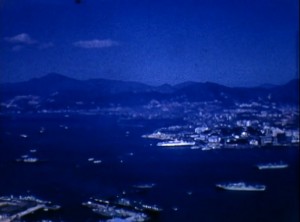 Date produced: 1961
Filmmaker(s):
Description:
"Hansen travels to Hong Kong following his original visit to China in 1937. Initially, he spends much of his time roaming the commercial districts, giving a sense of tourism side of Hong Kong. Immediately following, he spends several minutes focusing on the skyline and captures footage of locations on the outskirts of the city. Hansen then spends the rest of the evening eating at a local cuisine and attending a show. For the remainder of his trip, Hansen shifts his attention from Hong Kong's tourist areas to the residential districts, fishing docks, and rural farming." UC San Diego Library.
---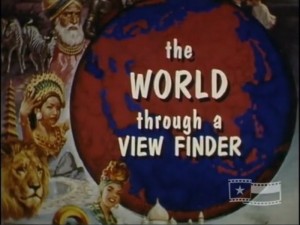 Date produced:
Filmmaker(s):
Description:
"This amateur film captures Edwin and Minnie Mayer's worldwide adventure across Australia, Asia, Africa, and Europe in the 1950s. This segment documents stops in Australia, Japan, Hong Kong, the Philippines, and Malaysia" Texas Archive of the Moving Image.
---