---
---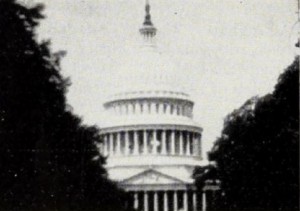 Date produced: 1951
Filmmaker(s):
Description:
"Sometime during the summer of 1950, Fred Evans, L. A.'s genial maestro of 8mm movies, arranged to pick up a new Nash sedan in Grand Rapids, Mich. What better excuse need there be for packing up his two Southern California sons and taking them East to meet the land of their forefathers? Which is exactly what he did in Vacation Highlights of 1950. The lead title is commonplace, perhaps almost banteringly so; but the film footage which follows it is not. Niagara Falls, his native Vermont, Concord, Lexington, New York, Philadelphia and Washington are on the Evans itinerary of American history. There is a rewarding stop at the St. Louis zoo — for its incomparable Sunday shows — and soon the Evans are home again. But not without one final twist to the tale. "Hey, look-out here, Pop!" urges the oldest offspring as he returns from scouting the premises. The family cat, with inimitable feline pride and savoir faire has had kittens." Movie Makers, Dec. 1951, 410.
---
Date produced: 1964
Filmmaker(s):
Description:
"The Visible Woman is an attractive little package about a woman who tries to construct a visible woman. Doesn't sound like much of a theme, does it? But with a parallel in counterpoint between herself and her son, the injection of a cat that at times steals the show, and a real twist at the end, this well lighted and well photographed little gem is one you'll remember for quite a spell. Probably its finest feature is its editing - great" PSA Journal, Sept. 1964, 51.
---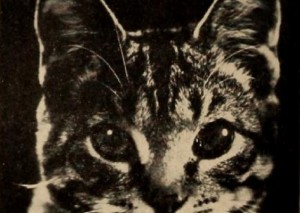 Date produced: 1949
Filmmaker(s):
Description:
"A witch who tires of her venomous role decides to transmit her characteristics to the soul of a cat. In this utterly charming film, William A. Thomas shows that he understands this soul perfectly — in both its winsome and its wilder aspects. With inexhaustible patience, he has recorded all the mischievous doings of a lively kitten that finally sees the light of love and casts off the witch's spell — i.e., the cat has kittens. Mr. Thomas's staging of the witch scenes — a role played with relish by Olive Thomas — is eerie and effective, while his sequences on the satanic feline are done with amused affection. The Witch Cat will appall those who "can't bear the beasts," delight those who adore them." Movie Makers, Dec. 1949, 455.
---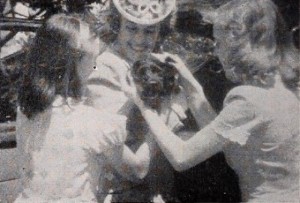 Date produced: 1948
Filmmaker(s):
Description:
"Young Fella is a teaching film; it is also a family film. Again Walter Bergmann presents his charming household and shows the devotion of its members for pets. This time it is a young cocker spaniel that is the star. Subtitles on the proper care of dogs point up the scenes which demonstrate the advice given, as to feeding, bathing, playing and proper use of a run. Young Fella is an appealing pup and a willing actor, but the Bergmann cats steal some of the scenes in typical fashion." Movie Makers, Dec. 1948, 496.
---
Total Pages: 2