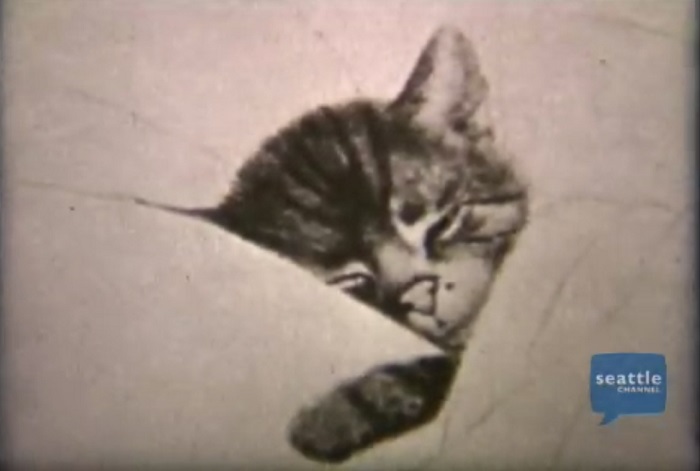 Identifier:
MV0366 (Source: University of Washington Libraries Digital Collections)
Date produced: 1938
Filmmaker(s):
Country of Production:
United States
Languages:
English, Japanese
Duration:
00:12:00
Length:
1 reel (150 ft)
Format:
8mm
Colour:
B&W
Sound Notes:
Silent
Awards/Recognition:
University of Washington Libraries list of titled amateur films
Description:
"The 1938 Seattle film, shot by Iwao Matsushita, features chubby cats playing, eating, and being cuddled by their humans." K5 News.
Resources:
The film, and its status as an early "cat video," is discussed in "Seattle's love of cats and dogs goes way back according to MOHAI exhibit," King 5 News, March 6, 2018.

The film was featured in the Seattle Channel's "History in Motion" series in 2007.

This film is a part of the Iwao Matsushita Films collection held by the University of Washington Libraries.
Locations:
Seattle, Washington (Filming)
Subjects:
Genre:
Form:
Repository:
Iwao Matsushita Films, University of Washington Libraries, Special Collections Division
Screenings:
Screened as part of the "Raining Cats and Dogs" exhibit at the Museum of History and Industry in 2018: Seattle, WA
Viewing Notes:
"The Matsushita's house. Iwao walks out of the house. Hanaye Matsushita holding cats up for the camera. Ceramic cat statues on a mantle. Cats in the backyard, playing, eating from a bowl, playing with sticks. Felix the Cat cartoon of Felix stealing fish. Cat sitting in a window, yawning, licking its paw. Footage of the garden, the house, chickens, and cats. Cat in the yard, playing in a paper bag and in a rug. Drawings of cats. Cats playing in a window with a toy mouse. Cats outside, playing in a rug, with chickens. Cat in a basket, sleeping. Drawing of a cat sleeping. Iwao yawning." Via the University of Washington Libraries.
Video Link:
---