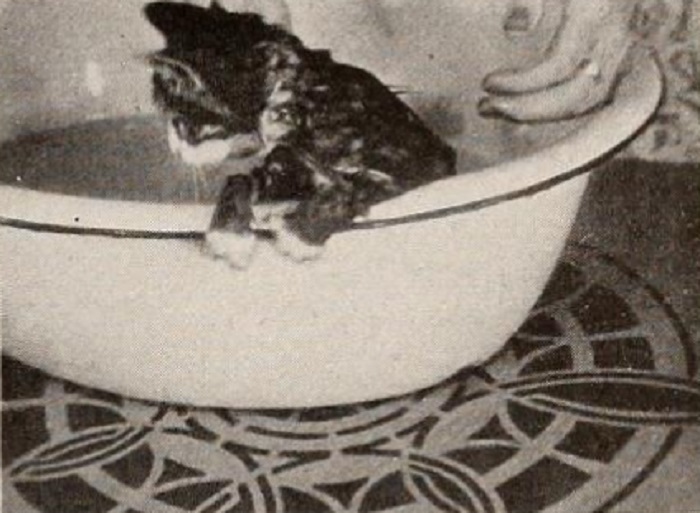 Date produced: 1945
Filmmaker(s):
Languages:
English
Length:
400 ft
Format:
16mm
Colour:
Ansco Color
Sound Notes:
Silent
Sound:
With music on disc.
Awards/Recognition:
ACL Ten Best 1945 - Honorable Mention General Class
American Humane Association Amateur Film Contest 1946 - First Prize
Description:
"Every movie maker who owns a kitten probably has tried to film it; and, if so, he knows what a difficult task it is. Walter Bergmann has recorded, on film, incidents in the life of a stray kitten that is adopted by a soft hearted family. Reaction shots of a wise and dignified old cat express the disdain with which it views the foolish antics of the kitten, especially when the latter satisfies its curiosity about high places. Human beings in the film are introduced logically and unobtrusively, but Squeaky is essentially concerned with the star actor. Mr. Bergmann may be pardoned for occasional uneven exposure, for he has produced a film that will delight everybody, and especially those who love cats." Movie Makers, Dec. 1945, 496.
Resources:
Discussed by Bergmann in "A Cine Kitten" (Movie Makers, April 1946, 143, 160-161). The article shares the story of Squeaky, the kitten, and describes the film's production. Film stills are shown.
Subjects:
Genre:
Form:
Screenings:
Screened by the Amateur Motion Picture Society of Albany in 1946: Albany, N.Y.
Screened by the Mount Vernon Movie Makers in 1946: Mount Vernon, N.Y.
Screened by the Hartford Cinema Club in 1946: Hartford, CT
Screened by the Amateur Movie Society of Milwaukee in 1947: Milwaukee, WI
---
Do you know where this film is? Get in touch with us at amdb@ucalgary.ca.