---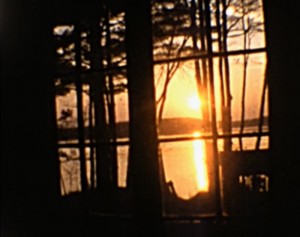 Date produced: 1955
Description:
Film treatment of the poem "When the Frost Is On the Punkin" by James Whitcomb Riley. Intertitles with text from the poem are interspersed among images that match the themes and content of the poem. The scenes include shots of harvest work, fall scenery, turkeys, and pumpkins.
---
Date produced: 1960
Filmmaker(s):
Description:
"Color film featuring scenes of fall in Utah." Church History Library.
---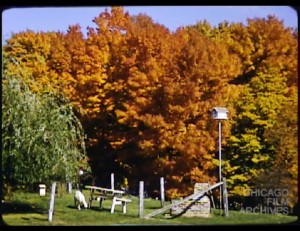 Date produced: 1965
Filmmaker(s):
Description:
"A journey from bustling Chicago to the fall foliage and winter landscape of rural Wisconsin." Chicago Film Archives.
---
Date produced: 1938
Filmmaker(s):
---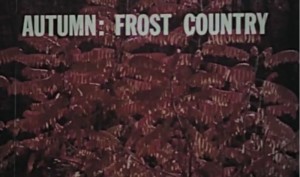 Date produced: 1969
Filmmaker(s):
Description:
"Autumn...Frost Country and Dunes both films made by David Adams of Santa Monica, Calif. rated high in the Class "C" list of winners. Both in color with optical sound. "Autumn...Frost Country" is an 8-minute film of changing leaves narrated with a poem written and recited by Robert Frost. "Dunes" is a 7-minute film depicting the vastness of the desert at Death Valley. The film does an excellent job of conveying the fact that, in spite of the soltitude of the desert, there is plenty of life to be observed there if one has patience," PSA Journal, Mar. 1970, 43.
---
Date produced: 1959
Filmmaker(s):
Description:
"In the fall of the year, the late flowers are blooming, the evergreens have about completed their year's growth in preparation for the heavy winter, the deciduous have donned their golden mantles soon to become their winter blanket. All part of the thanksgiving for a bountiful season. The tall golden hillside trees set in a great panorama, interspersed with the dark grenes, the paths carpeted with golden leaves of varying hues of yellow, orange and red. It is here we visit the Mortons with their trailer in the pines" PSA Journal, Nov. 1959, 49.
---
Date produced: 1955
Filmmaker(s):
Description:
"Glen Turner might take a cue from "Gigi" and "Thank Heaven for little girls" with curly hair and their interesting mud pies. With teddy bear and dog, she does for a walk. En route we view the ducks, geese and other farm animals. The trees display their fall wardrobe to add to the delight of a walk in the woods. Soon the dog realizes they have gone too far from home and he goes back for Mother. Soon we return to the little girl asleep admidst the golden leaves. An enjoyable picture of things little girls like to do" PSA Journal, Nov. 1958, 46-47.
---
Date produced: 1950
Filmmaker(s):
Description:
"Ah! Wilderness: The stark beauty of remote mountain and plain areas, as yet untouched by the unrelenting surge of modern civilization, has been caught by Charles Benjamin's camera and Kodachrome film. Adapted from the book Stone Dust, by Frank Ernest Hill, Benjamin's film opens with scenes of mountain peaks and passes in winter- peaks mantled in snow, and trickling brooks that somehow have evaded the wintry grip of Jack Frost. The picture progresses in a like manner through Spring, Summer and Autumn, rendering a pictorial account of the ever-changing seasons in one of the few remaining wilderness areas of America. The picture discloses skillful camera handling as well as a talent for building interesting continuity through artful editing and titling." American Cinematographer, May 1951, 189
---
Date produced: 1947
Filmmaker(s):
Description:
"'Indian Summer,' properly may be termed a poem on film. Bert Seckendorf took his camera into the great outdoors one autumn day and photographed many beautiful autumnal scenes which he then skillfully knit together in a smooth flowing pictorial continuity. Scenes of colorful autumn foliage, falling leaves, blue Indian Summer skies, lazy rivulets carrying tiny sailboats of leaves toward the sea -all add up to an impressive ten minutes of screen entertainment. Seckendorf photographed this picture with a Cine Special and Kodachrome film." American Cinematographer, Apr. 1950, 146.
---
Date produced: 1935
Filmmaker(s):
Description:
"L. Clyde Anderson was given an award for Color photography, for 'October By-Ways.' We want to congratulate Mr. Anderson for his selection of colors. It is one of the very first amateur pictures we have seen where color was really properly balanced. There were no harsh notes to distract, but he chose scenes where the ensemble blended and where there was a fine eye-resting blance of color and also color composition. It was obvious that Anderson used haze filters on his outside scenes as the sky does not have that postcard-blue effect, but has been reduced to almost a gray haze which helps the fall colors in the trees and does not take the eye away from the main points of interest." American Cinematographer, Jan. 1937, 37.
---
Total Pages: 2