---
---
Date produced: 1950
Filmmaker(s):
Description:
"Ah! Wilderness: The stark beauty of remote mountain and plain areas, as yet untouched by the unrelenting surge of modern civilization, has been caught by Charles Benjamin's camera and Kodachrome film. Adapted from the book Stone Dust, by Frank Ernest Hill, Benjamin's film opens with scenes of mountain peaks and passes in winter- peaks mantled in snow, and trickling brooks that somehow have evaded the wintry grip of Jack Frost. The picture progresses in a like manner through Spring, Summer and Autumn, rendering a pictorial account of the ever-changing seasons in one of the few remaining wilderness areas of America. The picture discloses skillful camera handling as well as a talent for building interesting continuity through artful editing and titling." American Cinematographer, May 1951, 189
---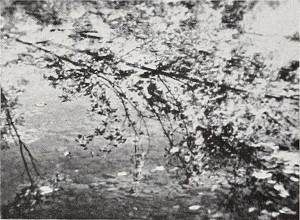 Date produced: 1942
Filmmaker(s):
Description:
"Autumn, by Robert P. Kehoe, now takes the lead in an ever lengthening series of exquisite natural miniatures, recorded by this engineer with art at his finger tips. Having reported earlier on the bluster of a late, unfriendly fall, Mr. Kehoe turns in this film to the warm beauty and haunting sadness of autumn's Indian summer. Life is drifting toward death, to be sure, yet it moves in peace down the placid stream, with loveliness through the golden air. But one cannot describe the incredible imagery of a Kehoe study. As well put under the intellectual microscope a Wordsworth sonnet or a Keatsian ode. Autumn, as brief as it is poignant, is his best work to date. As long as color film can still be had, we see no reason why the good Lord's handiwork should go unsung." Movie Makers, Dec. 1942, 489.
---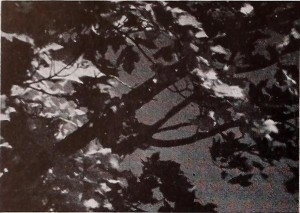 Date produced: 1948
Filmmaker(s):
Description:
"In Autumn, Martin E. Drayson extends brilliant camera handling to embrace a quality ordinarily associated with painting, raising his film several notches above the usual autumnal study. Call this quality expressionism, a term we are familiar with in the paintings of Manet, Cezanne, Gauguin or Vlaminck. Literally painting with light the shades and hues of the season, sheer poetry is produced by their reflections in the shimmering surface of a pond, which unique camera viewpoint was used for the climax of the footage. The film escapes the static quality often noted in nature studies by the dexterous changing of camera position; added to this are the natural movements created by the wind brushing softly through the dry leaves, or, again, by gentle ripples momentarily disturbing the water's glassy surface." Movie Makers, Dec. 1948, 475.
---
Date produced: 1938
Filmmaker(s):
---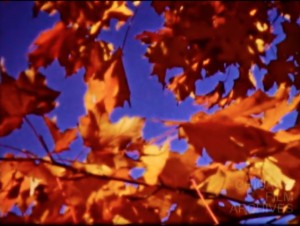 Date produced: 1946
Filmmaker(s):
Description:
"John R. Kibar has taken the subject of recording the hues of a fall countryside and has lifted it above the familiar medley of garish color. With an interesting variety of viewpoints and an artist's eye for compositions, he has achieved the flowing, rhythmic mood of nature in her most popular season for color filmers. Particularly in shots of trees reflected in streams and the sprightly dancing of golden leaves in the wind has Mr. Kibar surpassed the usual run of nature studies. Autumn Glory is replete with movement, but closeups of a colorful branch of berries or stocks of thistle against the sky serve as punctuation for the longer sequences. A human touch is added by including an artist in occasional shots, as he sketches the scenes shown in the major part of the film." Movie Makers, Dec. 1946, 486.
---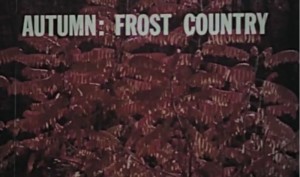 Date produced: 1969
Filmmaker(s):
Description:
"Autumn...Frost Country and Dunes both films made by David Adams of Santa Monica, Calif. rated high in the Class "C" list of winners. Both in color with optical sound. "Autumn...Frost Country" is an 8-minute film of changing leaves narrated with a poem written and recited by Robert Frost. "Dunes" is a 7-minute film depicting the vastness of the desert at Death Valley. The film does an excellent job of conveying the fact that, in spite of the soltitude of the desert, there is plenty of life to be observed there if one has patience," PSA Journal, Mar. 1970, 43.
---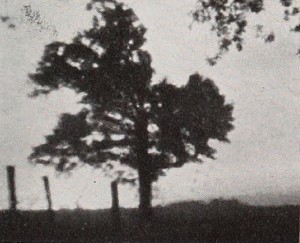 Date produced: 1943
Filmmaker(s):
Description:
"Holiday with the Heavers is one of those rare films that display sincere artistic sensitivity that is manifestly not the product of technical skill nor the "slick" application of the rules of composition and film planning. It is a picture that promises that its maker — Dr. W. Lynwood Heaver — with more cinematic experience, might produce the finest type of amateur motion picture. Holiday with the Heavers is not a record of a family jaunt, as its title would imply. Rather, it is a scenic study of fall, enlivened by the presence of a three year old who investigates a park and explores the autumn leaves. Included in the film are beautiful and eerie shots of the late fall, effective silhouettes and charming closeups of the small actor." Movie Makers, Dec. 1943, 478.
---
Date produced: 1960
Filmmaker(s):
Description:
"Color film featuring scenes of fall in Utah." Church History Library.
---
Date produced: 1947
Filmmaker(s):
Description:
"'Indian Summer,' properly may be termed a poem on film. Bert Seckendorf took his camera into the great outdoors one autumn day and photographed many beautiful autumnal scenes which he then skillfully knit together in a smooth flowing pictorial continuity. Scenes of colorful autumn foliage, falling leaves, blue Indian Summer skies, lazy rivulets carrying tiny sailboats of leaves toward the sea -all add up to an impressive ten minutes of screen entertainment. Seckendorf photographed this picture with a Cine Special and Kodachrome film." American Cinematographer, Apr. 1950, 146.
---
Date produced: 1955
Filmmaker(s):
Description:
"Glen Turner might take a cue from "Gigi" and "Thank Heaven for little girls" with curly hair and their interesting mud pies. With teddy bear and dog, she does for a walk. En route we view the ducks, geese and other farm animals. The trees display their fall wardrobe to add to the delight of a walk in the woods. Soon the dog realizes they have gone too far from home and he goes back for Mother. Soon we return to the little girl asleep admidst the golden leaves. An enjoyable picture of things little girls like to do" PSA Journal, Nov. 1958, 46-47.
---
Total Pages: 2