---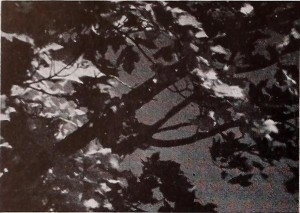 Date produced: 1948
Filmmaker(s):
Description:
"In Autumn, Martin E. Drayson extends brilliant camera handling to embrace a quality ordinarily associated with painting, raising his film several notches above the usual autumnal study. Call this quality expressionism, a term we are familiar with in the paintings of Manet, Cezanne, Gauguin or Vlaminck. Literally painting with light the shades and hues of the season, sheer poetry is produced by their reflections in the shimmering surface of a pond, which unique camera viewpoint was used for the climax of the footage. The film escapes the static quality often noted in nature studies by the dexterous changing of camera position; added to this are the natural movements created by the wind brushing softly through the dry leaves, or, again, by gentle ripples momentarily disturbing the water's glassy surface." Movie Makers, Dec. 1948, 475.
---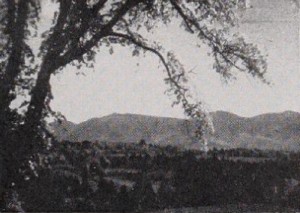 Date produced: 1947
Filmmaker(s):
Description:
"Hamilton H. Jones has again shown his marvelous ability to combine beautiful movies and fine music on the double turntable into a cinematic whole that, in New England Autumn, carries an audience through the calm delight of fall days to a climax that has great dignity and spiritual stimulation. We see autumn in its most restful and wistful mood, and the action is slowly paced in harmony with the dying year. There is leisurely strolling in the many hued woods. The leaves on the ground are scuffed through and gently scattered. We see the things that we all like to do in the forests in autumn. Finally, in an arresting sequence of autumn fruits — great, gleaming pumpkins and ruddy apples — the music turns to the inspiriting old Dutch hymn of thanksgiving. Rising first orchestrally and then voiced by a thousand singers, the chorus ends as our eyes are lifted to the simple spire of a New England church. Here is suavity, here is intelligent movie making and here are dignity and spiritual uplift." Movie Makers, Dec. 1947, 534.
---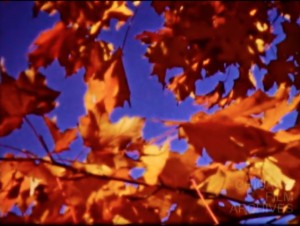 Date produced: 1946
Filmmaker(s):
Description:
"John R. Kibar has taken the subject of recording the hues of a fall countryside and has lifted it above the familiar medley of garish color. With an interesting variety of viewpoints and an artist's eye for compositions, he has achieved the flowing, rhythmic mood of nature in her most popular season for color filmers. Particularly in shots of trees reflected in streams and the sprightly dancing of golden leaves in the wind has Mr. Kibar surpassed the usual run of nature studies. Autumn Glory is replete with movement, but closeups of a colorful branch of berries or stocks of thistle against the sky serve as punctuation for the longer sequences. A human touch is added by including an artist in occasional shots, as he sketches the scenes shown in the major part of the film." Movie Makers, Dec. 1946, 486.
---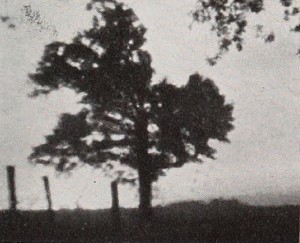 Date produced: 1943
Filmmaker(s):
Description:
"Holiday with the Heavers is one of those rare films that display sincere artistic sensitivity that is manifestly not the product of technical skill nor the "slick" application of the rules of composition and film planning. It is a picture that promises that its maker — Dr. W. Lynwood Heaver — with more cinematic experience, might produce the finest type of amateur motion picture. Holiday with the Heavers is not a record of a family jaunt, as its title would imply. Rather, it is a scenic study of fall, enlivened by the presence of a three year old who investigates a park and explores the autumn leaves. Included in the film are beautiful and eerie shots of the late fall, effective silhouettes and charming closeups of the small actor." Movie Makers, Dec. 1943, 478.
---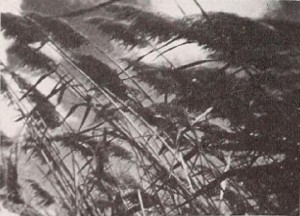 Date produced: 1943
Filmmaker(s):
Description:
"Herman Bartei has, in Pathetique, made another contribution in the special field which he shares with Walt Disney and Leopold Stokowski — that of setting music to film. In this process, the music is the absolute, to which the footage must conform. While Disney achieves his conformity with drawings, Bartei uses actual cinematography of natural scenes. Mr. Bartel's absolute in this instance is the first movement of Tschaikowsky's Sixth — or Pathetique — Symphony, which is played from start to finish on double turntables, while the film sets forth what its maker feels is an interpretation in motion pictures of the music. The footage consists of autumn scenes, whose subject matter and tempo are varied to agree with the musical expression. The success or failure of this type of effort must depend upon the universality of the conviction of unity between musical and scenic episodes. Mr. Bartei reaches several high spots, notably one in which swirling crows against an angry sky are in very real harmony with the musical statement. Other scenes of autumn mist are very apposite to Tschaikowsky's phrases. The synthesis as a whole is both convincing and emotionally exciting." Movie Makers, Dec. 1943, 474.
---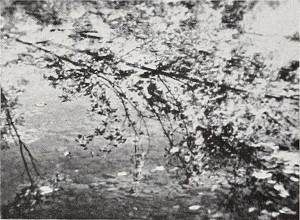 Date produced: 1942
Filmmaker(s):
Description:
"Autumn, by Robert P. Kehoe, now takes the lead in an ever lengthening series of exquisite natural miniatures, recorded by this engineer with art at his finger tips. Having reported earlier on the bluster of a late, unfriendly fall, Mr. Kehoe turns in this film to the warm beauty and haunting sadness of autumn's Indian summer. Life is drifting toward death, to be sure, yet it moves in peace down the placid stream, with loveliness through the golden air. But one cannot describe the incredible imagery of a Kehoe study. As well put under the intellectual microscope a Wordsworth sonnet or a Keatsian ode. Autumn, as brief as it is poignant, is his best work to date. As long as color film can still be had, we see no reason why the good Lord's handiwork should go unsung." Movie Makers, Dec. 1942, 489.
---
Total Pages: 2