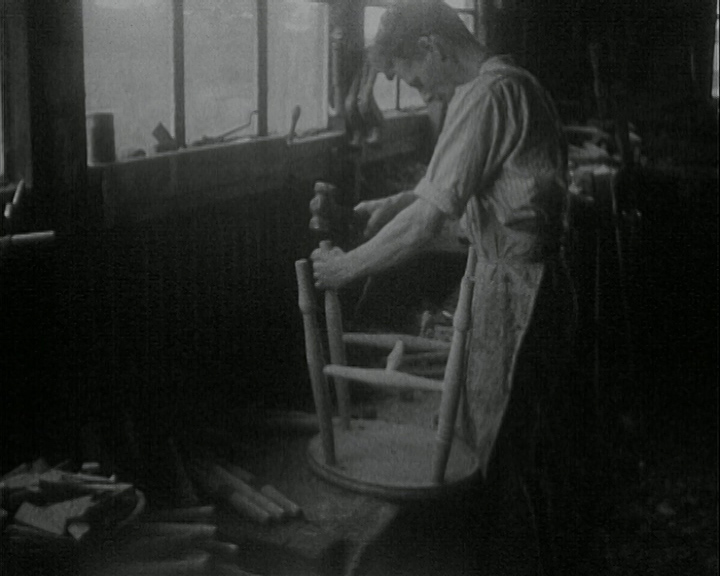 Identifier:
4454 (Source: East Anglian Film Archive)
Date produced: 1934
Filmmaker(s):
Country of Production:
United Kingdom
Languages:
English
Duration:
00:11:23
Length:
275 ft
Format:
16mm
Colour:
B&W
Sound Notes:
Silent
Awards/Recognition:
Royal Photographic Society Exhibition of Kinematography Film Competition, Certificate Class I, 1935.
Description:
"The production of components for chairs is compared and contrasted at three locations in the Chiltern Hills" (EAFA Database).
Resources:
This film is part of the Institute of Amateur Cinematographers Collection held by the East Anglian Film Archive, Norwich, UK.
Locations:
Speen, Buckinghamshire, UK (Filming)
Subjects:
Genre:
Form:
Tags:
Repository:
Institute of Amateur Cinematographers Collection, East Anglian Film Archive
Viewing Notes:
"The film begins with the traditional activities of bodgers in beech woods, moves on to record the activities in a small workshop in Turville and concludes with shots of a mechanised form of a production in a modern countryside factory, including chair assembly. Scenes include: bodgers at work in the countryside, cutting and shaping components for chairs, collecting water from beech trees for use in production and brewing tea over an open fire; activities in a small workshop in Turville, workers cut wood by hand and with a power saw and shape components for chairs; workers in a mechanised country factory cut wood with the aid of machinery, but shape it and assemble chairs by hand. Shots with the bodgers in the beech wood include: bodgers cut a tree trunk; carry parts of the trunk to the work area; the wood is split and shaped by hand; bodger uses a pole lathe to turn the wood; water drained from beech trees is collected in a bucket and used on a grindstone to sharpen hand tools; turned wood is collected and stacked; wood shavings are used in an open fire, the bodgers sit around it and water is brewed for tea. Shots in the small workshop in Turville include: workers cutting a tree trunk and splitting wood by hand; carrying it into a small workshop, where it is cut with the assistance of a power saw; the wood is then shaped by hand and with a treadle lathe. Shots in the mechanised workshop include: wood to be used as the chair seat is cut and shaped with the assistance of powered machinery; components are cut to correct lengths with the assistance of machinery; wood is cut by hand and intricate designs are shaped by hand; chairs are assembled by hand" (EAFA Database).
Video Link:
---