---
Date produced: 1931
Filmmaker(s):
Description:
"Sport Reel, 300 ft., 16mm., represents a remarkable degree of understanding care given to this type of picture by Charles F. Chapman, M. D. Although this picture is something more of a review than a newsreel, each of the topics presented has a local news interest. Dr. Chapman has preserved the direct and stimulating style of title wordings of the professional newsreels but, in the sequencing of scenes, he has deserted their technique for an original one. This is distinguished by a clever use of closeups to symbolize ideas and for dramatic emphasis. For example, in picturing the local baseball team, he introduces the sequence with a closeup of a row of bats lying on the ground and, when presenting the players, he cuts from a medium shot of them in action to a posed closeup preceded by a title. Further, Dr. Chapman did not forget that good composition and attractive lighting are just as welcome in newsreels as in other types of pictures." Movie Makers, Dec. 1931, 684-685.
---
Date produced: 1931
Filmmaker(s):
Description:
"Frozen Flame, 400 ft., 16mm., photographed by Edward H. Marsh and directed by Thomas J. Perry, is a dramatic industrial film featuring the Electrolux gas refrigerator. The picture details the experiences of a man and wife in buying and using the refrigerator and illustrates its sales points. The photography is remarkably good throughout and, although the treatment is simple and direct, it is extremely clear. Perhaps this picture's most outstanding quality is its continuity excellence. A well prepared scenario was so expertly followed that there are scarcely any of the minor flaws usually found in amateur dramatic pictures." Movie Makers, Dec. 1931, 658, 684.
---
Date produced: 1931
Filmmaker(s):
Description:
"Hearts Of The Golden West, 1200 ft., 16mm., filmed and directed by Theodore Huff and enacted entirely by youngsters under thirteen, is a delightful and whimsical burlesque of the Griffith melodrama of the days when titles were long and plots of villainy and intrigue laid in the great open places swept grandly to a moral conclusion in which "true hearts were united." In those days, producers did not hesitate to use a cyclorama or to place painted canvas scenery on an outdoor location. Mr. Huff revives all of the old technique, even to the dance hall set, with its inevitable balcony, and the fight to the finish at the edge of the cliff. Under his direction, the children act their parts with complete seriousness and, in some cases, with mimetic ability that would have given their prototypes pause." Movie Makers, Dec. 1931, 658.
---
Date produced: 1931
Filmmaker(s):
Description:
"Stephen F. Voorhees's 400 ft. travel film of Italian architectural scenes deserves placement in this list because it combines three factors but rarely brought together in pictures of this type. First, the photography is extraordinarily good, not only with reference to the routine requirements of exposure and focus but because it is artistic throughout and the composition never descends to the casual or the "snap shot" level. Second, Mr. Voorhees's film has a natural and easy continuity, jogging amiably through Venice and its environs, much as a traveler might do himself, pausing for a bit of incidental human interest and catching a scene that the filmer felt was unusual but presenting it without any preliminary flourishes, as one friend who might have said to another in the course of a stroll, "Don't miss that, by the way," pointing to something seen on the way. Last of the three things, so unusual to find combined, is a professional study, made by the filmer, himself a great architect, preserving those details which he wished to bring from northern Italy for later possible use. The great Colleoni statue is studied from many angles. Details of tiles and other wall ornamentations are offered and buildings are presented from one viewpoint after another. Yet all of this is done unpedantically and the nonprofessional audience is not aware that this subtle architectural record is more than a delightful travel film." Movie Makers, Dec. 1931, 658.
---
Date produced: 1931
Filmmaker(s):
Description:
"The Wonder Trail, 1000 ft., 35mm., filmed by Ralph C. Wildes, has also met with the approval of professional critics, for it has been released as a professional short subject and has received general praise. One reviewer wrote, "The Wonder Trail is an unforgettable picture; the restful, sheer beauty of it is an experience in entertainment." This is high praise, indeed, for an amateur picture since it must be remembered that the reviewer was comparing it with the hundreds — even thousands — of professional short subjects released each year. It is a scenic built from sequences of the Grand Canyon, Yosemite and the Redwood forests of California. Its photography is superlatively good and rare artistic judgment was exercised in the selection of camera viewpoints to effect beautiful compositions and to emphasize the dramatic value of mountains, falls and trees. The quality of the film's continuity lies in the leisurely sequences which display skill and care in both planning and editing." Movie Makers, Dec. 1931, 658
---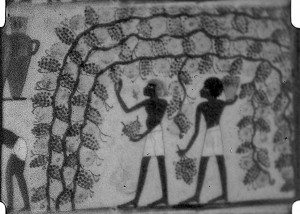 Date produced: 1931
Filmmaker(s):
Description:
"The Tombs Of The Nobles, 400 ft., 16mm., is distinguished both in its subject matter and technical triumph over seemingly insuperable photographic odds. In it Mr. Hansen has achieved a clear and valuable record of Egyptian art and history as he found them presented on the interior walls of countless Egyptian tombs. Only by a careful placing and manipulation of sheets and mirrors in the cramped space of each tomb was Mr. Hansen able to cast sufficient light from the doorways onto the hundreds of paintings which he photographed. The film's continuity has been planned and edited in a simple, documentary style, adapted for use as an informal lecture subject. Its technical accomplishment seems unparalleled in the annals of amateur filming and has been well employed in recording subject matter entirely different from the general amateur picture." Movie Makers, Dec. 1931, 658.
---
Date produced: 1931
Filmmaker(s):
Description:
"The Toilers, a 150 ft. Kodacolor reel made by Arthur G. Greaves, demonstrates the continuity possibilities of Kodacolor, a much neglected aspect of amateur color movies. Men at work — in the harbors, along the seacoast and inland, caring for flocks and harvesting grain — is the motif of the picture, relieved by a few glimpses of men and children at play. The picture is distinguished by beautiful photography of consistent quality and by a smooth succession of moving compositions in color. These qualities, combined with a clear continuity, give the film much more unity than is usual with Kodacolor reels. This is one of the all too few Kodacolor films that may be viewed as a subject possessing an artistic purpose as a whole, rather than as a series of separate scenes and sequences. Its chief color triumph is, perhaps, in the scenes of the harvesting against the background of fields of golden grain." Movie Makers, Dec. 1931, 658.
---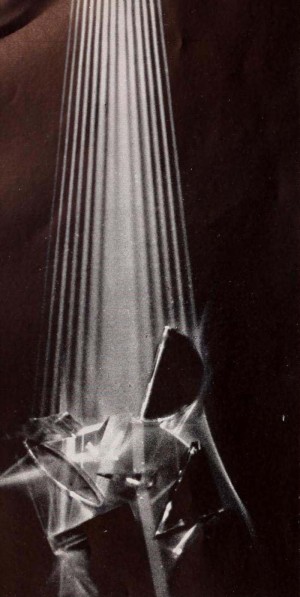 Date produced: 1931
Filmmaker(s):
Description:
"The Eyes Of Science, 3000 ft., 35mm., planned and photographed by J. S. Watson, Jr. and Melville Webber, is exceptional for continuity treatment and photography alike. Conceived primarily as an industrial film of a very high order, the final result is a veritable tour de force in the technical accomplishment of film exposition. Telling the story of lens making and culminating in representation of the impressive and complicated optical machinery which plays an important part in modern art and industry, the smoothness of the continuity is plainly the result of careful calculation of the interest value of the whole as well as of every small part. Multiple exposures, lap dissolves, color and microcinematography, as well as a number of surprising photographic effects, give this film a technical interest much above the average. Of these, some of the exceptional examples are the photography of light rays passing through prisms and lenses; a recording of the phenomenon of Newton's Rings in color; a scene showing a subject, together with its image on the ground glass of a camera; strains in a structure revealed by polarized light and many other remarkable shots. In short, the combination of cinematic art and skill with which this film is composed places it well in the front rank of all existing industrials regardless of the source of their production." Movie Makers, Dec. 1931, 657.

"Made in collaboration with Melville Webber for Bausch & Lomb Optical Co. Included: glass making, grinding, and polishing lenses and prisms, manufacture and principles of operation of microscopes, telescopes, and other optical instruments" (Unseen Cinema, 114).
---
Date produced: 1930
Filmmaker(s):
Description:
"Electra, 400 ft., 16mm., produced by Clyde Hammond, is a picturization of that Greek drama. Its most novel quality is the evidence of an intelligent search for the best motion picture treatment to present an accurate film version of the story. A series of tableau like sequences were finally used with much better results than if the plot had been adapted and scenarized in the customary manner. Certainly this film version is much truer to the original than would otherwise have been possible. Not being able to erect the complicated sets that would seem necessary, Mr. Hammond used flat gray walls, producing the suggestion of ancient Greek palaces and dwellings with "props," costumes and occasional wall ornamentation. The photographic quality is uniformly good throughout and, one sequence has very good double exposures." Movie Makers, Dec. 1930, 787-788.
---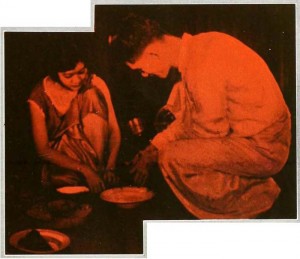 Date produced: 1930
Filmmaker(s):
Description:
"The feature length photoplay produced in Siam by Nai Bernard Juangbhanich is one of the best of the serious dramatic efforts produced by amateurs. The story deals with the profligacy of a young Siamese who has been educated in Europe. Feeling superior to an ordinary business career, the young man determines to write, with the consequent search for "experience and atmosphere." In the succession of romantic episodes that follow, the theme of the tale is developed with extraordinary skill and, in spite of the manifest satire in several of the sequences, the picture includes many sincere glimpses into the social life and customs of the upper classes of Siam. Completely blinded and embittered as the result of his folly, the protagonist finally comes to terms with himself and actually does succeed as an author. Although this plot follows a familiar outline, Mr. Juangbhanich again proves that it is not the essential plot but the treatment that counts. The picture includes flaws both in photography and continuity but they appear unimportant in view of the general photographic quality and the epic nature of the treatment. It was recently screened for the staff of the Academy of Motion Picture Arts and Sciences." Movie Makers, Dec. 1930, 759, 787.
---
Total Pages: 215