---
Date produced: 1933
Filmmaker(s):
Description:
"Glimpses of Rural Hungary was the first film ever made by Elizabeth Rearick but its excellence must be credited to more than beginner's luck. It represents a willingness to follow instructions carefully and an ability to compose scenes as they are selected. The picture contains a charming record of the people and customs of Hungary, but capturing this was secondary, for Miss Rearick planned the film to be principally a record of folk dances. Most unusually accurate exposure and focusing make the film outstanding in its technical aspects. Clear, crisp, steady pictures inevitably do a great deal to present a subject in a delightful way. One of the remarkable features of the film was the rock steadiness of the camera, although Miss Rearick did not use a tripod at any time. The sequencing is worked out well and, although the film is intended for use in physical education work, it has a tremendous general interest value. The entire finished product is one of which an experienced filmer might well be proud." Movie Makers, Dec. 1933, 500.
---
Date produced: 1933
Filmmaker(s):
Description:
"Pipe Dreams, by Joseph Dephoure, ACL, and Edward Atkins, ACL, is ranked among the year's ten best because of its considerable triumphs over dramatic and technical difficulties. Through the imagination of its producers, a small cast, simple settings and moderate footage have been used to tell a big story, rich in pictorial effect. Dreaming that he has murdered his unfaithful wife, a young man sees in prospect the swift and fearful course of his life to the waiting gallows. The murder, the trial, the death cell and the hanging are represented in large part only by the imaginative and striking use of shadows of the real scenes. Occasional straight shots are heightened in effect by unusual angles and dramatic lighting. Sensitively planned, smartly executed and deftly cut, Pipe Dreams makes its simple story exciting and forceful." Movie Makers, Dec. 1933, 500.
---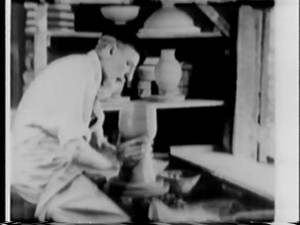 Date produced: 1933
Filmmaker(s):
Description:
"Ceramics, by Kenneth V. Bloomer, ACL, and Elizabeth Sansom, ACL, is probably the most ambitious amateur film ever attempted on this particular subject and perhaps stands alone in its field. The makers of the film were fortunate in having the cooperation of a famous ceramic artist, Leon Volkmar, who maintains his atelier at Bedford Village, N. Y. It was here that the entire film was produced, its makers having imbibed the spirit of the artist craftsmen so thoroughly that every deft touch, every careful step in the process of making a lovely vase are recorded. The interior lighting and closeup technique are especially good, particularly in those parts where only the delicate focusing of a closeup will reveal the nuances of the artist's touch as he models. The sequences which show the firing of the pottery are unusually well handled and the whole is outstanding in its clarity of continuity. Such a film might be described as a "glorified industrial" but, more than that, it is an educational film in the best sense of the word." Movie Makers, Dec. 1933, 499-500.
---
Date produced: 1933
Filmmaker(s):
Description:
"Among the ten best, Century of Progress, in Kodacolor, by Herbert H. Johnson, ACL, is a striking illustration of the degree of perfection that color motion picture photography has attained. Its studied angles and dignified composition are augmented by excellent photography. Mr. Johnson paid careful attention to the very important point of exact exposure in relation to color value and, as a result, brought a new version of the Fair to the one who had never seen it in color before. By taking plenty of time he was able to single out the best camera positions and wait for the lighting that was most favorable. The excellent handling of the camera brought a sense of intimacy to each scene. The film's only fault is an excessive use of lap dissolves which detracted somewhat from the smoothness of the continuity." Movie Makers, Dec. 1933, 499.
---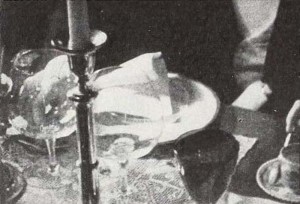 Date produced: 1932
Filmmaker(s):
Description:
"I'd Be Delighted To!, directed and photographed by S. Winston Childs, jr., ACL, is that kind of production often planned but seldom made — a film story told entirely in closeups. Presenting the simple incident of a dinner a deux in a gentleman's apartment, the picture runs through 400 feet of brilliantly chosen, strikingly filmed, significant closeups. It is adroit, amusing and sophisticated, and a splendid example of what, with skill and care, can be done in this distinctly advanced amateur filming method." Movie Makers, Dec. 1932, 562.
---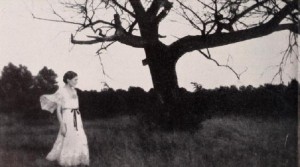 Date produced: 1932
Filmmaker(s):
Description:
"In his one reel film, Girl with a Dress, Clyde Hammond, ACL, has made an appealing and remarkably successful attempt to portray a drama of the spirit rather than of action. Through long weeks of bitter economy a girl accumulates enough money for a new dress. It arrives from the mail order house just in time for a summer's picnic with her friends and, happy in prospect, she wears it proudly. Then, because in it she is more charming than they, her friends will not like it, make mocking fun of her and she leaves them in tears. Stumbling home, she is caught in a shower and the dress is ruined. A simple enough tale, but in its very simplicity and sincerity lie the strength of downright tragedy. It was planned and directed with imagination and played, in its leading role, with definite and sensitive skill." Movie Makers, Dec. 1932, 562.
---
Date produced: 1932
Filmmaker(s):
Description:
"Articles in Movie Makers have often advocated experimenting with travel continuities by selecting a single theme and illustrating it with sequences made in many different countries. The entertainment value of this method is beautifully illustrated by Water, filmed by B. H. Blood, ACL. This picture is made up of sequences of water, waterways, wells and ice in a variety of places in the world and ends with a sequence in the home of the maker. Any emphasis on mechanics which this theme might seem to entail is entirely obviated by the dramatically interesting scenes that Mr. Blood selected to illustrate his idea." Movie Makers, Dec. 1932, 561-562.

"The film Water, 400 ft., 16mm which took a first award by the unanimous vote of the judges in a recent interclub movie contest, was drawn from more than 7500 feet of film, exposed over a period of nearly four years. It is a splendid example of the synthesized short subject, shrewdly built up from scattered material around a simple continuity theme. For this film the continuity idea was found in the common phrase, "Water, water everywhere." Scenes of water in many places, in many forms and in many uses were compared and contrasted, each new sequence being connected to the last by a clever and effective title. The film was produced by B. H. Blood, ACL, in Hartford, Conn., who deserves every credit [or his intelligent adaptation of the best features of the professional subject." Movie Makers, July 1932, 322.
---
Date produced: 1932
Filmmaker(s):
Description:
"Russell Sage Foundation, made by Theodore Huff, ACL, for the members of the staff of Russell Sage Foundation and dedicated to John M. Glenn, retiring General Director, offers an interesting solution of a very difficult cinematic problem. It was desired to present glimpses of the work of the various departments of the Foundation, to include members of the staff of each department and to give the highlights of their achievements under Mr. Glenn's direction. Although the problem was complex, Mr. Huff succeeded in making a smooth and entertaining picture full of cinematic interest." Movie Makers, Dec. 1932, 561.
---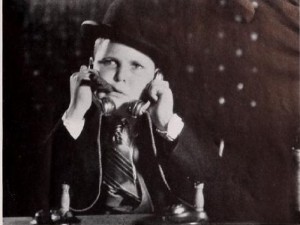 Date produced: 1932
Filmmaker(s):
Description:
"In Little Geezer, running 400 feet, Theodore Huff, ACL, has produced one of the most able and amusing burlesque film stories of the amateur year, repeating his success of that earlier satiric classic, Hearts of the West. Again he has used, with amazing directorial facility, the neighborhood youngsters as his only actors. Again he has aped, with his own peculiar genius, the threadbare cliches of professional drama, poking fun in his filming as well as his titling. Little Geezer offers fine examples of real cinema, is the sort of thing amateurs can do as well or better than professionals and is delightfully amusing in the process." Movie Makers, Dec. 1932, 561.

"Theodore Huff, ACL, has done it again! That lone wolf producer of Hearts Of The West has paralleled the gorgeous fun of his earlier panning of the purple plains as he takes the gangsters for a ride in Little Geezer. The Big Shot, his lieutenant, Greta Garbage (" — more to be pitied than sniffed at") and Scarface Macaroni are all there, played by the neighborhood kids, no one of them over eleven years old. Through their naively serious acting and his own genius at direction and editing. Mr. Huff has riddled with bursts of laughter the machine gun monarchy of professional filmdom." Movie Makers, Sept. 1932, 398.
---
Date produced: 1932
Filmmaker(s):
Description:
"Drifting, a two reel photoplay produced under the direction of Jack Navin, ACL, is an old school melodrama, planned, played and directed to ring the last harsh change on the "wages of sin" motif. It is distinguished by consistently dramatic lighting, a smoothly sequenced filming plan and a definitely mature understanding of cinematic treatment. In it a large cast plays well and with a thorough seriousness that adds much charm to the original melodramatic conception." Movie Makers, Dec. 1932, 561.

"Another melodrama, delightful in its serious characterizations and adroit in its cutting and camera treatment, has been completed under the direction of Jack Navin, ACL, producer of Sophistication and Those Mad Barclays. The new work is Drifting, a direct descendant in the Navin tradition, as it tells a tale of the relentless downfall of too, too pretty Ellen Rowen in vain search of her kidnapped little brother. Once the toast of Paris, in the end a drab of Montreal slums, Ellen drifts inevitably to a harsh fate, protesting bitterly on her pathway that she "was once a lady." Elizabeth Sutherland played Ellen with " a defensive delicacy that was touching. Other parts were ably carried by Virginia Simmons, Margaret Newnan, Gretchen Rickel, Mary Reynolds, Nellie Navin, Martha Blodgett, Coman Munroe, Junie Newnan, Ted Newnan, Bobby Sutherland, Fred Griffiths, Bill Laurie, Thayer Hutchinson, Bob Drysdale, John Hutchinson, Edward Mackenzie, Bill Newnan, the Blodgetts and Mr. Navin." Movie Makers, Dec. 1932, 575, 577.
---
Total Pages: 215