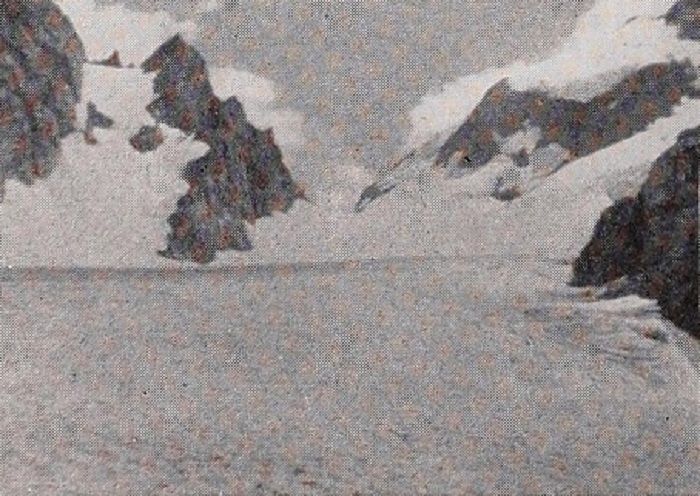 Date produced: 1948
Filmmaker(s):
Languages:
English
Length:
800 ft
Format:
16mm
Colour:
Ansco Color
Sound Notes:
Silent
Sound:
With music on disc.
Awards/Recognition:
ACL Ten Best 1948
Description:
"The Blue refers to a glacier of majestic proportions high in the Olympic Mountains of northern Washington. Solduc, a small station in the Hoh Valley, is the point from which Theodore H. Sarchin and his two companions set out with high hopes to conquer the formidable ascent to the famous ice fields. Although they reach the Blue, the sun has been there first, softening the ice, and they must turn back without having attained the summit. Inherent in the film is a deep reverence for the wild, inspiring beauty of the scene, which clearly communicates itself to the audience — no small achievement in an amateur travel study. This reverence never becomes mawkish, the pedestrian titles and homely incidents en route nicely counterbalancing it. Superior camera work makes the most of the setting, while skillful editing combined the best elements of story and scene to make a dramatic presentation. An expertly scored musical accompaniment adds impressively to enjoyment of Solduc To The Blue." Movie Makers, Dec. 1948, 492.
Resources:
Also referred to as Solduck: to the Blue. This film is a part of the Theodore Sarchin Collection held by the UC San Diego Library.

The film was third prize winner in the "Travelogue" class of a Smoky Mountain Movie Club amateur movie salon in 1949 (Home Movies, Nov. 1949, 590).
Locations:
Olympic Mountains, Washington (Filming)
Subjects:
Genre:
Form:
Repository:
Theodore Sarchin Collection, UC San Diego Library
Screenings:
Screened by the Smoky Mountain Movie Club in 1949: Asheville, N.C.
Screened by the Metropolitan Motion Picture Club in 1951: New York City, N.Y.
---