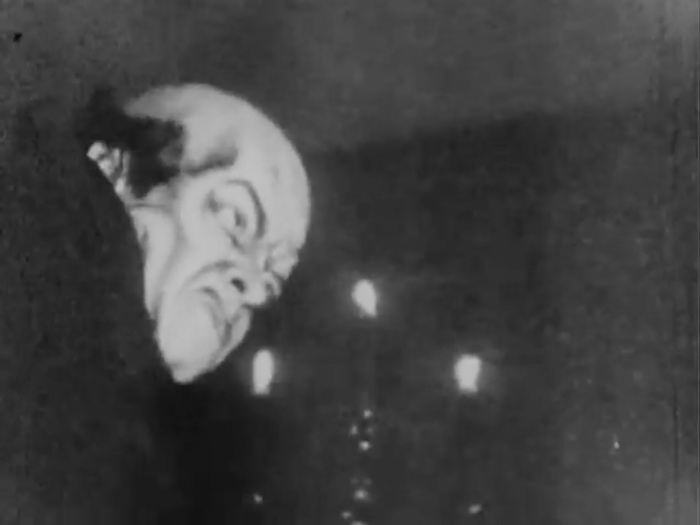 Date produced: 1934
Filmmaker(s):
Country of Production:
United States
Languages:
English
Duration:
00:08:11
Format:
16mm
Colour:
B&W
Sound Notes:
Silent
Awards/Recognition:
Included in Kino's
Avant-Garde: Experimental Cinema of the 1920s and '30s
Description:
"A colonial scene in the U.S. An old lady sits astride a bell while a man in blackface, wig, and livery pulls the bell rope. From an upper door emerges an old man, dressed as a dandy, who tips his hat to the woman as he walks down stairs grinning. Others leave the same door and walk down the same stairs: a shabby man, a cop, and, several times, the same dandy. The man in blackface hangs himself; the dandy continues to smile. A bell tolls, a grave beckons. In the dark, the dandy plays the piano. Is he Death?" IMDb.

Orson Welles' filmmaking debut, which was co-directed by William Vance. An amateur production, Welles later described the film as a parody of surrealist cinema and the films of Jean Cocteau and Luis Buñuel.
Resources:
Record of the film at IMDb, and Letterboxd.

Film essay, "The Hearts of Age," by Brian L. Frye, in Senses of Cinema, Issue 38, February 2006.

The film was included in Kino's Avant-Garde: Experimental Cinema of the 1920s and '30s DVD set.
Locations:
Woodstock, Illinois (Filming)
Subjects:
Genre:
Form:
Tags:
Video Link:
---