---
---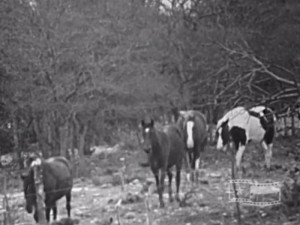 Date produced:
Filmmaker(s):
Description:
"This amateur film chronicles several young ranchers in their day-to-day activities. The film is divided into six chapters, each highlighting a different theme. Setting the scene with shots of a river bend and surrounding cliffs, the movie shows two young men skipping stones by a creek. After playing around with rocks and a rope swing, they drive back to 141 Ranch. At the ranch, they take care of their cattle and spend quality time grooming and riding their horses. The last chapter introduces a strange boy, who startles one of the ranchers as he washes a frying pan outside. The film ends with the young men riding their horses towards the camera" Texas Archive of the Moving Image.
---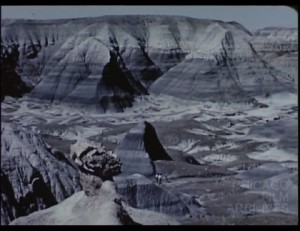 Date produced: 1960
Filmmaker(s):
Description:
"A two-part lecture travelogue film on the state of Arizona. The film would have been originally presented with live narration by the filmmaker, Robert Davis. Part one includes footage of desert landscapes, ranches, pre-historic artifacts, Native American art production & industry (wigs, textiles, etc), saloons, regional industry (logging, agricultural, and dams). Part two also includes footage of desert landscapes, cacti and dams as well as scenes from Phoenix and the surrounding area. Highlights from part two include a tour of a trailer park and footage of people skiing and sledding down a snowy hill." Chicago Film Archives.
---
Date produced: 1933
Filmmaker(s):
---
Date produced: 1932
Filmmaker(s):
Description:
"R. B. Clardy's 8mm picture 'Cattle Country' in 200 feet showed a consistency of photograpy, a fine understanding of composition and a smoothness of continuity that might have done justice to an experienced professional. Especially worthy of comment were his titles. Because of his outstanding work Clardy was given the gold medal for Scenario Pictures as well as the gold medal for Photography." American Cinematographer, Dec. 1933, 321.
---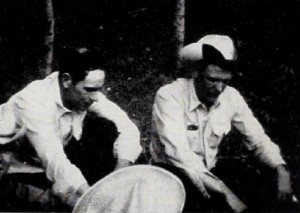 Date produced: 1951
Filmmaker(s):
Description:
"Seventeen hundred feet of 16mm. color is a lot of footage through which to sustain audience interest. But, so help us, that is exactly what Lester F. Shaal has done in Colorado Diary, and we don't quite understand yet just how he did it. Perhaps it was the diary-entry continuity device he used, which, with the entries being made in situ on a Colorado dude ranch, permitted a refreshing infusion of flash-back sequences amid the day-to-day activities. ("The flight out here was glorious," notes the attractive diarist, and some superb air footage lends variety to the routines of the corral.) Perhaps it was the side trips from the ranch to ghost mining towns — or to Durango and the narrow-gauge railway country. Whatever the secret, Mr. Shaal has mixed it well with his usually impeccable camera work. Seldom have the vitality and majesty of the West been portrayed more movingly than in Colorado Diary." Movie Makers, Dec. 1951, 410.
---
Date produced: 1967
Filmmaker(s):
Description:
"La Reata depicts a lost art, that of making a lariat or lasso. The cowhide is stretched and staked out on the ground to dry. Then, with a long circular cut, a rawhide rope is made, cured, then braided to form the rope used in this fast disappearing custom. A leisurely pace gives the film much of its charm, plus a narrator who is in no rush - a welcome change" PSA Journal, Aug. 1967, 36.
---
Date produced: 1952
Filmmaker(s):
Description:
"Edited film describes life on the Navajo Reservation. Scenes include women weaving, grinding corn and caring for children (baby is bound into cradle board) and men herding, hoeing corn, silversmithing, and washing and binding their hair. Also shows Navajo Rodeo (encampments, stinger and bronco riding, wild cow milking and horse racing), trading post at entrance to Monument Valley (exchanging rug for goods), Ganado Mission, workers in uranium mine and scenic views of Monument Valley and Canyon de Chelly. Efforts to deal with lack of water is discussed in narration," Human Studies Film Archives, Smithsonian Museum.
---
Date produced: 1937
Filmmaker(s):
Description:
Film record of a cattle roundup at Paicines Ranch in California.
---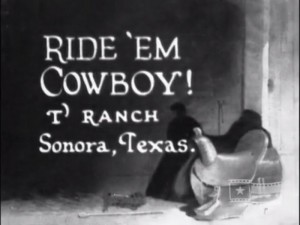 Date produced: 1929
Filmmaker(s):
Description:
"Produced by Edwin S. Mayer, this 1929 amateur film documents life and work on the T-Half Circle Ranch near Sonora. Ranch hands first herd cattle for branding and de-horning. Then, they turn to working the sheep, sorting them into separate classes before shearing wool. Later, the ranch hands battle a prairie fire on the property. In addition to outlining ranch operations, Mayer also introduces his family and colleagues. At the conclusion, Edwin and his wife Minnie join another couple to explore Carlsbad Cavern in New Mexico. The cave is now the primary attraction of Carlsbad Caverns National Park. Please note, this film contains a racist joke regarding African Americans. The Texas Archive of the Moving Image does not condone this language, but presents the film as it was originally created, because to do otherwise would be the same as to claim this discrimination never existed" Texas Archive of the Moving Image.
---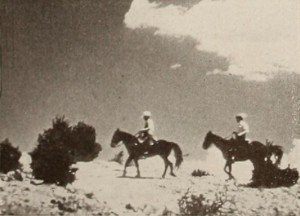 Date produced: 1941
Filmmaker(s):
Description:
"Riders of the Pecos is a movie of a "dude ranch" with all the close shots of interesting and significant details that usually are missing in "dude ranch" films. During a summer vacation, few take the time and effort to make as human and colorful a document as has E. M. Barnard. He has caught the dust of the corral, the appetites of the open and even the barn dance. It is a horsy film, of course, with sequences of roping, "bronco busting" and plain and fancy riding. But best of all are the charming shots of a horseback trip and the campfire at the trail's end. There is a neatly turned "running gag" of a young equestrienne who is first seen repeatedly as more concerned with her brightly polished boots than with riding. But, after a few suppers off the mantel, she adds more dust and scars to her boots than got there naturally and becomes a real cowgirl." Movie Makers, Dec. 1941, 567.
---
Total Pages: 2