---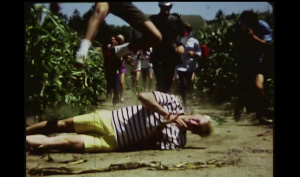 Date produced: 1971
Filmmaker(s):
Description:
"The film depicts a Boy Scout's walk through a rural setting. He's later joined by a group of children who follow him through meadows and corn fields." Chicago Film Archives
---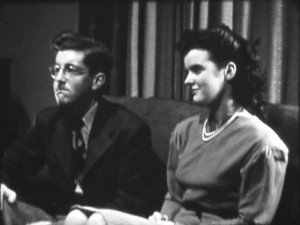 Date produced: 1946
Filmmaker(s):
Description:
At home in the evening, a sophisticated young woman entertains an awkward male friend of her brother. They make small talk and dance to records -- but the boy's social anxiety overwhelms him, and he disappears in a puff of her cigarette smoke. (D.J. Duffy)
---
Date produced: 1955
Filmmaker(s):
Description:
"A Margaret Conneely amateur film starring St. Tarcissus' Cub Scout Pack 3969 in a circus production. Children dress as both circus animals and performers." Chicago Film Archives
---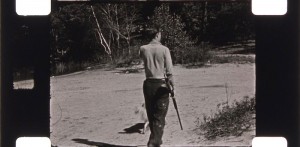 Date produced: 1937
Filmmaker(s):
Description:
"Hunting, cast of "Boy," played by Winthrop Rolfe, and "Dog," played by Teddy. Boy, walks with Dog through the forested mountainside, gazes at views over the alley, drinks water from a rushing stream, and kneels to shoot at birds." Notes by (NHF) Chris Reed and Chris Castiglia, June 2013
---
Date produced: 1920
Filmmaker(s):
Description:
"Campus Smiles uses a playful tone to document the faculty, student body, and life at UW-Madison during the early 1920s. This documentary short is a compelling chronicle of the local culture at one of the nation's largest universities and offers a glimpse into the undergraduate sphere of the immediate post-WWI era. In it, humorous intertitles penned in early twentieth-century American slang introduce campus personalities and comment on social events." Archive.org
---
Date produced: 1949
Filmmaker(s):
Description:
"'Overdose,' filmed by Francis J. Barrett, of Seattle, Washington, is an expertly photographed dramatic photoplaylet, done in 8mm. black and white. The story concerns two young men sharing a room together. One, a writer is upset by annoying tactics of other who, sensing this, plans to put his friend out of his misery. He brings him a cup of coffee to which he has added sleeping tablets. A fight ensues and the other strikes his benefactor down with an ashtray. It is then he discovers the sleeping pills are not fatal. The plot is simple, but the acting is expert, and complemented by the dramatic low-key lighting and highly effective camera handling, presents a very professional bit of cinematic artistry. Barrett used a Bell & Howell 8mm. 'Sportster' camera and Ansco Hypan film." American Cinematographer, Apr. 1950, 134.
---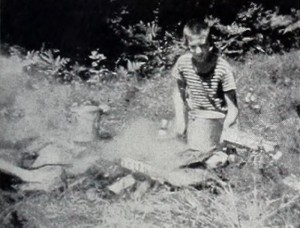 Date produced: 1945
Filmmaker(s):
Description:
"Excellent films have been made that show by more or less indirection what adults believe boys should do in camp. But what would boys like to do? Henry E. Hird, in The Big Adventure, seems almost to have thought with a boy's mind — a very real accomplishment for a busy executive — in producing this dramatic tale of boys in the woods. Two youngsters of about twelve years, armed with bows and arrows, are taken by their father on an island camping trip. Resigned, as most boys are under the instruction of their elders, they watch Father show them camp life in detail — and how he enjoys it! Suddenly he leaves for a war conference in Washington, and the two adventurers are alone for the night. A tramp appears, captures them, is outwitted by them and is seized by a helpful farmer. To bed and fears of invading bears go our heroes — when Dad returns, the conference deferred. It is a safe bet that young boys will approve Mr. Hird's dramatic movie as more realistic than some of the "approved solutions" offered to youthful campers." Movie Makers, Dec. 1945, 496.
---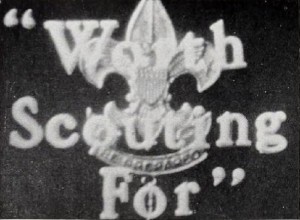 Date produced: 1945
Filmmaker(s):
Description:
"With the vitality of youth, the wonder of the woods and adolescent hunger for adventure, you have the ingredients for an excellent movie. Al Morton accepted the challenge offered by them, and turned out an interesting and competent film. Worth Scouting For has the indefinable quality that comes from fine filming, innate good taste and an understanding of boys' ways in the woods. Taking two independent youngsters and a large Boy Scout troop, Mr. Morton skillfully weaves a good story, based on the scorn of the two boys for the "sissy stuff" of Scouting. Both the troop and the boys go camping in the same area. The untrained campers make the mistakes avoided by the Scouts. They eat cold food because of their inability to build a fire; they become ill from smoking cigarettes which they have stolen; one almost drowns and is rescued by a Scout. They learn their lesson and decide that to "know how" is intelligent, not "sissy." A fine ability to film and direct youngsters with success makes Worth Scouting For an excellent picture which will be a delight to the actors in years to come. That, in itself, is a high accomplishment." Movie Makers, Dec. 1945, 495.
---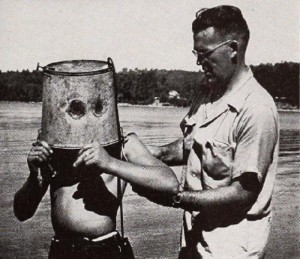 Date produced: 1942
Filmmaker(s):
Description:
"Kendall T. Greenwood, who has proved his competence in a number of detailed industrial records, turns with Incident from Life to the ways of a growing lad and achieves a clear and carefully observed record of his own youngster that will, in years to come, testify to the fact that his father took the boy seriously. Mr. Greenwood's picture is a compliment to his son and, as we think it over, an unintentional compliment to an understanding father as well. Young Greenwood is a reader. In the course of his reading, he comes upon the subject of diving, but he does not let the matter rest there. Paralleling the "spool and old coal hod" of another inventor, he contrives, out of the detritus of a trash heap and a cautious borrowing from Dad's camping outfit, a diving bell that works so successfully that he goes down with it into a lake near the family home. Father maintains an almost incredible calm and communicates some of it to his wife, although Mrs. Greenwood's face is a study, when the boy's young helper fouls the airline and has to be assisted by Mr. Greenwood. But all ends well, as an absorbing and well made picture comes to a close. Director, actor and cameraman (although Mrs. Greenwood must have lent needed aid), Mr. Greenwood has made a family film that is dignified and interesting and, above all, is one that Junior need not shrink from, as it is shown in later years." Movie Makers, Dec. 1942, 506.
---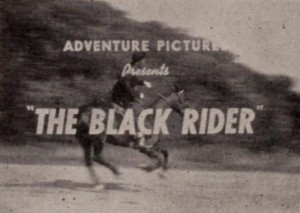 Date produced: 1941
Filmmaker(s):
Description:
"For Louis McMahon, making movies must seem to be as natural as breathing — only far more fun. It stands out in his work, from the first dynamic opening of The Black Rider to the last dramatic gun fight, in which, inevitably, the villain is vanquished and the hero left triumphant. For this film goes back to first principles of the motion picture, both in its "horse opera" subject matter and in its unfailing sense of movement and compelling excitement. True to the old traditions, this young producer has turned seemingly impossible obstacles with cinematic trickery and imagination. For the present, his technical skill has not always been equal to his creative ambition, but the genuine urge is there in abundance." Movie Makers, Dec. 1941, 566-567.
---
Total Pages: 4