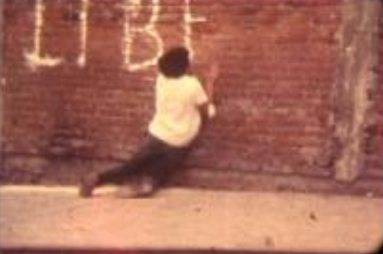 Date produced: 1972
Filmmaker(s):
Country of Production:
Mexico
Format:
Super8
Colour:
Colour
Sound Notes:
Unknown
Awards/Recognition:
First prize of the First Contest of Experimental Cinema in super 8, organized by the National Association of Actors (ANDA).
Description:
"El relato iniciaba con la presentación de un grupo de jóvenes que corren de manera desesperada por las calles de la ciudad, presumiblemente perseguidos por la policía. Inexplicablemente, dada la urgencia de la huída, uno se detiene a escribir en una barda la palabra "Libertad". No lo consigue, porque una bala lo derrumba cuando apenas va en "Libe...". (de ahí el título de la película). [...] La película apenas muestra una esperanza posible en la lucha por la libertad. Después del acoso y el acecho, todos los jóvenes que han protagonizado la historia mueren por una bala anónima de una fuerza represiva que no alcanza a tener un rostro definido" (Vázquez Mantecón, 2012).

"The story began with the presentation of a group of young people that run desperately throughout the city streets, presumably they are being chased by the police. Inexplicably, given the urgency of the escape, one of them stops to write the word "Freedom" on a wall. He fails, because a bullet overthrows him when he has barely written "Freed.." (hence the title of the film). [...] The film barely shows hope for the struggle for freedom. After the harassment and the siege, all the young people that starred the film are murdered by an anonymous bullet of a repressive force that does not have a defined face" (Vázquez Mantecón, 2012).
Resources:
Vázquez Mantecón, Álvaro. El Cine Super 8 en México 1970-1989 . Filmoteca UNAM, 2012. Find this book in Filmoteca UNAM Docs
Locations:
Relevant Locations
Subjects:
Genre:
Form:
Tags:
---