---
Date produced: 1967
Description:
"Yea, Verily touches on the experimental and runs the range of film tempo. If you sin you can be forgiven, providing you can find someone who will forgive you. Perhaps forgiveness is subjective after all, for does anyone else really care about your transgressions?" PSA Journal, Aug. 1967, 37.
---
Date produced: 1967
Filmmaker(s):
Description:
"Love is found between a man and his mate, between adults and their children, for brothers and sisters, and in countless other familiar ways. But in this film we are introduced to yet another" PSA Journal, Aug. 1967, 37.
---
Date produced: 1967
Filmmaker(s):
Description:
"The Conscience is one of those psychological studies without being too psychological in its treatment and approach. A hit and run driver decides no one will know his crime, but he finds it hard to live with his conscience. Everywhere he looks he sees himself as judge and as prosecutor, finding himself guilty as he pleads for mercy. Photography is not the best, but the story is quite powerful" PSA Journal, Aug. 1967, 37.
---
Date produced: 1966
Filmmaker(s):
Description:
"The Line combines serious commentary with humorous visuals to tell us that in man's lifetime his joys (above the line) just about equal his sorrows (below the line.)" PSA Journal, Sept. 1966, 35.
---
Date produced: 1965
Filmmaker(s):
Description:
"Indecisive tells the story of a girl who is rather mixed up and can't decide if it is worth while to go on living. The treatment is unlike most amateur efforts and because of its novel approach the film maintains interest to the end" PSA Journal, Sept. 1965, 50.
---
Date produced: 1964
Filmmaker(s):
Description:
"With Stronger Reason is a photoplay about an artist who is disgusted with his efforts–disgusted, in fact, with life in general–at least what life has been to him. Flashbacks at the beginning work to the film's favor, and excellent black-and-white photography plus some of the best camera work in this contest in recent years are features of this outstanding story film. It also received the MPD Scenario Award and the MPD Sound Award" PSA Journal, Sept. 1964, 50.
---
Date produced: 1958
Filmmaker(s):
Description:
"Bill Messner has turned to religion and nature for his soul-searching film. His leading man, Sam, has a fine home, family and job and is too busy for extra activities such as church assignments. His personal relations suffer from his self imposed confinement. Something persuades Sam to make a retreat to a religious camp. There are the usual at camp activities, plus the opportunity for devotion and contemplation; the relation of ones soul; the atmosphere to reflect purpose and accomplishment. Introspection is the keystone of the picture and well done it is" PSA Journal, Nov. 1958, 48.
---
Date produced: 1955
Filmmaker(s):
Description:
"The combined efforts of Massimo Sani-photography and Ezio Pecora-directing. A slowly paced, sensitive portrayal of adolescent emotions. While in many amateur films the acting is such that we can never forget it is a movie and that the actors are aware of the camera, in "Encounter on the River", the acting is natural, making this tender, almost too subtle story most enjoyable. The best directed amateur film seen in years." PSA Journal, Dec. 1955, 36.
---
Date produced: 1927
Filmmaker(s):
Description:
"This proved to be an unusual serio-comedy, telling of a restless young husband and how he was cured. It was very well acted by Alfred Fontana as the husband, Margaret Ervin as the vamp, Anne Howe, and Beatrice Traendly as the wife. The directon of Russell T. Ervin Jr. was remarkably good, revealing an unusual facility for telling a story concisely and quickly. Then too, he understood how to cover any histrionic imperfections of his cast. 'And How!' is a suprisingly neat amateur film" Photoplay, June. 1928, 66
---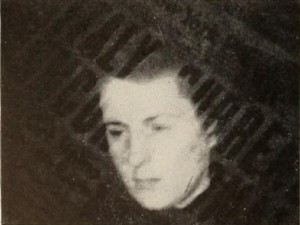 Date produced: 1945
Filmmaker(s):
Description:
"Return from Fire, as defined by its producer, Dr. W. Lynwood Heaver, is the "biography of a mental breakdown." In its opening we meet a boy and girl idyllically in love. But the clouds of war fall across their summer sunshine, the young man is called up and, in a short time, is announced as missing in combat. It is then that the fires of apprehension, misery and terror sear into the girl's mind. How modern psychiatry serves, at last, to recall her from this self inflicted limbo is the climactic denouement of Dr. Heaver's drama. The conception of Return from Fire is imaginative and exciting. The acting and its correlative direction are excellent throughout. A provocative musical score contributes markedly to the maintenance of dramatic tension. Dr. Heaver's camera work, rising occasionally to heights of cinematic imagination, is sound, satisfying and suggestive of still greater things to come. Put down his name as one to watch!" Movie Makers, Dec. 1945, 494.
---
Total Pages: 2