---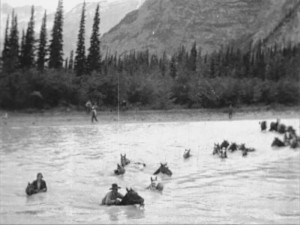 Date produced: 1931
Filmmaker(s):
Description:
"Shows an expedition through northeastern British Columbia by Mary Gibson Henry, Pennsylvania botanist and plantswoman. Mrs. Henry was interested in the legendary "Tropical Valley" of northern B.C., where the warmth of hot springs supposedly fostered vegetation not otherwise found in the region. The film was shot in the summer of 1931, during the first of four such journeys she made in the period 1931-1935. Mrs. Henry was accompanied by her husband, Dr. J. Norman Henry; four of her children; topographer Knox McCusker (of the Dominion Topographical Surveys Branch); Dr. B.H. Chandler, a surgeon friend; and outfitter S. Clark, as well as various wranglers. The second and third reels of this three-reel film show the party of 16 travelling by pack-train, crossing rivers, caching food, and fishing, as well as some camp scenes. At an encampment of "Grand Lake Indians" on the Tetsa River, they engage Charlie Macdonald, the chief's son, to guide them to Toad Hot Springs on the Toad River, but they do not proceed north to Liard Hot Springs. On the return trip south, stops include St. Paul's Lake, Henry River, and Lake Mary and Lake Josephine [named after the Henry's daughters]; these place names do not seem to have become official. Following the Peace River, they arrive at Hudson's Hope (having travelled 800 miles in 79 days), and continue down river to Taylor Flats." (BC Archives)

The title given above is a supplied title based on the film contents. The actual title of the film is unknown, since it survives as reels 2 and 3 of 3 -- and the actual title and credits (if any) would likely have been at the start of reel 1.
---
Date produced: 1952
Filmmaker(s):
Description:
A Camper and His Canoe was filmed at Camp Kawagama, the youth summer camp ran by the filmmaker and his wife.
---
Date produced:
Filmmaker(s):
Description:
This film was produced at some time in the 1950s.
---
Date produced: 1926
Filmmaker(s):
Description:
"A 1926 hunting trip in the East Kootenay region. The hunting party comprises Allan H. De Wolf, Claire and Elmore Staples, Bob Grimes, and Barney and Ralph Clifford, with Mr. and Mrs. Paul Stevens as guide and cook respectively, and 'Cheerful Joe' as Wrangler. The film shows the party on the trail with pack horses, in camp, and hunting bear, deer, elk and mountain goat. Specific locations include Elk Creek, Premier Lake, White River and Whiteswan Lake. There are good sequences on the packing of a pack horse and the skinning of big game. De Wolf's companions on this trip were his partners in the Western Explorations mine at Silverton" British Columbia Archives.
---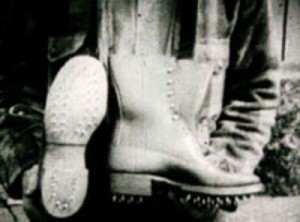 Date produced: 1930
Filmmaker(s):
Description:
"Depicts the year-round activities of the Machias Lumber Company on the Machias River in Washington County, Maine. Includes scenes of winter logging in the forest with hand tools and horses, as well as the spring log drive, with loggers using peaveys to break up log jams on icy rivers as the logs are moved from the forest to the mill. Includes footage of lumber loaded onto schooners in Machias for transport to New York and schooner being towed to sea by sardine boat." oldfilm.org
---
Date produced: 1931
Filmmaker(s):
Description:
"All of the players in this picture were boys in a summer camp who upon discovering that one of their members has a movie camera decide to make a motion picture. Like all youth they decide to imitate and based their story on Tarzan. The producers of this worked up a splendid bit of comedy, interjected a fine piece of melodrama with an Alger Jr. finish that rounded it out into a production that many of the judges felt would have been worthy of showing in any theatre. The acting, direction, story and handling as a whole was considered equal to many a professional comedy." American Cinematographer, Dec. 1932, 7.
---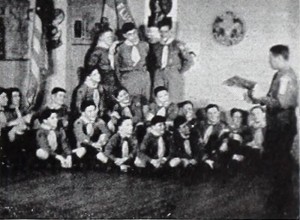 Date produced: 1945
Description:
"With its first, full dress training film for Scoutmasters, the Visual Education Service of the Boy Scouts of America embarks, in The Patrol Method, on a new pedagogical path. Instead of presenting the perfect method for emulation, the movie records what happens when Scoutmasters and patrol leaders, with more enthusiasm than shrewdness, do things in ways that invite difficulty. The wiser course is pointed out tactfully, but indirectly, in the film. Here is an unusual employment of the movie medium, but the United States Army and Navy found that it worked in war training. The film is intended for use with a printed outline, and verbal conferences will follow its showings. Directly designed to accomplish a specific teaching task, The Patrol Method does it admirably." Movie Makers, Dec. 1945, 498.
---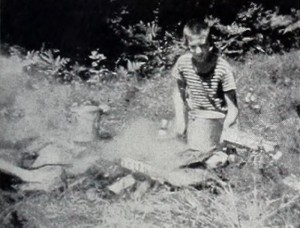 Date produced: 1945
Filmmaker(s):
Description:
"Excellent films have been made that show by more or less indirection what adults believe boys should do in camp. But what would boys like to do? Henry E. Hird, in The Big Adventure, seems almost to have thought with a boy's mind — a very real accomplishment for a busy executive — in producing this dramatic tale of boys in the woods. Two youngsters of about twelve years, armed with bows and arrows, are taken by their father on an island camping trip. Resigned, as most boys are under the instruction of their elders, they watch Father show them camp life in detail — and how he enjoys it! Suddenly he leaves for a war conference in Washington, and the two adventurers are alone for the night. A tramp appears, captures them, is outwitted by them and is seized by a helpful farmer. To bed and fears of invading bears go our heroes — when Dad returns, the conference deferred. It is a safe bet that young boys will approve Mr. Hird's dramatic movie as more realistic than some of the "approved solutions" offered to youthful campers." Movie Makers, Dec. 1945, 496.
---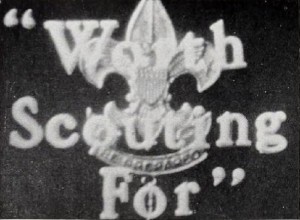 Date produced: 1945
Filmmaker(s):
Description:
"With the vitality of youth, the wonder of the woods and adolescent hunger for adventure, you have the ingredients for an excellent movie. Al Morton accepted the challenge offered by them, and turned out an interesting and competent film. Worth Scouting For has the indefinable quality that comes from fine filming, innate good taste and an understanding of boys' ways in the woods. Taking two independent youngsters and a large Boy Scout troop, Mr. Morton skillfully weaves a good story, based on the scorn of the two boys for the "sissy stuff" of Scouting. Both the troop and the boys go camping in the same area. The untrained campers make the mistakes avoided by the Scouts. They eat cold food because of their inability to build a fire; they become ill from smoking cigarettes which they have stolen; one almost drowns and is rescued by a Scout. They learn their lesson and decide that to "know how" is intelligent, not "sissy." A fine ability to film and direct youngsters with success makes Worth Scouting For an excellent picture which will be a delight to the actors in years to come. That, in itself, is a high accomplishment." Movie Makers, Dec. 1945, 495.
---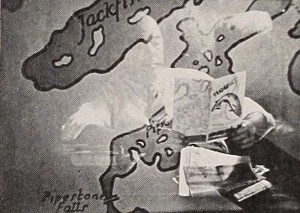 Date produced: 1939
Filmmaker(s):
Description:
"No better example of human interest in a vacation film will be seen for a long time to come than was exhibited in Two Perfect Weeks, made by Walter F. Hinkle. Strangely enough, there was practically no material of actually catching fish, yet the film gives one the impression that the party consisted of all genuine fishermen and that no more dyed in the wool sportsmen could be found than these happy vacationists. Starting with a clever introduction, the film moves rapidly along into camp. Here, a most handsome array of interest packed close shots serves to tell the story of tired business men at play, until the entire audience is ready to sit down and enjoy a meal of freshly cooked fish. The film ends in a novel way. To signalize the return to civilization, each member of the party is seen shaving off the beard that grew during the two weeks at camp. Although each of the group is introduced by means of a different type of activity, the picturization is at no time slow or dull. The secret lay in the fact that there was no "monkey business" in front of the camera, but rather a good collection of intimate views of the persons going about their various tasks. The color titles are well executed." Movie Makers, Dec. 1939, 632-633.
---
Total Pages: 2