---
---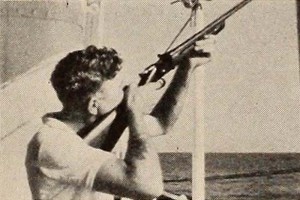 Date produced: 1938
Filmmaker(s):
Description:
"Frances Christeson, experienced cinematographer and artist of cine devices, gives us in Log of the Timber Rush the movie diary of a holiday voyage. That the freighter, in which she had booked passage, stripped its gears and was stalled somewhere in the Pacific Ocean, well off the coast of Mexico, upset her film plan but did not stop her. It became part of an amazing personal and movie making experience. But before the misfortune at sea and the long delay of weeks, waiting for help and repairs. Miss Christeson had filmed the loading of the Timber Rush with affectionate attention to detail and the use of fascinating cine symbols. She also had captured sequences of gorgeous quality, framed through ship's gear and depicting the beautiful, lazy clouds of the tropics and the life aboard the vessel. When the gears were stripped and the long period of inaction came, the camerawoman had, as she puts it, "the job of filming nothing happening." She does that as well as possible, and the result is a delightful sea picture marred only by the doldrums of fate." Movie Makers, Dec. 1938, 619.
---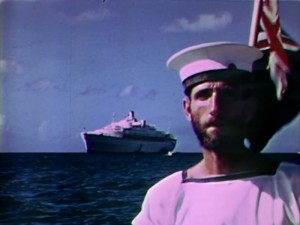 Date produced: 1971
Filmmaker(s):
Description:
"Hansen visits a Caribbean French colony, popularly referred to as Martinique. Much like Hansen's previous travels, he focuses on the colorful and exotic landmarks of the island." UC San Diego Library.
---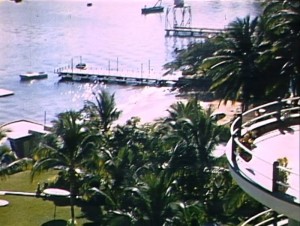 Date produced: 1970
Filmmaker(s):
Description:
"General scenes around Acapulco; Bay, ships, beach, poolside, city scenes, landscape, cliff diving, traditional dance and crafts." UC San Diego Library.
---
Date produced: 1933
Filmmaker(s):
Description:
"A ship film of an entirely different character was the stunning record of a midnight sailing by the S.S. Manhattan. Produced by Duncan Little, ACL, and presented on the program of his fourth annual movie party, this picture was caught entirely through the strength of Army airplane detecting searchlights which illuminated the sailing. Mr. Little took full advantage of his exciting setup, presenting numerous reaction shots of the great lamps and their pigmy operators silhouetted against the diffused light in the atmosphere, as well as of the beautiful new vessel picked out of the darkness by the stabbing beams." Movie Makers, June, 1933, 226.
---
Date produced: 1949
Filmmaker(s):
Description:
"Marine mammals of the Pacific Coast: sea lions, sea otters, fur and harbour seals, porpoises, killer whales. Also: Indian whaling techniques; whaling ship Westwhale; processing of whale carcasses at Coal Harbour whaling station." (BC Archives)

Film includes some footage provided to Dr. Carl by the Western Whaling Corporation.
---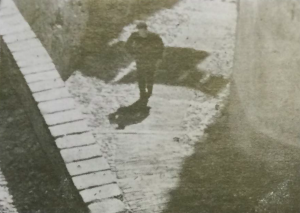 Date produced: 1935
Filmmaker(s):
Description:
"a sogg. lungh. norm." Feature fiction film

"La Nave, realizzato da Giovanni Paolucci, collaboratore tecnico Pietro Portalupi. Il difetto di questo film consiste nello scenario, nel non aver cioè gli autori trattato il tema in forma meno dispersiva, il protagonista, uomo disorientato ed inutile, senza uno scopo nella vita trova, col lavoro in una nave che alla fine viene varata e nell'atmosfera del fascismo, la sua strada. Un tema simile poteva essere trattato retoricamente o in modo più semplice e persuasivo; gli autori si sono attenuti alla via di mezzo, riuscendo ta­lora in buone sequenze, talora in sequenze dal­l'azione dispersiva. Migliore è la prima parte, quando Paolucci descrive il rapporto dell'uomo col mare, e prima, la sua solitudine; la fotografia è in queste scene piuttosto notevole."

"The Ship (La Nave), directed by Giovanni Paolucci, technical collaborator Pietro Portalupi. The defect of this film is in the scenario and in its authors not treating the subject in a less unorganized way. The protagonist, a disoriented and useless man, without a purpose in life, finds his way by working on a ship that is eventually launched and in the atmosphere of fascism. Such a theme could have been treated rhetorically or in a simpler and more persuasive way; the authors stuck to the middle ground, succeeding sometimes in good sequences, sometimes in sequences with dispersive action. The first is the best part, when Paolucci describes the man's relationship with the sea, and before that, his loneliness; the photography is quite remarkable in these scenes."

—Il ventuno 28 (Review of the G.U.F. of Venice), May 1935, p. 17-18
---
Date produced: 1935
Filmmaker(s):
Description:
News Flashes captures "events around Vancouver, ca. 1934-1935: 1. The German warship 'Karlsruhe' ties up in Vancouver. 2. Champion high diver Ray Wood dives from Burrard Bridge. 3. Japanese training ship (the tall ship 'Zaisei Maru') visits Vancouver. 4. A circus visits Vancouver. 5. Jubilee exhibition and parade, Vancouver, 1935" British Columbia Archives.
---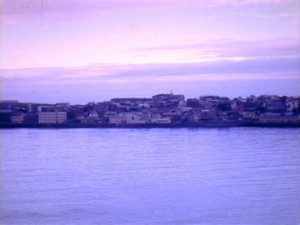 Date produced: 1962
Filmmaker(s):
Description:
"Sailing around Alaska." UC San Diego Library.
---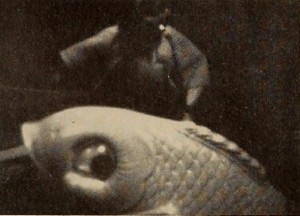 Date produced: 1949
Filmmaker(s):
Description:
"Neither the lead title nor the unpretentious opening scenes — as a small boy is seen building a crude toy boat — prepares the spectator for the pure enchantment of One Summer Day. For, almost unrealized even as it happens, the film melts with incredible smoothness from live action into animation and make-believe. The toy boat becomes a pirate galleon of old, a flower a maiden in distress and a twig her gallant suitor, as there unfolds a tale of romantic derring-do. Under cover of darkness, the pirates plot to kidnap the lady, whose protector, a humble fisherman, is away at his nets. He returns, only to be bested in the ensuing sword play, yet, undaunted, he still gives chase. With the help of a friendly whale, he overtakes the pirates, frees his lady and, as the galleon goes down in flames, the lovers return to shore, to live happily ever after. Then, as quietly as it all began, we are back at the edge of the sunlit pond. The boy lifts his boat from the water and turns homeward. And yet, through the true magic of the movies, we have entered for a brief moment childhood's enchanted world. Highly imaginative camera handling, technical skill and a keen sense of cinematic values make this an outstanding example of personal filming. The musical accompaniment and sound effects (including the cling-clang-cling of clashing swords) complement the picture perfectly. Glen Turner has added a new dimension to amateur filming with this simple story so superbly told in its brief 350 feet of 8mm. film." Movie Makers, Dec. 1949, 452-453.
---
Date produced: 1938
Filmmaker(s):
Description:
"Coastal people, places and scenery between Vancouver Island and the mainland. Includes footage of Indian villages, pictographs, birds and wildlife, logging operations, other vessels, etc." British Columbia Archives.
---
Total Pages: 5