---
---
Date produced: 1969
Filmmaker(s):
Description:
"The Ages of Manby Dr. Wallace Shaw, a consistent winner, of Jamaica, N.Y. In 26 minutes of color, make-up and fine filming technique we see the phases of a man's life unfold...and fold. Being a doctor, Wally had access to some unusual location shots that "hook" you right from the start and carry you to a very revealing ending. The film gives food for thought with its philosophy and its unusual approach," PSA Journal, Mar. 1970, 43.
---
Date produced: 1933
Filmmaker(s):
Description:
"A young man collects his girlfriend in his car, visits the Meteor Golf Club then drives into the country. They swim with a lido, enjoy the beach, picnic, then drive into Glasgow at sunset." (EAFA Database)
---
Date produced: 1927
Filmmaker(s):
Description:
"This proved to be an unusual serio-comedy, telling of a restless young husband and how he was cured. It was very well acted by Alfred Fontana as the husband, Margaret Ervin as the vamp, Anne Howe, and Beatrice Traendly as the wife. The directon of Russell T. Ervin Jr. was remarkably good, revealing an unusual facility for telling a story concisely and quickly. Then too, he understood how to cover any histrionic imperfections of his cast. 'And How!' is a suprisingly neat amateur film" Photoplay, June. 1928, 66
---
Date produced: 1971
Filmmaker(s):
Description:
"An anti-war film which portrays the effect of war on its participants by presenting a dramatization in which a Vietnam veteran attempts to assassinate the President" via WorldCat.
---
Date produced: 1935
Filmmaker(s):
Description:
"Okamoto again demonstrates his fine sense of composition, repose and rhythm. Okamoto never hurries his pictures, neither does he hold them too long to bore you. He plans only to give you another fine picture, but he always puts life into his shots. Autumn Leaves is a fine Okamoto offering, but in the opinion of the judges it does not contain the same spark of creation as his last year's effort, 'Tender Friendship'." American Cinematographer, Jan. 1936, 24.

"In the countryside of Japan, the atmosphere of autumn is captured in shots of bare trees, reeds, reflections and sunlight on rippling water, floating leaves and dark clouds. A woman carrying a small child on her back is reflected in water as she stands near a pole, then rests against a harvest stack while crocheting from a ball of yarn. She walks along a path surrounded by farmed terraces. A child (described in the opening titles as motherless) plays with a paper ball while the grandfather tills the soil. The child blows into the ball to inflate it and the grandfather gets out his pipe and lights it with a match. Then he helps to inflate the ball. Against a sky of darkening clouds, they walk along the path, the man carrying the rake and the child a kettle. A woman with an infant on her back passes them, and the child stops and watches after her as she moves away. Then the child stops at a wayside shrine, and the grandfather offers comfort. Against low sun beneath dark clouds they are seen in silhouette as they continue on their way" (EAFA Database).
---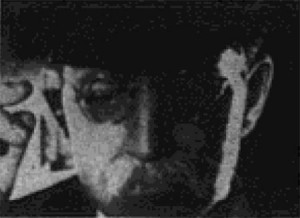 Date produced: 1967
Description:
"In Backfire we find an elderly gentleman intent on planting a bomb which, if it goes off as planned, will make his future a bit more easy to take, but from the title of the picture you may assume things don't go quite according to plan. The old fellow does a fine job of acting, and he is capable of holding the viewer's attention" PSA Journal, Aug. 1967, 36.
---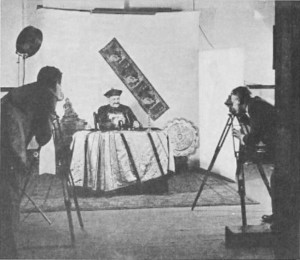 Date produced: 1930
Filmmaker(s):
Description:
Promotes the all-round activities of YMCA work and their relationship to character-building. Kenyon, a one-time YMCA athlete, has "fallen into evil companionship" and become addicted to cocaine. Under the control of Chinese underworld kingpin Chang Yat, he aids in the kidnapping of a white girl. Afterwards, he discovers his old "Y" pin and recalls the role of YMCA athletics in shaping his character. Seized with remorse, he overpowers Chang Yat and helps the girl escape. Later, Kenyon returns to the YMCA. (D.J. Duffy, condensed from "Y.M.C.A. Cinema Club Produces Smart Film," Toronto Daily Star, May 31, 1930, p. 30.)
Film was sponsored or co-produced by the Central Y.M.C.A. of Toronto, and written by the club's secretary, H.G. McKinley.
---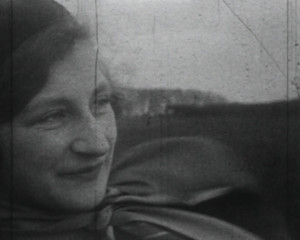 Date produced: 1932
Filmmaker(s):
Description:
"Amateur filmmaker H.A.V. Bulleid spins a web of intrigue in a feature-length tale that pits British secret servicemen against Russian agents desperate to obtain a top secret document. When Agent Malloon (Michael Kitchin) is given the task of protecting top-secret plans of utmost international importance, Jim Weston (Stephen Bostock) and Vernon Stone (Sinclair Loutit) - Malloon's closest friends - are busy competing for the affections of his sister, Jill (Carrie Hopkinson). Seemingly a hapless idiot, Weston is in fact a secret service detective, acting the fool in order to dupe Stone, a Russian super-spy. And when Stone and his Russian associates beat Malloon unconscious and steal the documents, it is up to Weston to lead the charge as car chases and deadly fist fights ensue. But can Jim Weston retrieve the papers, save the nation and - most importantly - finally conquer Jill Malloon's heart?" (EAFA Database).
---
Date produced: 1951
Filmmaker(s):
Description:
"Al Londema's 'The Black Satchel,' is a pretentious photoplaylet in 8mm color, showing good camera work and direction." American Cinematographer, May. 1952, 224.
---
Date produced: 1934
Filmmaker(s):
Description:
Visitors at a party receive a message from beyond that informs them, "There is a devil here!" and chaos follows. 'Just before he died, the photographer of this film, Jack O' Hea, saw an article by Tony Rose, FACI, about the very first year of the Ten Best Competition and so this 'lost' film was rediscovered. It was made in 1934, just two years after Kodak had introduced the 8mm gauge. Music and 'devilish sound effects' were added by Jack O'Hea in 1978. These were revised and re-tracked for the IAC Library by the late Leslie Germany, FACI. The story, by John Burke, relates how the visitors at the Blackmores' party (one of whom is played by the director, Stanley Comber) receive a spirit-message that: 'There is a devil here!'. They link hands round the table and the hostess is attacked' (EAFA Database).
---
Total Pages: 10