---
---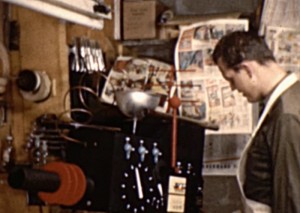 Date produced: 1951
Filmmaker(s):
Description:
After celebrating his fourth wedding anniversary, a man becomes obsessed with building a homemade weapon of mass destruction. The man's efforts reach a breakthrough after the couple celebrates their fifth anniversary.
---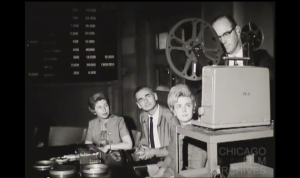 Date produced: 1963
Filmmaker(s):
Description:
"A silent documentary that follows a group from Central Cinematographers as they view, discuss and shoot films. The process of filmmking becomes transparent as the actors are seen alongside the equipment that lights and films them as well as the large number of people that are needed to prepare for a scene." Chicago Film Archives
---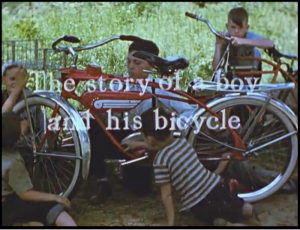 Date produced: 1939
Filmmaker(s):
Description:
"An experimental film about a boy owning a bicycle and learning the proper safety rules on the road." Wisconsin Center for Film and Theater Research
---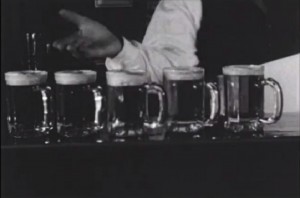 Date produced: 1933
Filmmaker(s):
Description:
"A humorous film about group exercises and volleyball at the Turnverein gymnasium, Portland, Oregon. Produced by "Miller Picture Corruption Ink" under the auspices of the Amateur Cinema League, probably as a Christmas present for Miller's friends. Appearing: Members of the Portland Turnverein." Oregon Historical Society.
---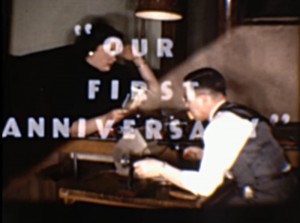 Date produced: 1951
Filmmaker(s):
Description:
A woman grows frustrated with her husband's commitment to his various hobbies, which seem to take precedence over their marriage.
---
Date produced: 1939
Filmmaker(s):
Description:
"Il film è un documentario di propaganda e vuole sopratutto essere un invito verso l'aeromodellismo. Il modello volante è oggi progettato su basi scientifiche e costruito con criteri tecnici in perfetta analogia col velivolo moderno. Il film s'inizia con una rapida rassegna dei più rudimentali velivoli coniati dalla fantasia del bambino, dall'aeroplano di carta all'aquilone, sino al giocattolo. Qui s'inizia la sequenza della scuola degli aeromodellisti e la costruzione completa di un modello a struttura reticolare con motore a fili elastici. Sul campo di volo il modello riceve il battesimo dell'aria col suo primo volo, mentre, a contrasto con le rabbiose evoluzioni dei modelli a motore, i modelli veleggiatori lanciati con cavo volteggiano leggeri e sicuri. La più alta perfezione costruttiva e la maggior finezza aerodinamica caratterizzano i grandi modelli di alianti per lancio dal pendio, che sono argomento della terza parte del film. Spontaneo è il passaggio ideale e logico dai modelli alianti al volo veleggiato, palestra di addestramento dei giovani per i futuri ardimenti dei cacciatori e bombardieri dell'aria."

"The film is a propaganda documentary and above all wants to be an invitation to model aircraft hobbyism. The model airplane is today designed on a scientific basis and built with technical criteria in perfect analogy with the modern aircraft. The film begins with a quick review of the most rudimentary aircraft coined by the child's imagination, from the paper plane to the kite, to the toy. Here begins the sequence of the model aircraft school and the complete construction of a reticular structure model with an elastic line motor. On the airfield, the model receives the baptism of the air with its first flight, while, in contrast to the furious evolutions of the motorized models, the sailplane models launched with cable fly light and safe. The highest constructive perfection and the greatest aerodynamic finesse make the large models of gliders, which are the subject of the third part of the film, suitable for launch from the slope. Spontaneous is the ideal and logical transition from glider models to soaring flight, a training ground for young people for the future feats of hunters and air bombers."—LITTORIALI DEL CINEMA ANNO XVIII program

"...che illustra il procedimento della costruzione in laboratorio dei modelli volanti, ponendo a raffronto il breve volo dei piccoli modelli con quello delle moderne pesanti macchine aeree"—I Littoriali del cinema: Un'altra interessante serie di documentari, La Stampa, September 3, 1939

"...which illustrates the process of laboratory construction of flying models, comparing the short flight of small models with that of modern heavy aerial machines."
---
Date produced: 1950
Filmmaker(s):
Description:
"Of Kings And Queens: This Kodachrome entry endeavors to explain the game of chess to a little girl watching it being played by her father and a friend. Moving in close to the chess board, the camera shows in detail the various chess men and their relation to the game, as an off-stage voice explains this relationship to the girl. C. Richmond Lawrence employed his Bolex H-16 camera with great skill in photographing this film, and the narration on the sound track is of high calibre." American Cinematographer, May. 1951, 192.
---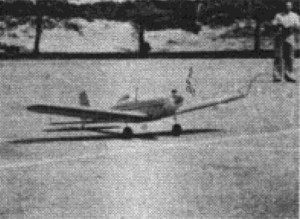 Date produced: 1960
Filmmaker(s):
Description:
"One must enjoy a great deal of fun in building and flying the midget airplanes. Not the rubber-band motors, but the real one-cylinder petrol engine with radio control. We witness the construction and flying of the miniature craft" PSA Journal, Nov. 1960, 42.
---
Date produced: 1933
Filmmaker(s):
Description:
"Among the films awarded honorable mention is Remote Control, by Louis W. Bleser, ACL, which gives a fine cinematic exposition of the activities of a train despatcher, by means of an unusually well equipped miniature railway system. Here the technical problem is especially important, calling for closeup studies of the first quality, the aim being so to light and photograph the subject that there would be a semblance of realism. In effecting this result, the use of well chosen titles and fine editing played no small part. Such a film as this upholds the maxim that "cinematics begin at home." " Movie Makers, Dec. 1933, 522.
---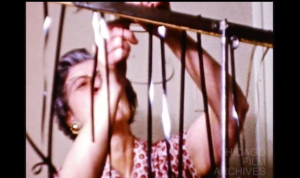 Date produced: 1958
Filmmaker(s):
Description:
"An amateur film made by and starring the husband and wife duo, John & Evelyn Kibar. The Kibars are on a search for a hobby, and decide upon filmmaking. A domestic mishap by Mrs. Kibar results in their film being edited incorrectly. Title cards displaying dialogue are dispersed throughout the film." Chicago Film Archives
---
Total Pages: 2