---
---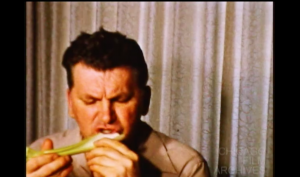 Date produced: 1960
Filmmaker(s):
Description:
"An amateur film made by and starring the husband and wife duo, John & Evelyn Kibar. Title cards with dialogue are dispersed throughout the film." Chicago Film Archives
---
Date produced: 1939
Filmmaker(s):
Description:
"Documentary on smoke pollution and the effects it has on people's health." (EAFA Database)
---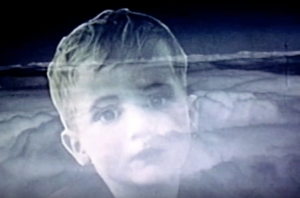 Date produced: 1968
Filmmaker(s):
Description:
"Dear Little Lightbird was entered as an experimental film by Leland Auslender, who also won one of the four top awards in the Class C category. He has a way with color, light and angles, and this talent easily put his film in the Top Ten. It's a story of a little boy born with an incurable disease, and how his three years of life brought into focus all the wonders of nature and this world around us. Perhaps this 18-minute film could be shortened somewhat, but it doesn't seem to matter for the film surrounds you with unusual shots of the simple things most of us miss in the helter-skelter of everyday life" PSA Journal, Oct. 1968, 49.
---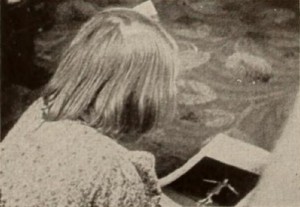 Date produced: 1946
Filmmaker(s):
Description:
"Victor E. Pye, using his family as the principal actors in a sincere and competent photoplay, brings us the flavor of family life in far away Australia. With a sure cinematic sense, he opens Inspiration with a moving dolly sequence which carries you into the house directly to the star of the film. With creditable economy of footage and compelling acting and directing, Mr. Pye tells a simple tale of a once crippled child returned to health through the inspiration of a famous figure skater — herself a former "polio" victim. There are also several scenes from which it becomes obvious that the movie maker has profited from viewing theatrical productions with his mind on his own filming. Suave and sensitive, Inspiration becomes moving and believable as the plot unfolds." Movie Makers, Dec. 1946, 488.
---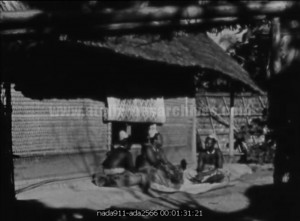 Date produced: 1941
Filmmaker(s):
Description:
"On an actual Protestant missionary who brought Christianity, education, and medical aid to an illiterate, pagan tribe in the Belgian Congo." National Archives.
---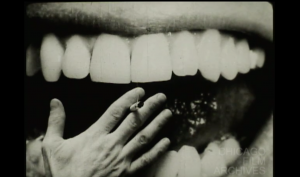 Date produced: 1960
Filmmaker(s):
Description:
"An amateur anti-smoking film produced by Helen and Sidney Mortiz that mocks cigarette advertisements of its day. Shot in the late 1960s or early 1970s and distributed by the Society of Amateur Cinematographers (SAC)." Chicago Film Archives
---
Date produced: 1937
Filmmaker(s):
Description:
"Fundraising film about Queen Alexandra Solarium for Crippled Children at Mill Bay, near Victoria." (Duffy, Camera West)
---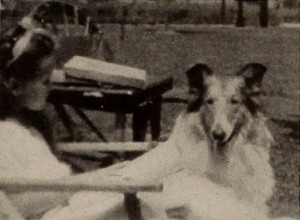 Date produced: 1946
Filmmaker(s):
Description:
"In a relatively short period of filming, Raymond J. Berger has mastered a type of photoplay which a great many persons have expressed a desire to make, the story film featuring a child and a pet. His script, a simple and unpretentious recounting of how an invalid child wills herself to walk again, to go to the aid of her injured dog, proves an ideal vehicle for Mr. Berger's young daughter and her handsome collie, Lassie. This 8mm. Kodachrome picture, scored with re-recorded music, is noteworthy for its excellent framing and splendid closeups. Particularly engaging is the sequence, after the accident, showing the mutual recovery of the two stars. Young Miss Berger, considering the limited histrionic ability of a natural child, plays her role with grace and assurance; her crying scenes and the ingenuous frolics with Lassie are unusually credible and well performed. Mr. Berger deserves credit for his planning and fulfillment of a screen play that revolves around two such charming personalities." Movie Makers, Dec. 1946, 486.
---
Date produced: 1965
Filmmaker(s):
Description:
"A New Life for Jennifer is the sensitive story of a little girl about 4 years of age who is hard of hearing. She is enrolled in a special school for hard of hearing children where she learns to talk and speak correctly and in other ways to manage herself. The techniques used in theses teaching processes are emphatically depicted, and the judges did well in awarding to the maker of this film a citation which reads "For Special Service in the Public Interest" PSA Journal, Sept. 1965, 51.
---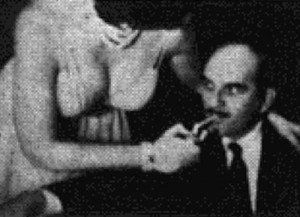 Date produced: 1962
Filmmaker(s):
Description:
"Where there's smoke there must be fire, but the situation is not as disturbing as it could appear. Rather it is something to be taken lightly. It is about persons smoking. A Long time ago, before the age of tobacco, many things were smoked, but now it is tobacco. We get a glimpse of some of the products smoked, some famous smokers, and some of the reasons why people smoke. But when man reaches the end of his journey, it is certain that the end will find him smoking. The maker of this film received the MPD Humorous Film Award. Perhaps it is not without some point of humor that the sponsor of this award, a cigarette case, does not smoke. This will be included in the Package" PSA Journal, Oct. 1962, 36.
---
Total Pages: 2