---
Date produced: 1948
Filmmaker(s):
Description:
"Item is a film of Dr. Willinsky's trip to a snake farm in Miami, Florida. The last few minutes of the film switches to footage of a snake charmer likely taken by Dr. Willinsky in Morocco. Film is in the form of a travelogue with commentary provided by Dr. Willinsky." Ontario Jewish Archives.
---
Date produced: 1959
Filmmaker(s):
Description:
"Edited film is the story of the Kreznar family vacation to Florida created by Frank Kreznar, an award winning amateur filmmaker and engineer. The youngest daughter is instructed by a teacher to keep a notebook of her experiences in Florida which include visiting a Florida visitor center, setting up camp in a park, watching a water skiing performance, visiting a marine animal park where they watch a dolphin show, touring the Everglades on an air powered boat, riding on a glass bottom boat, viewing bird and animal wildlife and swimming at a beach. Sound is the daughter's narration of their experiences," via the Human Studies Film Archives, Smithsonian Museum.
---
Date produced: 1935
Filmmaker(s):
---
Date produced: 1964
Filmmaker(s):
Description:
"Work of Nature–in Florida takes us to this tropical state for a glimpse of many forms of wild life including the ever present alligator and the night prowling raccoon, but mostly this is a film about bird life. We see good glimpses of the snowy egret, the wood duck, night heron, hawk, wood stork, cormorant, little blue heron, grackle, macaw, cockatoo, peacocks and many others. A good narration, well delivered and full of factual information, keeps this film moving. It was winner of the MPD Nature Film Award" PSA Journal, Sept. 1964, 50.
---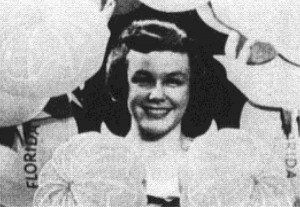 Date produced: 1960
Filmmaker(s):
Description:
"Our man has been through a long, hard winter and with more snow on the way he goes to Florida. We visit many of the places and see and do the things vacationers like to do. We move from one interest to another and stay just long enough to like it. Our friend awakens from his Florida visit and sunburn, all from his over-long stay under the sun lamp. A delightful visit" PSA Journal, Nov. 1960, 40.
---
Date produced: 1954
Filmmaker(s):
Description:
"Choosing one of the most common sites of seasonal move making, Benjamin Crocker has by the sheer virtuosity of his production methods come up with an attractive and entertaining travel short. Here are, to be sure, Marineland, Miami, Silver Springs, Cypress Gardens and all the rest, tied neatly together with an animated map and a lively commentary. But with his clean camera work, fresh viewpoints and incisive editing, Mr. Crocker covers them in a tight ten minutes of unflagging good fun. To these same subject other amateurs have devoted twenty, forty or even-sixty minutes, and, all too often, have encountered the inevitable law of diminishing returns, Florida Vacation Fun dances where others have dawdled" PSA Journal, Jan. 1955, 48.
---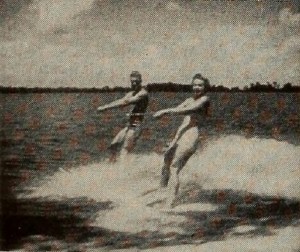 Date produced: 1953
Filmmaker(s):
Description:
"Anyone who sees Fabulous Florida will appreciate that Haven Trecker not only has covered that state thoroughly in his travels, but that he has worked hard to record its tourist and industrial highlights in a long series of effective sequences. Beautifully photographed, well edited and with a pleasantly informative narrative, Fabulous Florida is distinguished by the excellence of many of its sequences. We remember with particular pleasure the section devoted to Marineland and its sea life, and the colorful sequence on the manufacture of fishing lures." Movie Makers, Dec. 1953, 334.
---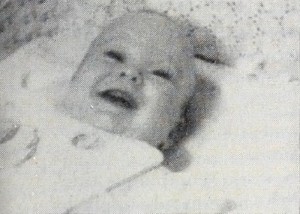 Date produced: 1951
Filmmaker(s):
Description:
"Louis Dishotsky and Arthur Rosenthal have put together in High Card Goes an entertaining variation on the travel record film. A definite story line replaces the usual slight continuity device. A pair of tickets for a Florida trip are won on a radio quiz show, but since both parents and two children cannot go, the mother and the father draw cards, high card winning. Wifey tops her mate's king with an ace and takes off for Florida, with the older child. The luckless husband is left to tend the baby and the house. While the acting is fine and the production is technically competent, the pictorial-dramatic pace is rather slow. Tighter editing is indicated." Movie Makers, Dec. 1951, 411-412.
---
Date produced: 1949
Filmmaker(s):
Description:
"George Merz offers a masterful job of photography in his travel film, 'In The Sky Over Miami'." American Cinematographer, May 1952, 224.
---
Date produced: 1950
Filmmaker(s):
Description:
"Our Friendly Enemies: This unique title has its origin in the fact that the Seminoles are the only native American Indians who have never signed a peace treaty with the government. Ralph E. Gray has chronicled in color with his 16mm Cine Special camera the contemporary life of the Seminoles living in Florida, picturing their activities against the backdrop of modern-day living and habits. Gray's reputation for camera and good editing has resulted in very professional results on the screen. Narration and sound effects on the recorded track round out the superior treatment of this better than average amateur effort." American Cinematographer, May 1951, 190.
---
Total Pages: 2