---
Date produced: 1927
Filmmaker(s):
Description:
"Clyde Hammond, of 65 Murdock Street, Youngstown, Ohio, won an honorable mention in the 16 millimeter division for his study of country life, 'The Dragon Fly.'Mr. Hammond worked out a strong atmospheric study of a selfish country boy, home from college, and his hard-working farmer father."Photoplay, Jun. 1928, 137
---
Date produced: 1941
Filmmaker(s):
Description:
"Seldom has an amateur embarked upon so formidable a production as did David Bradley when he and some friends decided to film Ibsen's Peer Gynt, using Grieg's music for background. This mystic drama is considered so difficult that it has been performed only twice in the American theatre; yet the task held no terror for this group. Fashioning their own costumes and finding suitable locations in suburban Chicago, Mr. Bradley's intrepid band has done an amazingly good job. It would be easy to visualize the result had the production been in less capable hands than those of Mr. Bradley, and it is to his great credit that such quaint characters as the Button Moulder and the many trolls and woodland sprites do not appear ludicrous. The chief fault in this tremendous undertaking is that Ibsen's gigantic play has been transliterated to the screen rather than translated. That is, Mr. Bradley, by his own admission, modeled his scenario as closely as possible on a work written expressly for the theatre. Had he taken more liberties with the dramatic form in favor of a more peculiarly cinematic treatment — as exemplified so strikingly in the fine Hall of the Mountain King sequence — there would have been no structural weaknesses in his film. With this fundamental concept firmly in mind, Mr. Bradley, recently turned twenty one, should scale the heights in his future productions." Movie Makers, Dec. 1941, 566.
---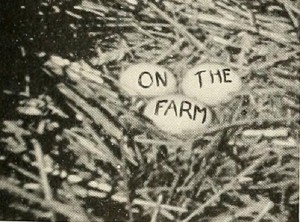 Date produced: 1940
Filmmaker(s):
Description:
"Sunlight and morning noises, the rich, sweet smell of clover, the hot grain fields at midday and windmills drawing water from the deep earth — these are part of the common life of an Ohio farm that two young girls, Marjean and Mary Elizabeth Headapohl, have put into their film, On the Farm. It is a record as American in feeling as Walderts Pond, even though unconsciously so. Innumerable closeups show the generousness of the earth in Ohio, whether in flowers around the house or in the grain and vegetables of the fields. Day after day, the imponderable clouds drift by. Peas are shelled for dinner; the cows are brought in from the pasture by the collie dog; the farm hands return to the barn after a day of harvesting wheat. There is little more shown, in substance, and presently the film ends. But it leaves one with a conviction that this simple way of life in America cannot easily be changed, and that, as long as people of good hearts make records such as this, we cannot wholly forget that the Republic was founded on the plough." Movie Maker, Dec. 1940, 603-604.
---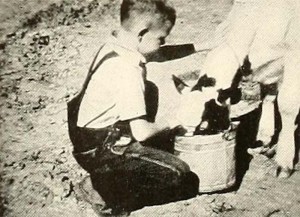 Date produced: 1940
Filmmaker(s):
Description:
"On the Farm, made by Mr. and Mrs. Ray Garner for the Harmon Foundation, is an example of visual education at its best. By the use of two charming, healthy little American children as the chief characters, it enlists sympathy before it attempts to instruct. And it never strays from the fundamental concept which, to all evidence, was in the minds of its makers: namely that, to teach children by visual aids, one must appeal to their sense of fun. Charm, here, is not outlawed simply because it is not informative. Divided into two parts, Morning and Afternoon, and illustrated with unpretentious titles, such as This is how the animals help, which are chalked in white letters on a blackboard, On the Farm tells of a common workday, in terms of what two farm children can do to assist their parents. From the sequence in which the tousled farm lad puts his head out of the window to see what kind of a daybreak it is. to the time when the sun goes down behind the silo, almost every kind of farm activity is shown. Other children in city classrooms are going to see themselves in the scenes and will want to learn more about a way of life in which they can feel so much at home." Movie Makers, Dec. 1940, 600-601.
---
Total Pages: 2