---
---
Date produced: 1959
Filmmaker(s):
Description:
"A day in the life of a man who is in much of a hurry to get somewhere. As he travels along his hurried way we are right in there enjoying his anxious moments as he transfers from one public conveyance to another. We are of course much relieved when we learn that he has arrived in good time" PSA Journal, Nov. 1959, 48.
---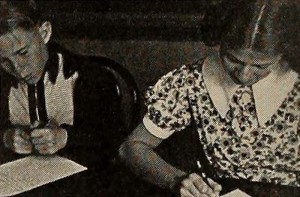 Date produced: 1938
Filmmaker(s):
Description:
"First Film and When the Cat's Away, a double header entry, which takes honors jointly because of the strong relationship between the two, is the production of the Cinema Club of Lowell Junior High School, at Long Beach. Calif., and of the club's faculty adviser, Helen Rees Clifford. First Film, largely the work of Miss Clifford, summarizes the Junior High School group's experiences in producing When the Cat's Away, which is entirely the achievement of the youngsters. Together, the two films present a clear and concise picture of the initial production of a film by a junior high school movie club, from scenario writing and movie planning to the completed opus, ready for its premiere. So, in these two reels, one sees how the job of teaching movie making technique to youngsters, of ages from eleven to fourteen, can be handled efficiently and happily, and one learns how clear and coherent a little picture can be produced as a starter. Few high school photoplay clubs have begun so well and with so little lost motion. Very few high school first films are as clear and competent as When the Cat's Away." Movie Makers, Dec. 1938, 618.
---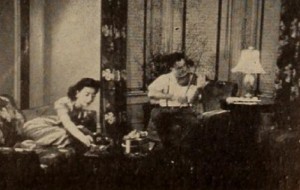 Date produced: 1949
Filmmaker(s):
Description:
"Using black and white film, Carl D. Frazier has produced a tightly knit and well paced farce of a married couple and a burglar. Excellent lighting of wholly interior settings shows study of the monochrome medium and, properly exploited, how it can result in sparkling results. The acting is adequate for the simple plot, but it is the camera work and editing that make the film above average." Movie Makers, Dec. 1949, 472.
---
Date produced: 1967
Filmmaker(s):
Description:
"Who's Been Sleeping in My Bed Now, you see, there was this turtle, and he wanted to go home with me and spend the night. Well, that was all right with me, so I took this turtle home and he even slept right in my bed. You don't believe my story? Well, neither does my wife! But it is all told in this film, right down to the bare facts in the end!" PSA Journal, Aug. 1967, 37.
---
Date produced: 1969
Filmmaker(s):
Description:
"Who's Got the Bucket? is a color cartoon that is funny enough to win the Humorous Award. This year's 3-minute entry by John Guirk of Brooklyn is so different in its art technique that it could almost be classified as an experimental or an abstract film. It's fast moving and holds audience interest to the very end" PSA Journal, Nov. 1969, 56.
---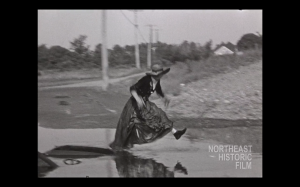 Date produced: 1937
Filmmaker(s):
---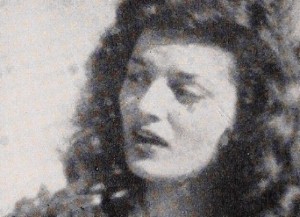 Date produced: 1948
Filmmaker(s):
Description:
"Any husband who has ever cast a wandering eye in the direction of a neighboring redhead should appreciate the husband and wife shenanigans related in The Wolf's Tale, by George A. Valentine. In addition to its redhead, and further complications, Mr. Valentine's film has the great merit of brevity, though it includes several travel shots and a little family background as well as its smoothly told story. Basically, however, the moral of The Wolf's Tale is: Leave redheads alone." Movie Makers, Dec. 1948, 495.
---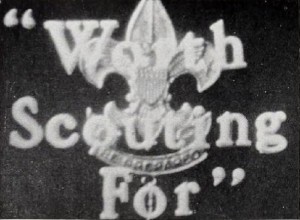 Date produced: 1945
Filmmaker(s):
Description:
"With the vitality of youth, the wonder of the woods and adolescent hunger for adventure, you have the ingredients for an excellent movie. Al Morton accepted the challenge offered by them, and turned out an interesting and competent film. Worth Scouting For has the indefinable quality that comes from fine filming, innate good taste and an understanding of boys' ways in the woods. Taking two independent youngsters and a large Boy Scout troop, Mr. Morton skillfully weaves a good story, based on the scorn of the two boys for the "sissy stuff" of Scouting. Both the troop and the boys go camping in the same area. The untrained campers make the mistakes avoided by the Scouts. They eat cold food because of their inability to build a fire; they become ill from smoking cigarettes which they have stolen; one almost drowns and is rescued by a Scout. They learn their lesson and decide that to "know how" is intelligent, not "sissy." A fine ability to film and direct youngsters with success makes Worth Scouting For an excellent picture which will be a delight to the actors in years to come. That, in itself, is a high accomplishment." Movie Makers, Dec. 1945, 495.
---
Date produced: 1960
Filmmaker(s):
Description:
"Stan Midgley returns again, this time presenting the "Yellowstone Tetons and Glacier Park." In the wonderful northwest corner of Wyoming you can see spectacular mountains, beautiful lakes, canyons, waterfalls, wild animals and more natural wonders than a tourist can see in a month. There are superb pictures of most of the world's greatest geysers and the changes made by the great 1959 earthquake with before and after pictures. There is Earthquake Lake and its notorious landslide. The Cooke City Red Lodge Highway over the Beartooth Mountains —Ghost Towns and modern towns of Western Montana —Glacier Park, beautiful from the highway, incomparable from the wilderness trail. The ending comes in the golden glory of autumn." Central Union Reaper, Sept. 27, 1966, 3.
---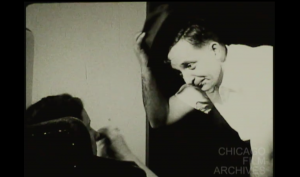 Date produced: 1948
Description:
"After a day of domestic squabbling, an imposing wife and bumbling husband have their furniture appraised. When two men show up as assessors the confusion begins, ultimately giving the husband a chance to prove himself." Chicago Film Archives
---
Total Pages: 19