---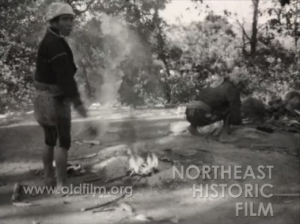 Date produced: 1932
Filmmaker(s):
Description:
The film depicts Mayan rites in 1930's Guatemala along with intertitles describing the destruction of Mayan temples by conquerers and the performance of traditional ceremonies at the steps of churches.
---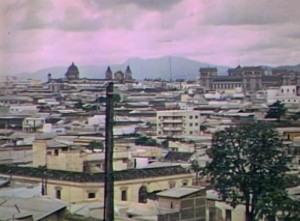 Date produced: 1960
Filmmaker(s):
Description:
Kodachrome travelogue showing life and culture in Guatemala and Panama.
---
Date produced: 1960
Filmmaker(s):
Description:
"1 View of small plane at an airport. 2 View of dinghy in a harbor at the Great Salt Lake. 3 Views of shoreline and boat moving through the Great Salt Lake. 4 Views of the west coast of Central America, dolphins leading the boat, fishing, Santa Cruz, local inhabitants, cliff diving and a vacation resort." University of Utah Marriott Library.
---
Date produced: 1950
Filmmaker(s):
Description:
"In the Certificate Awards group, Ralph E. Gray, a consistent winner in national film competitions and recently honored with the title of Leading Amateur Movie Maker of the nation by the Movie Makers Club of Oklahoma and associated cine clubs, has turned in another of his superb filming jobs in 'Glamorous Guatemala.' A highlight is the excellent titling job, a department of movie making in which Gray excels. Gray opens his picture with scenes of modern day Guatemala, then gradually leads us into more remote areas of the country where he shows the native Guatemalan at work and at play, harvesting coffee, weaving, and trucking his wares to market, or indulging the religious ceremonials and market day festivities, which comprise his chief diversions. Gray filmed his picture using a Cine Special and Kodachrome film." American Cinematographer, April 1950, 134-135.
---
Date produced: 1962
Filmmaker(s):
Description:
Edited film "chronicling an airstream caravan through Central America (Mexico, Guatemala, El Salvador, Panama, Costa Rica). Film includes many views of scenic landscapes, mountain roads, cities and villages, ruins (Kabah, Uxmal, Dzibichaltun, Chichen Itza) and historic landmarks and airstream trailers tavelling or in recreational vechicle parks. In Guatemala they visit the villages Solola and Panajachel near Lake Atitlan and and town of Antigua. Scenes also include marketplaces, churches and chuch-life, a woman weaving, local crafts, washing clothing at public fountains" Human Studies Film Archives, Smithsonian Museum.
---
Date produced: 1942
Filmmaker(s):
Description:
"The people of Guatemala and their volcanic country with its romantic cities, markets, and farms are shown." See and Hear, March 1947, 46.
---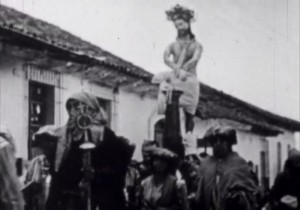 Date produced: 1942
Filmmaker(s):
Description:
""Wooden Face of Totonicapan" is a [1942] color film covering the art of making wooden masks in Totonicapan, Guatemala. The film was made under the auspices of the "Good Neighbor" film project, run by the Office of the Co-Ordinator of Inter-American Affairs in New York as part of the WWII war effort. It was produced by Ralph E. Gray." Periscope Film.
---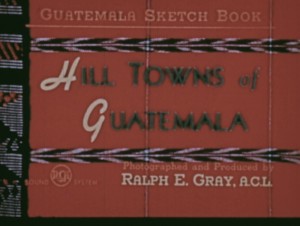 Date produced: 1942
Filmmaker(s):
Description:
"A narrated travelogue addressed to viewers in the U.S. shows life in several small towns surrounding Lake Atitlan, Guatemala. Shows rope making from sisal hemp and traditional textile weaving. Concludes with a visits to the outdoor markets in Santiago Atitlan and Chichicastenango" Indiana University Libraries Moving Image Archive.
---
Date produced: 1934
Filmmaker(s):
---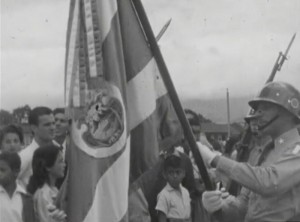 Date produced: 1950
Filmmaker(s):
Description:
"Reportaje Grafico Nacional: Alvaro Chavarria Nunez, who aspires to producing newsreels in his native Costa Rica, presents in this entry a typical effort. The picture is a newsreel of several national events held in this country, and while it displays aggresive camera work, the film result, a dupe print, suffers a great deal because of inferior laboratory work, and therefore the true quality of the photography could not be properly evaluated. Nunez recorded the sound track, using his Auricon film recorder." American Cinematographer, May. 1951, 192.
---
Total Pages: 2