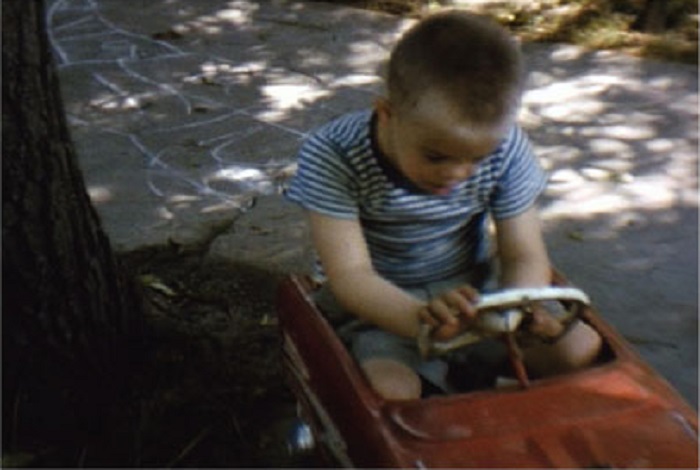 Date produced: 1960
Filmmaker(s):
Country of Production:
United States
Languages:
English
Duration:
00:11:00
Format:
16mm
Colour:
Kodachrome
Awards/Recognition:
National Film Registry, Library of Congress, 2006
Description:
""Think of Me First as a Person" is a short documentary about a boy with Down Syndrome. The footage was shot on 16mm in the 1960s by the boy's father, Dwight Core, Sr. The filmmaker's grandson, George Ingmire, completed the film forty years later. This film explores perceptions about Down Syndrome from multiple viewpoints: the boy, his sister and the father. The sincere tone and heartwarming narration by the father lends a remarkable poignancy to this film. The story that unfolds within this documentary is sure to shed light on both the struggles and blessings of raising a child with special needs." thinkofmefirstasaperson.com
Resources:
The film's website provides links to sources of information about the film and the life of Dwight Core, jr.

The Library of Congress notes that ""Think of Me First as a Person" is an astonishing discovery from the Center for Home Movies and its annual Home Movie Day, where once a year people in cities across the nation bring their home movies to screen. This loving portrait by a father of his son with Down syndrome represents the creativity and craftsmanship of the American amateur filmmaker."
Locations:
Hampton Roads, Virginia (Filming)
Subjects:
Genre:
Form:
Screenings:
Screened at the Black Maria Film Festival: Jersey City, N.J.
Screened at Home Movie Day in August 2006: New Orleans, LA
Screened at the Virginia Film Festival in 2007: Charlottesville, VA
Screened at the 6th Orphan Film Symposium on March 26, 2008: New York University, N.Y.
Screened at the "Best of" Orphan Film Symposium in March 2010: IFC Center, New York City, N.Y.
---