---
---
Date produced: 1954
Filmmaker(s):
Description:
"When an experienced cameraman such as Oscar H. Horovitz turns his technically competent camera on attractive outdoor subject matter, attractive outdoor pictures are quite likely to result. When, in addition, such a producer lines to discipline his editing, inform his narrative, and make graceful his musical score, a motion picture of true charm and beauty will be his reward. Such is the happy combination which makes up Colonial Williamsburg. A thrifty thirteen-minute study of this handsome 18th Century capital." PSA Journal, 1954, 50.
---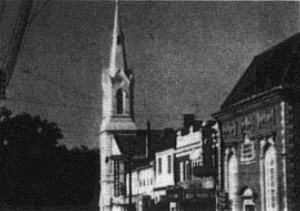 Date produced: 1961
Filmmaker(s):
Description:
"A battleground where the North and the South met in the struggle of the Civil War, where each fought for a cause he thought was right, is still a charming town of colonial beginning. There are many important landmarks held for posterity, and the famous river over which George threw the dollar. We visit this great city in the spring, summer, and fall. A refresher for our heritage" PSA Journal, Oct. 1961, 47.
---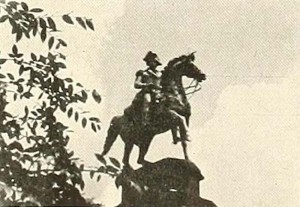 Date produced: 1937
Filmmaker(s):
Description:
"To love a place so well that you can film it so well that the result becomes commercially sought is not the happy fortune of every movie amateur. Waldo E. Austin's Richmond Under Three Flags was paid for by the Morris Plan Bank of Virginia, in Richmond, and is distributed by the Virginia Conservation Commission. Here, a man of culture and a filmer of exceptional care and refinement has given us his own home, lovingly and interestingly presented, with a happy quota of cinematic ornaments. The pace of this accomplishment is leisurely, as was the Old South, yet its manner is modern, as is the new Richmond. In the title wordings, Mr. Austin is especially fortunate, avoiding banality on the one hand and '"fine writing" on the other, with just enough rhetoric to give the flavor of one of the country's most rhetorical centers. The interior scenes of public buildings have been accomplished with an apparent effortlessness that conceals a great deal of effort. Here is the publicity film in its most suave expression." Movie Makers, Dec. 1937, 627-628.
---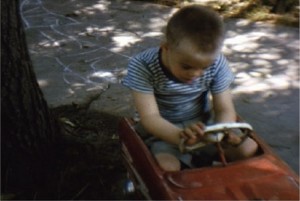 Date produced: 1960
Filmmaker(s):
Description:
""Think of Me First as a Person" is a short documentary about a boy with Down Syndrome. The footage was shot on 16mm in the 1960s by the boy's father, Dwight Core, Sr. The filmmaker's grandson, George Ingmire, completed the film forty years later. This film explores perceptions about Down Syndrome from multiple viewpoints: the boy, his sister and the father. The sincere tone and heartwarming narration by the father lends a remarkable poignancy to this film. The story that unfolds within this documentary is sure to shed light on both the struggles and blessings of raising a child with special needs." thinkofmefirstasaperson.com
---