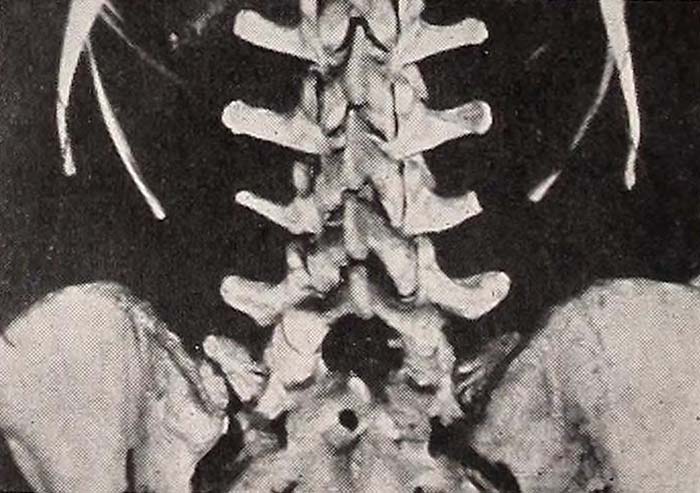 Date produced: 1939
Filmmaker(s):
Languages:
English
Length:
1000 ft
Format:
16mm
Colour:
B&W
Sound Notes:
Silent
Awards/Recognition:
ACL Ten Best 1939 - Special Class
Description:
"Imagine, if you can, a subject which would be harder to present in motion pictures than the effects of a spinal anaesthetic. This is the problem that Leslie P. Thatcher solved so ably in his Technique and Principles of Spinal Anaesthesia with Nupercaine. Because most of the action takes place within the body, it was necessary to do some real thinking before a suitable motion picture presentation could be worked out. For example, the action of the fluid as it floats in the spinal canal was shown dramatically and effectively by floating some of the drug in a solution in a slowly tilting glass phial. A considerable use of X-rays served to show clearly just how the hypodermic needle should be handled, while well photographed diagrams and models aid the film's clarity. Operative scenes represent the best technique, and the action clearly demonstrates the qualities of Nupercaine as an anaesthetic. The picture is a study in straightforward exposition and, as such, it should serve its sponsors admirably. It is to be noted that Mr. Thatcher showed admirable restraint in his brief shots of operations. While sufficient for the medical man, they are not too long or gruesome for a lay audience." Movie Makers, Dec. 1939, 633-634.
Resources:
"Principles and Technique of Spinal Anaesthesia with Nupercaine is the title of a 1000 foot medical film, which is reported to represent practically a textbook on the subject. It is to be titled in both French and German for European screenings before medical groups." Movie Makers, May 1939, 224.

A BFI record of this film suggests it was produced by Horsham Ciba Laboratories.
Subjects:
Genre:
Form:
Tags:
---