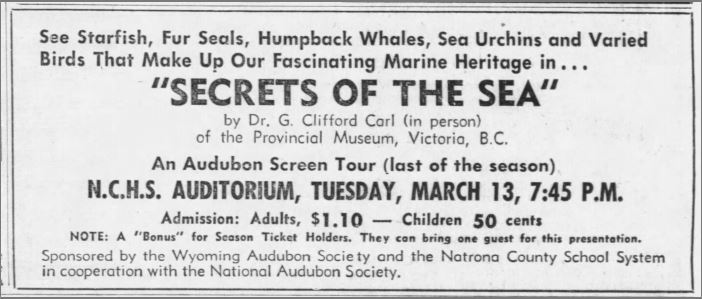 Identifier:
AAAA2700 (Source: http://search-bcarchives.royalbcmuseum.bc.ca/secrets-of-sea)
Date produced: 1953
Filmmaker(s):
Languages:
English
Duration:
01:11:00
Length:
2 reels, 2550 ft.
Format:
16mm
Colour:
Colour
Sound Notes:
Silent
Awards/Recognition:
BC Archives list of titled amateur films.
Description:
"Marine and seashore life on the Pacific coast. Includes: tidal plants, crustaceans, fish; oolichan fishery and its importance; seabirds of Triangle Island and Queen Charlotte Islands; seals and seabirds on the Pribilof Islands, etc. Also footage of Victoria Inner Harbour area, houses and gardens." (BC Archives)

Compiled from Clifford Carl's BC Provincial Museum films for use on an Audobon Screen Tour. Appears to have been revised in 1959.
Resources:
Duffy, "Camera West", entry #S/22; B.C. Provincial Museum annual report, 1953 p. B12.
Locations:
Pribilof Islands, AK (Filming)
Queen Charlotte Islands, BC (Filming)
Triangle Island, BC (Filming)
Victoria, BC (Filming)
Subjects:
Genre:
Form:
Tags:
Repository:
BC Archives Moving Images Collection, Royal BC Museum
Screenings:
11 January 1954: Murray, Utah
12 January 1954: Salt Lake City, Utah
18 January 1954: Lincoln, Nebraska
22 January 1954: Cedar Rapids, Iowa
28 January 1954: Kingsport, Tennessee
1 February 1954: Montgomery, Alabama
9 February 1954: Brownwood, Texas
17 February 1954: Lubbock, Texas
7 February 1955: New Castle, Indiana
11 February 1955: Munster, Indiana
13 March 1956: Casper, Wyoming
16 January 1957: Nanaimo, BC
22 April 1957: Richmond, Indiana
23 April 1957: Louisville, Kentucky
29 April 1957: Lancaster, Ohio
3 May 1957: Woodbury, New Jersey
21 March 1958: St. Louis, Missouri
24 March 1958: Huron, South Dakota
26 March 1958: Austin, Minnesota
28 March 1958: Minneapolis, Minnesota
4 March 1959: Sioux Falls, South Dakota
10 March 1959: Elmira, New York
12 March 1959: Bridgewater, New Jersey
18 March 1959: Hartford, Connecticut
12 March 1960: Chula Vista, California
13 March 1960: Fullerton, California
14 March 1960: Redlands, California
22 March 1960: San Mateo, California
24 March 1960: Berkeley, California
25 March 1960: Pleasant Hill, California
26 March 1960: Kentfield, California
9 April 1961: Gary, Indiana
10 April 1961: Rock Island, Iowa
12 April 1961: Manitowoc, Wisconsin
13 April 1961: Madison, Wisconsin
15 March 1962: Lake Wales, Florida
19 March 1962: St. Petersburg, Florida
20 March 1962: Tampa, Florida
21 March 1962: Fort Myers, Florida
22 March 1962: Palm Beach, Florida
23 March 1962: Stuart, Florida
25 March 1962: Cocoa, Florida
4 February 1963: Phoenix, Arizona
5 February 1963: Tucson, Arizona
6 February 1963: Sedona, Arizona
8 February 1963: McAllen, Texas
13 February 1963: Corpus Christi, Texas
14 February 1963: Abilene, Texas
15 February 1963: Kerrville, Texas
17 February 1963: Lafayette, Louisiana
19 February 1963: Emporia, Kansas
16 March 1963: Port Angeles, Washington
10 December 1963: Honolulu, Hawaii
10 February 1964: Nashville, Tennessee
17 February 1964: Charleston, West Virginia
8 January 1965: Chilliwack, BC
12 February 1966: Santa Rosa, California
22 February 1966: Van Nuys, California
28 January 1970: Port Alberni, BC
---