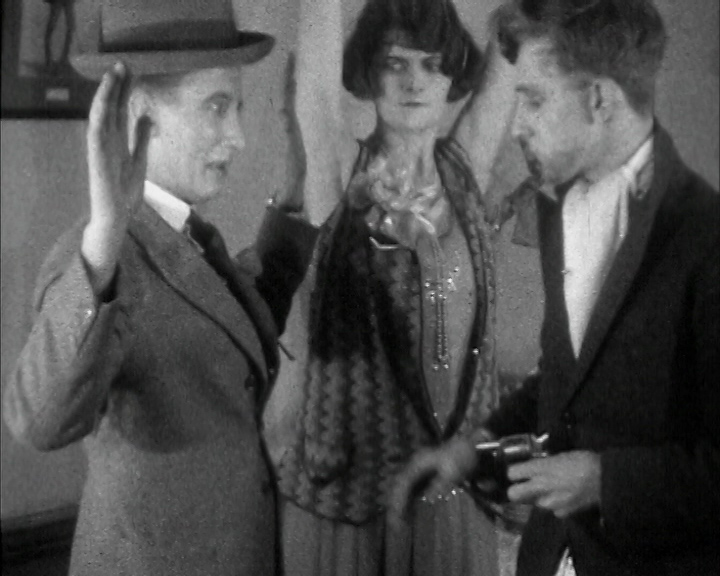 Identifier:
4086 (Source: East Anglian Film Archive)
Date produced: 1929
Filmmaker(s):
Production credits:
Country of Production:
United Kingdom
Languages:
English
Duration:
00:09:34
Length:
240 ft
Format:
16mm
Colour:
B&W
Sound Notes:
Silent
Description:
"A man entertains a married woman in her own home. He has previously stolen money from her husband's wallet and hides the money in a book. The woman in turn removes the money from the book and keeps it for herself. The husband discovers their dalliance and orders the man to go. The man returns and accuses the couple of stealing his money. A burglar interrupts the proceedings. The burglar searches the pockets of the husband and removes (what looks like) another woman's handkerchief. The burglar then searches the pockets of the man and the wife, discovering the money. The burglar offers the money to the husband in order to recompense him for embarrassing him in front of his wife and proceeds to steal other items from the room, leaving his revolver on the floor. The burglar says farewell. The husband and the man square up to each other" (EAFA Database).

"This film was specifically produced for a meeting of the London Amateur Cinematographers' Association on 27 March 1929. The film was the basis of a competition for the club members. The club's members in this case were invited to record the mistakes incorporated into the film. The report in Amateur Films notes that the competition was won by Mrs Nora Pfeil, who recorded approximately 30 mistakes" (EAFA Database).
Resources:
IAC Film Library Catalogue (Silent and Sound). Institute of Amateur Cinematographers, 1975.
Locations:
Subjects:
Genre:
Form:
Tags:
Repository:
Institute of Amateur Cinematographers Collection, East Anglian Film Archive
Screenings:
First exhibited to members of the London Amateur Cinematographers' Association on 27 March 1929.: London, UK
Last Seen:
Broadcast in the UK via Talking Pictures TV, 6 August 2020
Video Link:
---