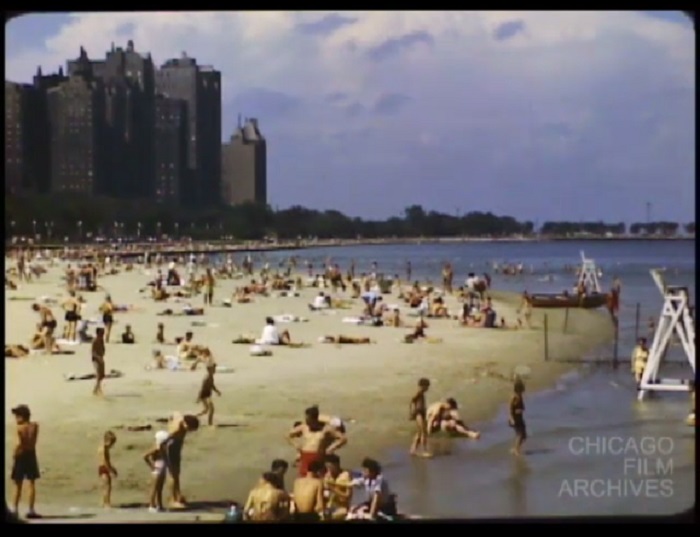 Identifier:
F.2007-08-0001 (Source: Chicago Film Archives)
F.2007-08-0029 (Source: Chicago Film Archives)
Date produced: 1948
Filmmaker(s):
Country of Production:
United States
Languages:
English
Duration:
01:14:11
Format:
16mm
Colour:
Colour
Sound Notes:
Silent
Awards/Recognition:
Chicago Film Archives list of titled amateur films
Description:
"A two part travelogue featuring travel and industry highlights on the shores of Lake Michigan. Part one includes scenes of Indiana, Illinois and Wisconsin while part two includes travel highlights of Indiana and Michigan." Chicago Film Archives.
Resources:
This film is a part of the Julian Gromer Collection held by Chicago Film Archives.
Locations:
Lake Michigan (Filming)
Mackinac Island, Michigan (Filming)
Kitch-iti-kipi, Michigan (Filming)
Chicago, Illinois (Filming)
Indiana (Filming)
Wisconsin (Filming)
Subjects:
Genre:
Form:
Tags:
Repository:
Julian Gromer Collection, Chicago Film Archives
Screenings:
Screened by the Rockford Movie Makers in 1950: Rockford, IL
Viewing Notes:
"PART 1/2 00:00 - Titles 00:24 - RA 20 people pile into small car, door shuts, drives away 01:02 - TS driving through downtown Chicago, PAN MLS couple walking in front of Buckingham Fountain 01:26 - LS Lake Michigan beach full of swimmers, RA women walking into lake, MCU children playing in sand, FA women in lake running towards camera 02:10 - SA people fishing, MS man shows off catch of fish, MS men loading boat, RA two woman on boat watching sailboats, TS sailboats on water 03:24 - hand marks map in Indiana with "Steel", VS glowing molten steel in mill 04:08 - hand marks map in Indiana with "Peaches", MS, CU woman on ladder picking peaches, CU cutting peaches over ice cream, MS man eating ice cream 04:42 - hand marks map in Wisconsin with "Bird's Eye Maple" and "Dairy", steps in making cheese, LS, CU dairy cattle, MS man skimming curds and whey in vat, pouring curds into cheese molds, popping cheese from molds, woman stacking cheese on trays, dipping cheese into wax, labeling, wrapping, MS man finishing ice cream 06:54-09:10 - hand marks map in Illinois with "Passion Play", play of The Last Supper on stage, actors in full costume, The End PART 2/2 Indiana Gardens Artists in Michigan - painting, weaving and pottery Tulip Festival in Holland, Michigan - traditional costume, parade, wooden shoe production, tulip fields Children's summer music camp in northern Michigan Michigan sand dunes Cherry festival and parade in northern Michigan Cherry picking and factory production in northern Michigan Mackinac Island, MI Logrolling in Kitch-iti-kipi," via Chicago Film Archives.
Video Link:
Video Link:
---