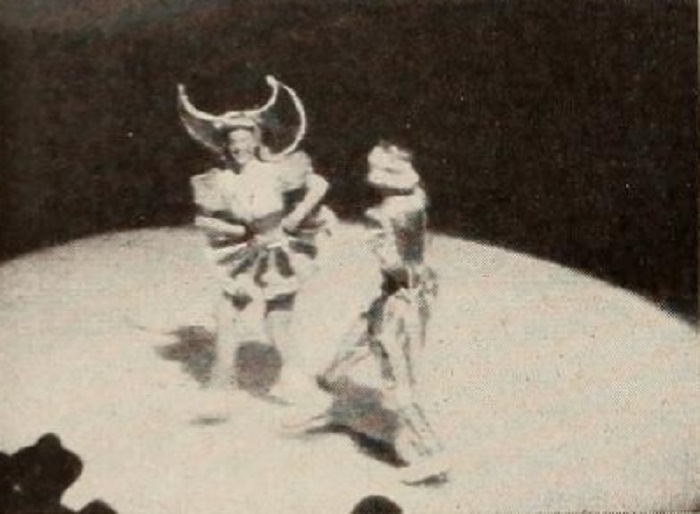 Date produced: 1947
Filmmaker(s):
Languages:
English
Length:
625 ft
Format:
16mm
Colour:
Kodachrome
Sound Notes:
Silent
Sound:
With music on disc.
Awards/Recognition:
ACL Ten Best 1947 - Honorable Mention General Class
Description:
"Filming indoor spectacles is difficult, but it is made doubly so when the staging, actors and lighting facilities are in a constant state of flux. Yet Oscar H. Horovitz, in his Ice Follies 1947, has solved these problems with technical perfection. Points of filming vantage are carefully chosen, from which sequences of the major acts and personalities are imaginatively recorded. An intelligent use of varying focal length lenses contributes the near shots and closeups so necessary to a well rounded study of this kind. Mr. Horovitz more than maintains his position as one of the master craftsmen in his chosen field." Movie Makers, Dec. 1947, 538.
Resources:
Discussed by Horovitz in "Action On Ice" (Movie Makers, Feb. 1948, 69, 84-85). In the article, the filmmaker describes the challenges faced in filming fast paced movement and action.

The film won an award at the 8th International Festival of Sports Cinematography held in Cortina d'Ampezzo, Italy, in 1952. Movie Makers notes that the film seemed to be entered in the competition after their Club Film Library sent a copy of the film to the Cine Club I.C.A.L. - Milano in 1951 (Movie Makers, Sept. 1952, 249).
Locations:
Subjects:
Genre:
Form:
Screenings:
Screened by the Walla Walla Cinema & Camera Club in 1950: Walla Walla, WA
Screened by the Ocmulgee Movie Club in 1950: Ocmulgee, GA
Screened by the Cine Club I.C.A.L. - Milano in 1951: Milano, Italy
Screened by the Washington Society of Cinematographers in 1953: Washington, D.C.
---
Do you know where this film is? Get in touch with us at amdb@ucalgary.ca.