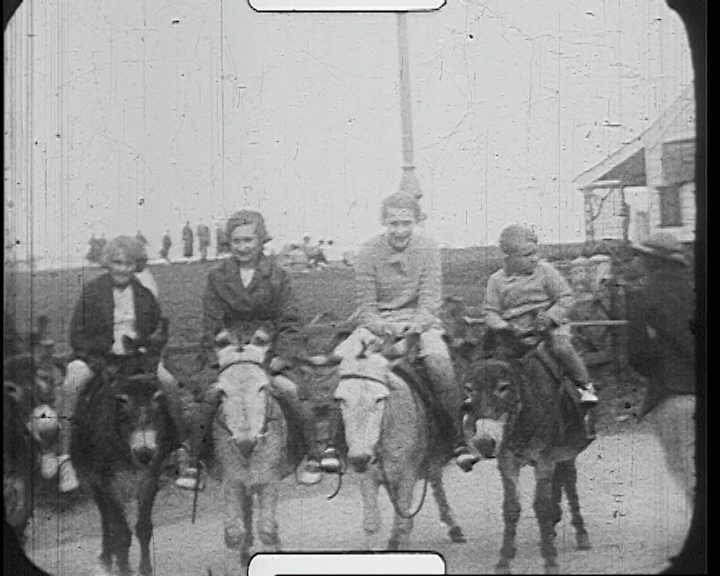 Identifier:
217618 (Source: East Anglian Film Archive)
Date produced: 1937
Filmmaker(s):
Country of Production:
United Kingdom
Languages:
English
Duration:
00:12:08
Length:
290 ft
Format:
9.5mm
Colour:
B&W
Sound Notes:
Silent
Description:
A film featuring various activities in the city of Clacton UK.
Locations:
Clacton-on-Sea, Essex, UK. (Filming)
Subjects:
Genre:
Form:
Tags:
Repository:
East Anglian Film Archive
Viewing Notes:
"The film starts as a train pulls into Histon platform. The Sunday school group arrive in Clacton and are shown leaving the train station and crossing the street as a policeman controls the traffic. A child plays by the sea shore with a bucket. People relax in deck chairs. Four children dig a hole in the sand. People drink tea. A group waves to the camera. Girls play with a beach ball. A lady hands out sandwiches and a girl licks an ice cream. Children pose in front of the sea. A man sat on a bench rocks a sleeping baby in a pram. Children sit and watch a Punch and Judy show. A lady passes round a tray of tea. A lady stands on a weight machine. Another woman holds up a photograph of herself that has just been taken. Men race along the pier, followed by women. Children sit on donkeys in a row then get walked along the roadside. The group walk along the waterfront. Ladies sit in deck chairs drinking tea. Two girls eat ice creams. A man in fancy dress walks around on stilts. People splash each other in a pool, swim and dive. People watch from seats at the side. A man climbs a ladder to the high-dive and dives into the pool. This is followed by a reversal of the shot, the man springs out of the water back on the diving board. A large crowd gathers, presumably waiting for some tea. The cameraman takes a panoramic shot of the crowd looking up at him. People ride on the dodgems, then a rollercoaster. There are several shots of the other funfair rides. People sit in a boat. There is an exterior shot of Histon Baptist & Methodist Church then a close up of a poster advertising the Clacton outing with train times and prices shown. A man removes the poster" (EAFA Database).
Video Link:
---