---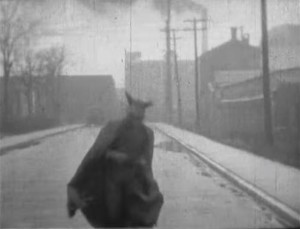 Date produced: 1933
Filmmaker(s):
Description:
Hell Bound Train "depicts the devil as the train's engineer both driving his locomotive toward hell and tempting the sinner-passengers that occupy various cars on the train. The film is divided into episodes each one representing a different kind of sin or sinner and set in a corresponding car of the train" Tepperman, 233-234.
---
Date produced: 1951
Filmmaker(s):
Description:
Frontiersman is a religious film sponsored by the British and Foreign Bible Society and produced by Crawley Films.
---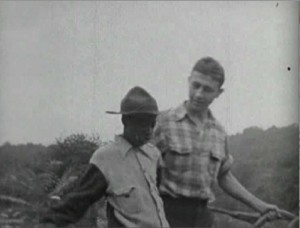 Date produced: 1941
Filmmaker(s):
Description:
"The film was conceived of, directed, shot, edited, and hand-titled by Barstow. A staff volunteer, Barstow had recently graduated from Dartmouth College (class of 1941) when he accepted work on the farm with his wife, Meg. The "Newark Kid-Stars," as they are credited in the film, helped to create the story and acted in the film, yet their names were never recorded." The Back Table, Archives and Special Collections at the New York University.
---
Date produced: 1970
Filmmaker(s):
Description:
"Dramatizes events during the early hours after the Crucifixion of Christ on Golgotha," via WorldCat.
---
Date produced: 1967
Filmmaker(s):
Description:
"Hosanna is a semi-abstract film tied to a religious theme. Color, lighting, and unusual angles are responsible for its success" PSA Journal, Aug. 1967, 37.
---
Date produced: 1965
Filmmaker(s):
Description:
"Persecution is a 40 minutes 8mm film produced by three teen agers of 12, 13, and 14, and depicts the story of a priest during a persecution, his life and death, and the subsequent destruction of the persecutors. Though lacking in expert camera work, the film was nevertheless serious in its approach and amazing in its construction for such a lengthy endeavor. It is for these reasons, and also to encourage more serious film work by young amateurs, that the judges awarded this film a special citation that reads, "For Outstanding Film Production by a Youth Group" PSA Journal, Sept. 1965, 51.
---
Date produced: 1964
Filmmaker(s):
Description:
"It's about This Carpenter starts out with a bearded fellow carrying a huge cross across town. He goes into the subway, through crowded streets, and passes little colored girl who asks "Are you Jesus?" Finally he installs the cross on the wall behind the chancel of a church. All the whilst he is ignored, even by the lone organist. Finally, on his return trip after his mission has been accomplished, he again passes the little colored girl and she says, "Good-bye Jesus" PSA Journal, Sept. 1964, 51.
---
Date produced: 1958
Filmmaker(s):
Description:
"Bill Messner has turned to religion and nature for his soul-searching film. His leading man, Sam, has a fine home, family and job and is too busy for extra activities such as church assignments. His personal relations suffer from his self imposed confinement. Something persuades Sam to make a retreat to a religious camp. There are the usual at camp activities, plus the opportunity for devotion and contemplation; the relation of ones soul; the atmosphere to reflect purpose and accomplishment. Introspection is the keystone of the picture and well done it is" PSA Journal, Nov. 1958, 48.
---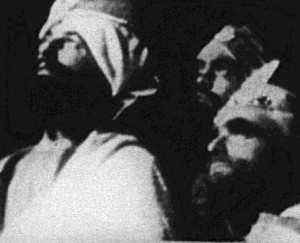 Date produced: 1954
Filmmaker(s):
Description:
"Everybody has religion of some kind, of some creed. But to try to portray it in motion pictures takes courage in any language your faith. In The Nativity, Sal Pizzo has picture the story of the birth of Christ with unerring good taste, complete reverence and warm beauty. In it he follows old Biblical paintings as a pattern, but he animates these tableaux in a natural manner. One might wish, in fact, that he had followed them even further and used lighting to suggest halos around Mother and Babe. The long-shot model of the town of Bethlehem is believable. The bearded faces of the innkeepers are believable and, a great achievement, the costumes of the opulent kings are believable. The acting is handled with admirable restraint, the story being carried by the words of familiar Christian carols of background music. Especially well-staged are the scenes of the shepherds around their fires and of the Magi as they present their gifts to the Child in the humble manger. Mr. Pizzo and his associates have planned and executed a picture on a subject that few if any would dare to attempt. They are to be congratulated on their tender and moving triumph" PSA Journal, Jan. 1955, 50.
---
Date produced: 1950
Filmmaker(s):
Description:
"Going back to The Lord's Prayer for the title of his picture, A. T. Bartlett has produced a handsome, heart-warming and technically able documentary on the theme "Our Daily Bread." In it one follows the staff of life from the vast and golden wheat fields of Australia, through the harvesting and milling of the grain, into the baker's hands and onto my lady's table. Give Us This Day is intelligently planned, smoothly developed and suavely executed. A simple but satisfying narrative continually relates the subject — as it should be — directly to human needs, and a pleasant musical score rounds out the presentation. Especially to be commended is the minimum of footage used by Mr. Bartlett in reporting on this age-old activity of mankind." Movie Makers, Dec. 1952, 339.
---
Total Pages: 2