---
Date produced: 1967
Filmmaker(s):
Description:
"Teenagers...embark on a space mission to explore Alpha Centauri, the second closest star to Earth. The film follows the astronauts during the preparation for their mission, their journey through space, and finally, their encounters with life on Alpha Centauri. The end of the film portrays the astronauts and the Alpha Centaurians coming together in a utopian gathering, complete with cheerleaders, a pony, and an astral princess." Andrea McCarty, http://oldfilm.org/content/mission-alpha-centauri-0
---
Date produced: 1967
Filmmaker(s):
Description:
"A Child's Introduction to the Cosmos is a humorous attempt to describe, in child language, what the Cosmos must be like. Actually, the charm of this film comes in its telling. Somehow the message doesn't matter too much" PSA Journal, Aug. 1967, 37.
---
Date produced: 1959
Filmmaker(s):
Description:
"A rather clever and well-executed story of the rocket engineer who recovered the important capsule when it returned to earth. The rocket launching is done with miniature and to the credit of the filmer. The rocket engineer does not fully appreciate what he has accomplished until it is too late. Sound effects accompanying the picture create a sense of realism" PSA Journal, Nov. 1959, 48.
---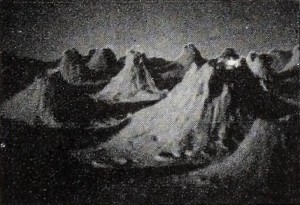 Date produced: 1951
Filmmaker(s):
Description:
"Jack E. Gieck's film is a fanciful abstract study delineating the aspect and activity of the planet Uranus. In it he has wisely kept his footage brief. His lighting effects on models of the mountains and the color patterns of liquids reflect an imaginative concept. A rather too soft focus toward the end of Uranus is somewhat unexplainable, but his choice of an excellent musical score contributes to a fascinating creative experiment." Movie Makers, Dec. 1951, 412.
---