---
Date produced:
Filmmaker(s):
Description:
"Short film about the construction of a building. Opens with a cartoon, features the construction site, and ends with the finished building. Ray L. Huffman's name, who was a San Diego architect, is featured in the film." UCLA Film & Television Archive.
---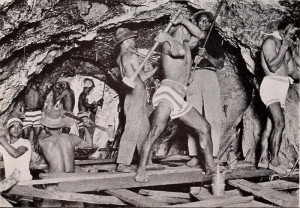 Date produced: 1933
Filmmaker(s):
Description:
"An outstanding example of industrial record filming is Mining Chrome Ore in New Caledonia, by Enoch Perkins, ACL. Probably no amateur film ever was made under more unfavorable conditions and with as little opportunity to secure special equipment to meet them. Yet the photographic quality of this film is very high and it stands as a tribute to Mr. Perkins's ability to overcome obstacles. A large part of the picture was made in a mine where the atmosphere was so charged with moisture that it was necessary to stop and wipe the lens dry every few minutes. Although lighting was a tremendous task and often cables over a thousand feet long were required, the mine scenes are accurately exposed and well photographed. The picture gives a complete record of mining ore from the solid wall of the tunnels to the loaded freighter. It was filmed from an engineer's point of view and for the specific purpose of record; however, smooth continuity and editing maintain audience interest." Movie Makers, Dec. 1933, 500, 522.
---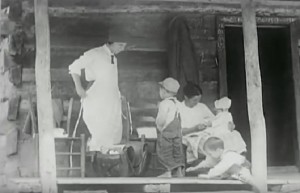 Date produced: 1930
Filmmaker(s):
Description:
"The Forgotten Frontier, filmed by Miss Marvin Breckinridge, is the most ambitious amateur made welfare film yet recorded. To show the operation of the Kentucky Nursing Service, Miss Breckinridge spent several months filming in the mountain districts reached by that organization. With the cooperation of the mountain folk, she staged several short dramas, each demonstrating the usefulness of one of the centers or some phase of their work. The completed picture runs 6000 ft., 35mm., and, in spite of the numerous technical difficulties, it is excellently photographed." Movie Makers, Dec. 1930, 788.
---
Date produced: 1931
Filmmaker(s):
Description:
"The Toilers, a 150 ft. Kodacolor reel made by Arthur G. Greaves, demonstrates the continuity possibilities of Kodacolor, a much neglected aspect of amateur color movies. Men at work — in the harbors, along the seacoast and inland, caring for flocks and harvesting grain — is the motif of the picture, relieved by a few glimpses of men and children at play. The picture is distinguished by beautiful photography of consistent quality and by a smooth succession of moving compositions in color. These qualities, combined with a clear continuity, give the film much more unity than is usual with Kodacolor reels. This is one of the all too few Kodacolor films that may be viewed as a subject possessing an artistic purpose as a whole, rather than as a series of separate scenes and sequences. Its chief color triumph is, perhaps, in the scenes of the harvesting against the background of fields of golden grain." Movie Makers, Dec. 1931, 658.
---