---
Date produced: 1970
Filmmaker(s):
Description:
"EL TERCER SUSPIRO. Separa de un grupo de paseantes en la Alameda a un joven que al aceptar la invitación a subir a un auto que le hacen tres desconocidos (identificados con el movimiento revolucionario de 1910, mediante un montaje de fotografías de la época), durante el paseo por el Periférico se ve acometido por una serie de evocaciones imaginarias. Primero se le ve huir del coche saltando a un paso de peatones, y ser acosado a través de casas derruidas. Al regresar al tiempo presente uno de los hombres le pone la mano en un revólver. Después se ve en un lugar desierto, penosamente sostenido en pie por un aparato ortopédico, mientras una marea creciente lo empieza a cubrir. En ese punto desciende del coche en marcha y se coloca en el centro de la carretera, amenazando con el arma a algo que se aproxima; pero antes de que se produzca el disparo evoca un encuentro amoroso. Esta acción se repite varias veces antes de disolverse en las imágenes de un lago que ahora lo ha cubierto todo"(Garmendia en Vázquez Mantecón, 2012).

"THE THIRD SIGH. Separates a young man from a group of pedestrians in the Alameda, when he accepts an invitation by three unknown men to get into a car (the men were identified with the revolutionary movement of 1910 through a photographic montage of the time), during the ride through Periférico, he is undertaken by a series of imaginary evocations. First he is seen running away from the car, jumping to a crosswalk, and being harassed through demolished houses. When coming back to the present, one of the men puts his hand on a revolver gun. Afterwards, he is seen in a desert place, shamefully sustained by an orthopedic device, while a rising tide starts to cover him. At this point he descends from the moving car and goes to the center of the highway, menacing with his gun something that is approaching; but before the shot is produced, a loving encounter is evoked. This image is repeated several times before dissolving into images of a lake that has now covered everything" (Garmendia in Vázquez Mantecón, 2012).
---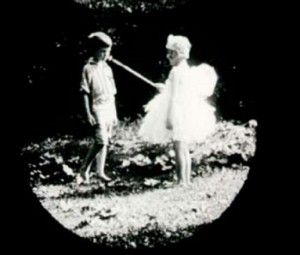 Date produced: 1923
Filmmaker(s):
Description:
"Alexander Black imagines his grandchildren appearing around him in a swirl of double-exposed trick cinematography." UC Berkeley Library.
---
Date produced: 1980
Filmmaker(s):
Description:
"Our hero discovers a way to make 'clones' of himself and puts on a show – including four clones singing a barbershop quartet." Oldfilm.org
---
Date produced: 1938
Filmmaker(s):
Description:
"Dramatic short of a frumpy woman's dream of the alternate course her life might take were she a beauty." oldfilm.org
---
Date produced: 1948
Filmmaker(s):
Description:
"Young girl plays house, cares for doll, irons doll clothes." oldfilm.org
---
Date produced: 1967
Filmmaker(s):
Description:
"Teenagers...embark on a space mission to explore Alpha Centauri, the second closest star to Earth. The film follows the astronauts during the preparation for their mission, their journey through space, and finally, their encounters with life on Alpha Centauri. The end of the film portrays the astronauts and the Alpha Centaurians coming together in a utopian gathering, complete with cheerleaders, a pony, and an astral princess." Andrea McCarty, http://oldfilm.org/content/mission-alpha-centauri-0
---
Date produced: 1966
Filmmaker(s):
Description:
"The Mannequin is another interesting bit of cinema which calls to our attention an inebriated fellow who, partly in his cups and partly in his imagination, sees beauty in a department store mannequin and tries to strike up an acquaintance" PSA Journal, Sept. 1966, 34.
---
Date produced: 1964
Filmmaker(s):
Description:
"Magic Boy received the special citation for combining animation with live action. A small boy is watching a comic book or drawing board and what he sees comes to life before him. Whether Filmer Falco is a real life artist or not, he did a good job with the cartooning, but a really superb job in combining the boy with the animated character" PSA Journal, Sept. 1964, 51.
---
Date produced: 1957
Filmmaker(s):
Description:
"James Watson has made a neat family picture which should be in constant demand by his son and his friends. Mother and son walk in the woods prepared to have a picnic lunch. The story is introduced with Walt Disney's Peter Pan. After reading the book, Mother takes a snooze and Sonny goes for a walk. He comes upon Peter Pan with his flute, the Good Fairy, and a bewitched woman, in the woods. Meantime, his Mother is searching for him. After they join and walk together we again meet these persons in their normal atmosphere and then realize Sonny had supplied the imagination to cloak them as characters in the story-book" PSA Journal, Nov. 1957, 33.
---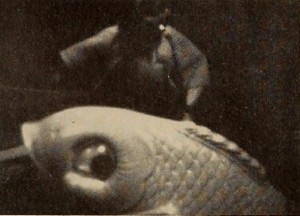 Date produced: 1949
Filmmaker(s):
Description:
"Neither the lead title nor the unpretentious opening scenes — as a small boy is seen building a crude toy boat — prepares the spectator for the pure enchantment of One Summer Day. For, almost unrealized even as it happens, the film melts with incredible smoothness from live action into animation and make-believe. The toy boat becomes a pirate galleon of old, a flower a maiden in distress and a twig her gallant suitor, as there unfolds a tale of romantic derring-do. Under cover of darkness, the pirates plot to kidnap the lady, whose protector, a humble fisherman, is away at his nets. He returns, only to be bested in the ensuing sword play, yet, undaunted, he still gives chase. With the help of a friendly whale, he overtakes the pirates, frees his lady and, as the galleon goes down in flames, the lovers return to shore, to live happily ever after. Then, as quietly as it all began, we are back at the edge of the sunlit pond. The boy lifts his boat from the water and turns homeward. And yet, through the true magic of the movies, we have entered for a brief moment childhood's enchanted world. Highly imaginative camera handling, technical skill and a keen sense of cinematic values make this an outstanding example of personal filming. The musical accompaniment and sound effects (including the cling-clang-cling of clashing swords) complement the picture perfectly. Glen Turner has added a new dimension to amateur filming with this simple story so superbly told in its brief 350 feet of 8mm. film." Movie Makers, Dec. 1949, 452-453.
---
Total Pages: 2