---
Date produced: 1965
Filmmaker(s):
Description:
"Indecisive tells the story of a girl who is rather mixed up and can't decide if it is worth while to go on living. The treatment is unlike most amateur efforts and because of its novel approach the film maintains interest to the end" PSA Journal, Sept. 1965, 50.
---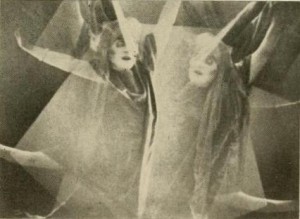 Date produced: 1928
Filmmaker(s):
Description:
"The Fall of the House of Usher" not only represents a new cinema technique but it is also unique in that it does not attempt to tell Poe's story in detail, rather to invoke in its audiences the esthetic impressions and moods which the tale creates in its readers. This revolutionary approach to the cinema opens a fascinating field for further pioneering. Fortified with the new scientific instruments which have recently been devised for the detection and recording of emotional reactions, the amateur producer may now truly be said to face a new world for cinematic experimentation in translating such reactions into film. Properly motivated by medical authority films of this nature may even prove to have a tremendous psychological significance. From any viewpoint "The Fall of the House of Usher" represents a forecast of possibilities which are amazing." Movie Makers, January 1929, 847.
---
Date produced: 1963
Filmmaker(s):
Description:
"It is a late fall day, blustery and bleak, just before the first snow. The visit by the Angel of Death is heralded by the blowing leaves and the lonesome cry of the starlings. Dramatic camera work and original music scoring create the suspense and drama of this story in a setting of an old New England state in the early 1900s. This highly imaginative film by John Riley was awarded the MPD Student film Award" PSA Journal, Oct. 1963, 41.
---
Date produced: 1962
Filmmaker(s):
Description:
"Those who have not attended a New Orleans funeral may look forward to an experience. These are colored funerals for lodge members and important persons. Lodge brothers and sisters dress in their fraternal regalia. Men in uniform, braid, sashes, aprons, plumed hats, swords, long coats. Women in white uniforms or long skirts and complimentary headgear. The choice of dress befits the occasion. The Eureka Brass band Furnishes the music-fast marches to the funeral home, dirges to the cemetery, hymns at the graveside. Leaving the grave, jazz music is played as it is propitious to celebrate, a good time for dancing. Many impromptu dances set up along the return route. to hear the band music is enough to get one to attend a New Orleans funeral. The beat is almost hypnotic" PSA Journal, Oct. 1962, 36.
---
Date produced: 1958
Description:
"All the title implies-death does bring silence to the dead, and in this instance peace and quiet for the survivor. The man is disturbed, his nerves are frayed with a noise beyond his endurance and he decides the end is the cure. The Orange County Cinema Club has turned a neat little trick with this film" PSA Journal, Nov. 1958, 46.
---
Date produced: 1953
Filmmaker(s):
Description:
"Five years before the action of The Old House opens, a young man and his bride of but a year had been involved in a train wreck. The bride, Claire, was killed: but the man — scarred in mind, bruised in body and (he thought) dependent on a walking stick — lived on. He comes now, as the film begins, for one last look at the Old House, "the Old House where I was born and grew up, where Claire and I had been so happy for one short year, with hopes and plans for a future that never came." But, instead of viewing (with self-inflicted sadness) his old homestead, he meets accidentally with a brightfaced boy of five, son of his widowed tenant. How this youngster, this "artless wisdom dressed in blue jeans," frees the man from his stick (a mere surface symbol of his bondage) and from his obsession with the past is the theme of The Old House. But it is fruitless always to attempt a factual outline of any visual study in human relations. And, heartwarmingly, believably and triumphantly, The Old House is simply and exactly that. The producer, Keith Hall, has plotted the course of his tenuous drama with a sure touch and unfailing taste. His scenic progressions are so artful as to seem artless, while his camera work and narrative exposition never fail him in the delicate unfolding of his denouement. Yet it is to the three players of this picture — and to their narrator — that the ultimate tributes must be paid. Young Ross Hall as the Boy, Noela Hall as his widowed Mother, and Mr. Hall himself as the Man are exactly and exquisitely right in their restrained underplaying of three diflicult roles. Reg Cameron, the narrator, speaks lines which are always literate, and often lyric, with warmth and understanding. From its simple opening to its quietly soaring climax, The Old House is a tender and moving triumph." Movie Makers, Dec. 1953, 318-319.
---