---
Date produced: 1934
Filmmaker(s):
Description:
"A colonial scene in the U.S. An old lady sits astride a bell while a man in blackface, wig, and livery pulls the bell rope. From an upper door emerges an old man, dressed as a dandy, who tips his hat to the woman as he walks down stairs grinning. Others leave the same door and walk down the same stairs: a shabby man, a cop, and, several times, the same dandy. The man in blackface hangs himself; the dandy continues to smile. A bell tolls, a grave beckons. In the dark, the dandy plays the piano. Is he Death?" IMDb.

Orson Welles' filmmaking debut, which was co-directed by William Vance. An amateur production, Welles later described the film as a parody of surrealist cinema and the films of Jean Cocteau and Luis Buñuel.
---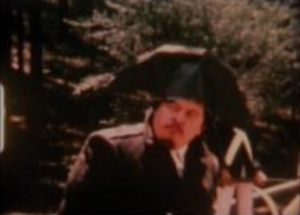 Date produced: 1971
Filmmaker(s):
Description:
"Se trataba del regreso de un soldado de origen mexicano a la Ciudad de México después de haber combatido en Vietnam con las tropas estadounidenses. El hombre llega a la estación del ferrocarril de Buenavista y recorre la ciudad para acabar finalmente en el departamento de su hermano. Busca trabajo y no lo encuentra. Por la voz off que sigue el hilo de sus pensamientos, nos enteramos que a su mente guerrera le cuesta trabajo adaptarse a la vida pacífica. La película intercala una serie de secuencias oníricas que de alguna manera ilustran su delirio belicista: sueña que es un soldado griego que asesina al niño que lo molesta en el taxi colectivo (un pesero) que lo conduce a casa de su hermano; imagina en el personaje que lo entrevista cuando aplica para obtener un trabajo a Napoleón Bonaparte (interpretado por Juan José Gurrola) dirigiendo una batalla; o sueña que es un caballero medieval que asesina a su familia en un pacífico día de campo. Finalmente el personaje no encuentra cabida en la sociedad pacífica y acude –todavía en traje de caballero medieval – al aeropuerto para comprar un boleto de avión "a la guerra más próxima"" (Vázquez Mantecón, 2012).

"It is about the comeback of a Mexican soldier to Mexico City after fighting in Vietnam along with American troops. The man arrives to the train station in Buenavista y goes around the city to end up at his brother's apartment. He looks for a job and cannot find one. The off voice, that follows his train of thought, tells us that his war mind has trouble adapting to a peaceful life. The film inserts a series of dreamlike sequences that in a way illustrate his war delirium: he dreams he is a greek soldier that murders the kid that bothers him in a collective cab that drives him to his brother's house; he imagines the character that interviews him when he is looking for a job is Napoleon Bonaparte (played by Juan José Gurrola) directing a battle: or he dreams he is a medieval knight that murders his family in a peaceful day in the country. Finally the character doesn't find a place in a peaceful society and goes –still in medieval armor– to the airport to buy a by a plane ticket to the "nearest war" " (Vázquez Mantecón, 2012).
---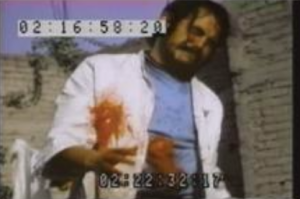 Date produced: 1970
Filmmaker(s):
Description:
"El paletero cuenta la historia de un vendedor de helados y paletas (Héctor Suárez) que recorre las calles de la ciudad. Es simpático: juega volados con los niños, conversa amistosamente con una criada que ha salido a la calle para hacer el mandado (July Furlong). De pronto un grupo de policías judiciales, vestidos de civil, deciden acosarlo. Se acercan intimidantes a la pareja. Rompen los conos de galletas para helado. El paletero siente pánico y huye por las calles de la ciudad. Es perseguido por los judiciales. Intenta esconderse en las ruinas de una casa abandonada, donde es seguido por uno de los policías. Luchan y el paletero consigue quitarle la pistola. Amenaza al policía y reemprende la huída. Al final encuentra un nuevo escondite en una vecindad. Presa del pánico, el paletero dispara sobre sus perseguidores, hiriendo a dos. Los policías lo ejecutan, y de paso matan a un niño que jugaba en el patio de la vecindad y que había quedado situado en medio del tiroteo" (Vázquez Mantecón, 2012).

El paletero [The popsicle man] tells the story of an ice cream and popsicles seller that goes around the city streets. He is nice: he plays coin toss with children, talks kindly with a maid that has left the house to run some errands. Suddenly a group of policemen, dressed as civilians, decide to harass him. They approach the couple in an intimidating manner. They break the ice cream cones. The popsicle man feels panic and runs away through the city streets. He is chased by policemen. He tries to hide in the ruins of an abandoned house, where he is followed by one of the policemen. They fight and the popsicle man takes his gun. He threatens the policeman and starts running away again. At the end he finds a new hiding spot in a vicinity. Overcome by panic, the popsicle man shoots wounding his persecutors. The policemen execute him, and they also kill a child of the neighborhood that was caught up between the shooting" (Vázquez Mantecón, 2012).
---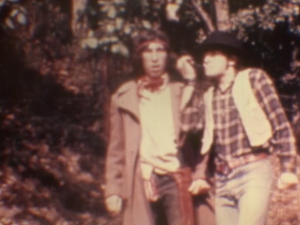 Date produced: 1970
Filmmaker(s):
Description:
"El título venía del juego de palabras con "West/Oeste" que da origen a "western". Alegaba la posición sureña de México en relación con el viejo oeste estadounidense y por eso se llamaba Sur. Al inicio de la película, sobre el título, una voz en off se aseguraba de explicarlo "Sur: Un western de acá de este lado"" (Vázquez Mantecón, 2012).

"The title is a game with the words "West/Oeste", that originate the term "western". It pleads the southern position of Mexico regarding the old United States west, and that is why it was called Sur [South]. At the beginning of the film, above the title, an off voice makes sure to explain it "South: A western from this side"" (Vázquez Mantecón, 2012).
---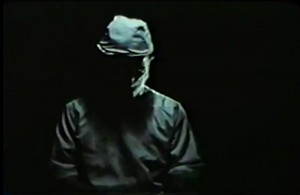 Date produced: 1946
Filmmaker(s):
Description:
"Filmed by Arthur H. Smith of San Francisco, the story opens with Jackie, a lad of 4 years, playing on the sidewalk near his home. Observing a kitten crossing the street, his natural inclination toward pets impels him to run into the street after it. An unseen car bears down upon the boy and the driver is unable to avoid striking him down. Jackie is rushed to the hospital where his life is saved with difficulty, although he will be permanently crippled. The doctor advises Jackie's parents that although he has survived the operation, the lad has only a short time to live." Home Movies, Dec. 1946, 749.
---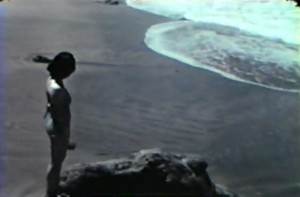 Date produced: 1938
Filmmaker(s):
Description:
"This picture, telling a dramatic story of a mysterious curse hovering over a stretch of lonely beach, was produced in Kodachrome and runs 400 feet." Movie Makers, Dec. 1939, 614.
---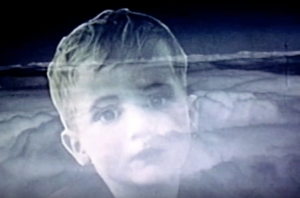 Date produced: 1968
Filmmaker(s):
Description:
"Dear Little Lightbird was entered as an experimental film by Leland Auslender, who also won one of the four top awards in the Class C category. He has a way with color, light and angles, and this talent easily put his film in the Top Ten. It's a story of a little boy born with an incurable disease, and how his three years of life brought into focus all the wonders of nature and this world around us. Perhaps this 18-minute film could be shortened somewhat, but it doesn't seem to matter for the film surrounds you with unusual shots of the simple things most of us miss in the helter-skelter of everyday life" PSA Journal, Oct. 1968, 49.
---
Date produced: 1965
Filmmaker(s):
Description:
"Indecisive tells the story of a girl who is rather mixed up and can't decide if it is worth while to go on living. The treatment is unlike most amateur efforts and because of its novel approach the film maintains interest to the end" PSA Journal, Sept. 1965, 50.
---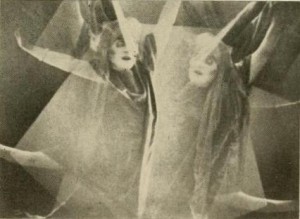 Date produced: 1928
Filmmaker(s):
Description:
"The Fall of the House of Usher" not only represents a new cinema technique but it is also unique in that it does not attempt to tell Poe's story in detail, rather to invoke in its audiences the esthetic impressions and moods which the tale creates in its readers. This revolutionary approach to the cinema opens a fascinating field for further pioneering. Fortified with the new scientific instruments which have recently been devised for the detection and recording of emotional reactions, the amateur producer may now truly be said to face a new world for cinematic experimentation in translating such reactions into film. Properly motivated by medical authority films of this nature may even prove to have a tremendous psychological significance. From any viewpoint "The Fall of the House of Usher" represents a forecast of possibilities which are amazing." Movie Makers, January 1929, 847.
---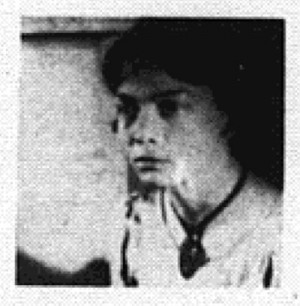 Date produced: 1963
Filmmaker(s):
Description:
"It is a late fall day, blustery and bleak, just before the first snow. The visit by the Angel of Death is heralded by the blowing leaves and the lonesome cry of the starlings. Dramatic camera work and original music scoring create the suspense and drama of this story in a setting of an old New England state in the early 1900s. This highly imaginative film by John Riley was awarded the MPD Student film Award" PSA Journal, Oct. 1963, 41.
---
Total Pages: 2