---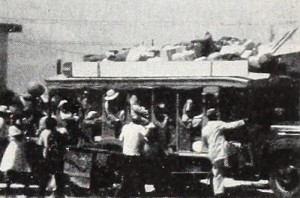 Date produced: 1950
Filmmaker(s):
Description:
"Stanley Woolf's film tour of this fascinating island presents an entertaining record, in a pleasantly casual manner, of an American visitor's impressions of the Black Republic. The street scenes and detailed studies of its artisans at work provide engrossing fare, while the voodoo dances at the climax make an exciting film experience. Technically, Haiti — The Black Republic is a wise and workmanlike production. From the short period and superficial observations of a tourist's visit, one cannot, regrettably, ask for a great deal more. The haunting subject matter, however, prompts a fuller answer to such a demand — someday." Movie Makers, Dec. 1950, 467.
---
Date produced: 1932
Filmmaker(s):
---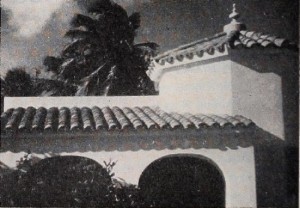 Date produced: 1941
Filmmaker(s):
Description:
"There are clearly in Where the Americas Meet, by Esther and Morton H. Read, the same qualities which marked Holiday in Dixie, the award winning production made by Mr. Read last year. Here again is that intangible ability to evoke the feeling of past events, simply from pictures of their present landmarks. One can almost catch the glint of Spanish armor on ancient battlements, as Mr. Read's splendid cinematography and suave narrative study the fortresses of San Juan. Here again is that definite sense of research into the subject matter, before ever a foot of film has been exposed. Mr. Read piles detail upon detail with almost hypnotic elaboration, much in the manner of today's novelists in recreating the life of the Old South. If anything, the present film — like its predecessor — tells a tale too long, although speaking always with impeccable imagery and a wise use of words and music." Movie Makers, Dec. 1941, 567-568
---
Date produced: 1930
Filmmaker(s):
Description:
"Havana, 400 ft., 16 mm., made by Herman Danz, is outstanding among the recent travel and vacation films rather more for its photographic quality than for its continuity. The film presents Havana, its harbor, street scenes and architecture. Mr. Danz has avoided almost all of the amateur's pitfalls, for the film contains no instances of wobbly "pamming," [sic] jerky shots or unfortunate camera angles, encountered so often in films of foreign cities. Even more important, the treatment is impersonal throughout and purely intimate shots were either not taken or were edited out to be included in a family reel. Thus the film is the type that strangers and friends can enjoy as much as a professional treatment of the same subject. Filters used with panchromatic film brought out cloud formations hanging over the picturesque harbor and emphasized the colorful architectural detail of the buildings." Movie Makers, Dec. 1930, 758-759.
---