---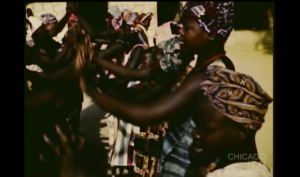 Date produced: 1947
Filmmaker(s):
Description:
"Silent film set in a small African village. The King takes his young son, the Prince, on a journey to teach him lessons on how to be a great leader by showing appreciation and care for the people they rule. The King guides the Prince to help care for the ill suffering from leprosy, learn skills like farming the land, making clothing and building shelter, and enrolls him in school to get an education and learn religion. The film shows many skills and medical processes of African villagers in detail from start to finish." Chicago Film Archives
---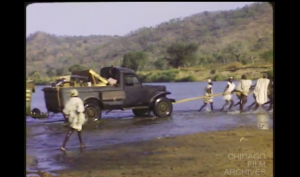 Date produced: 1947
Filmmaker(s):
Description:
"Details a journey from New York to Lagos and beyond the interior of Nigeria. Footage includes shots of daily traditional life in the village and concludes with a battle scene between two tribes brandishing spears and bows and arrows." Chicago Film Archives
---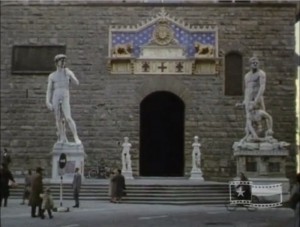 Date produced:
Filmmaker(s):
Description:
"This amateur film captures Edwin and Minnie Mayer's worldwide adventure across Australia, Asia, Africa, and Europe in the 1950s. This segment documents stops in Thailand, India, Egypt, Greece, Vatican City, Italy, the Netherlands, and England" Texas Archive of the Moving Image.
---
Date produced: 1937
Filmmaker(s):
Description:
According to the filmmakers, "The scenario was our own—concerning the difficulties confronting a British telegraph company in maintaining communications between Uganda and the Sudan. A story requiring such foreign locale—Africa's desert, veldt and jungle—was written with the object of demonstrating to our audiences the cinema possibilities of our northeastern states" (111).
---
Date produced: 1971
Filmmaker(s):
Description:
"Tsavo by G. Christopher Bonar of Montreal, Quebec, Canada. Chris presents a fine study of the disappearing animal species of Africa. Tsavo is one of the game preserves established to try to halt this disappearance. This 14-minute 16mm film was awarded the Charles A. Kinsley Memorial Award for PSA-MPD Film of the Year, the Golden Microphone Award and the Nature Film Award" PSA Journal, Nov. 1971, 42.
---
Date produced: 1970
Filmmaker(s):
Description:
"Morocco on my Mind by Maurice Krakower, a PSA member of Glen Head, N.Y. Maurice has taken the subject of a little visited area and made a winning film with a most unusual narrative treatment. This 16-minute 16mm film was awarded the PSA-MPD Gold Medal and the Travel Film Award" PSA Journal, Nov. 1970, 38.
---
Date produced: 1969
Filmmaker(s):
Description:
"Wild Dogs of Africa is a film by a perennial winner, Fred Harshbarger of Colton, Calif. Most of us have seen films made in Africa but this nine minutes is not about the "run-of-the-mill" African animals that one expects. Who would think of making a film about wild dogs? Well Fred did - and because of it we all know just a little more of that part of the world. Naturally it's in color and shot with the usual Harshbarger "know-how". Winning the Nature Award was a natural for this picture" PSA Journal, Nov. 1969, 56.
---
Date produced: 1967
Filmmaker(s):
Description:
"They Brought India With Them is the story of many of the natives of India who have moved to South Africa to make their home. This film points out that they didn't take to So. African ways as much as they brought their own ways and customs with them" PSA Journal, Aug. 1967, 37.
---
Date produced: 1964
Filmmaker(s):
Description:
"Under Sheltering Skies reminds us that the Africa of today will not exist much longer because of the many forces of change working against it. Poaches are attacking the abundant wild life, and the civilization is remolding village huts and village life. Here, then, is a look at the Africa today from the village to the wild life sanctuary where wild animals still roam. Flawless photography gives this film a unique charm and judicious cutting lets us see only the finest shots of numerous animals still roaming "under sheltering skies" PSA Journal, Sept. 1964, 50.
---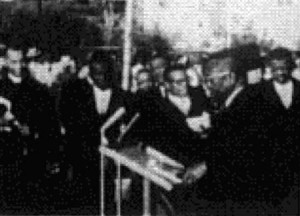 Date produced: 1962
Filmmaker(s):
Description:
"A free and independent country with a form of government patterned after the U.S.A. located on the western part of Africa. Monrovia, its capital city, is modern and has an air of prosperity. There is an active program of new schools, improved teaching, road construction, agricultural development, and training of its defense army. Away from the city, the country is still a land of thatched roofs and scanty clothing, ritual and tribal dances. A fine documentary that tells us also of the economic growth of the country" PSA Journal, Oct. 1962, 33.
---
Total Pages: 2