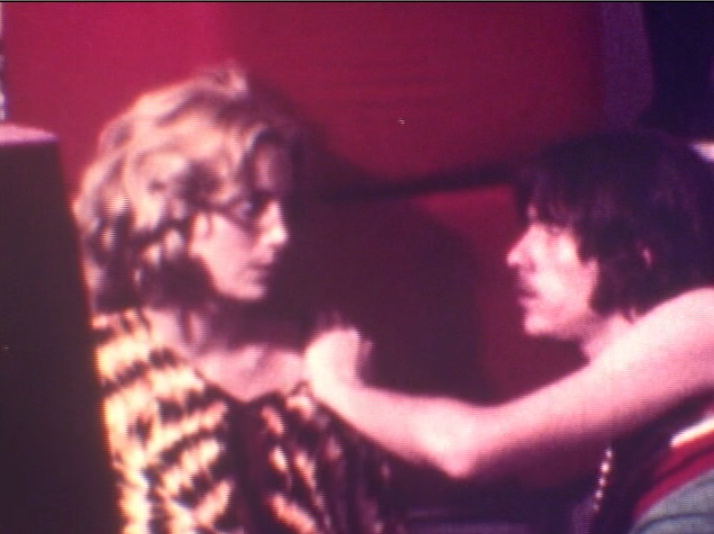 Date produced: 1974
Filmmaker(s):
Country of Production:
Mexico
Languages:
Spanish
Format:
Super8
Colour:
Colour
Sound Notes:
Unknown
Awards/Recognition:
This film remained unpublished from its production time until it was edited exclusively to be published in the Superocheros anthology, compiled by UNAM Film Archives.
Description:
"Luz externa fue una de las producciones más ambiciosas del súper 8 mexicano. El guión se basaba en el monólogo de Ernesto, un machín jipiteca, que relata a un amigo las peripecias con su novia Raquel. Posteriormente el guión sirvió como la base del cuento con el mismo título que apareció como parte del libro El rey se acerca a su templo. Tanto la película como el cuento se abocaban a describir el abanico amplio de la juventud clasemediera urbana contracultural que había aparecido a fines de los años sesenta y principios de los setenta: los macizos que acceden al consumo de drogas, las muchachas de buena familia que se acercan a ese mundo, los nuevos conversos a la revolución social o los intelectuales que participan del ambiente con simpatía" (Vázquez Mantecón, 2012).

"Luz externa [External light] was one of the most ambitious productions of the Mexican super 8. The script was based in the monologue of Ernesto, a 'machin' hippie, that tells a friend about his adventures with his girlfriend Raquel. The script served later as the base for a short story with the same title that appeared as part of the book El rey se acerca a su templo [The king approaches his temple]. Both the movie and the short story described the wide range of the middle class urban countercultural youth that emerged at the end of the sixties and the beginning of the seventies: the strong men that had access to drugs, the girls from good families that entered that world, the new converts to social revolution or the intellectuals that sympathize with that ambiance" (Vázquez Mantecón, 2012).
Resources:
Vázquez Mantecón, Álvaro. El Cine Super 8 en México 1970-1989 . Filmoteca UNAM, 2012. Find this book in Filmoteca UNAM Docs

This film was unpublished in its time and appears for the first time in the DVD anthology Superocheros. Filmoteca UNAM, Mexico City, 2008.
Locations:
Relevant Locations
Subjects:
Genre:
Tags:
---