---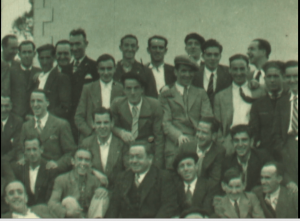 Date produced:
Filmmaker(s):
Description:
La historia del músico Alfredo Donnay y la inspiración que lo llevó a componer diferentes canciones a lo largo de su vida. El filme hace un recorrido por el territorio de Vitoria y sus alrededores mientras conocemos sus fuentes de inspiración para las letras y melodías.

The film tells the story of musician Alfredo Donnay and how he was inspired to compose several songs throughout his life. A tour of Vitoria and its surroundings is made as we get to know the sources of inspiration for his lyrics and music.
---
Date produced: 1981
Filmmaker(s):
Description:
Kaxarranka dantzaren erreportajea

Reportaje de danza Kaxarranka.

A depiction of the Kaxarranka dance.
---
Date produced: 1969
Filmmaker(s):
Description:
Jazzflections is a sound and color blending film by Leon Paquette of Lynn, Mass. It's 2½ minutes of experimenting in how music looks color-wise and shape-wise. It's short enough to be entertaining and yet long enough to let you know how some other guy feels about the sound of music," PSA Journal, Mar. 1970, 44.
---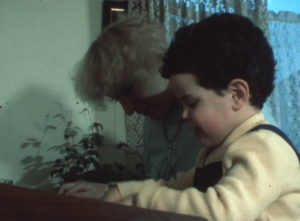 Date produced:
Filmmaker(s):
Description:
Después de una noche de tragos en un bar, Olga sale con un extraño y lo lleva a su hogar. Mientras tienen relaciones sexuales, ella ve la foto de un niño pequeño en la pared, y recuerda tocar el piano y divertirse con el. Después el filme muestra a Olga en el baño inyectándose drogas para después vagar por las calles bajo la influencia de narcóticos y alimentar a un perro con pan mientras continúa recordando estar con el pequeño niño. Olga regresa al mismo bar acompañada de una mujer y se emborracha; después de salir juntas hacia el hogar de Olga, empiezan a desvestirse y besarse. Olga ve la foto otra vez y empieza a llorar, esta escena es seguida por imágenes de ella recibiendo oxígeno en una ambulancia y después llorando a lado de la otra mujer, mirando la fotografía.

After a night of drinks in a bar, Olga leaves with a stranger and takes him home. While having sex with him, she sees the picture of a little boy on the wall, and remembers playing piano and having fun with him. Afterwards the film shows Olga in the bathroom injecting herself with drugs, wandering the streets while in the influence of the drugs and feeding a dog with bread while she keeps on remembering being with the kid. Olga then goes to the same bar with a woman and gets drunk, they leave together to Olga's home and while they begin to undress and kiss, she sees the picture again and starts crying, this scene is followed by images of her receiving oxygen in an ambulance, and then crying again next to the other woman, looking at the picture.
---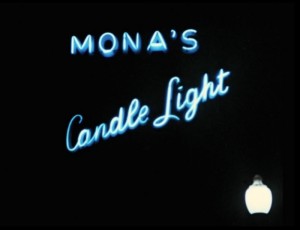 Date produced: 1950
Description:
"This all-too-brief film, discovered at a flea market, depicts patrons of a lesbian bar (probably in San Francisco circa 1950) and performances by drag king Jimmy Reynard and singer Jan Jensen, singing American standards, including "I'll Remember April" and "Tenderly." A deceptively simple document, it presents exceedingly rare images of queer life on its own turf, and on its own terms, before gay liberation." UCLA Film & Television Archive.
---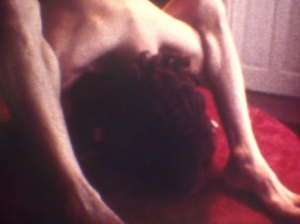 Date produced: 1974
Filmmaker(s):
Description:
"Primer súper 8 de Nicolás Echevarría, quien ya había realizado un trabajo experimental en 16 milímetros y veía en los superocheros una suerte de "comunidad de marginados" con la que se sentía a gusto, mostraba sobre el fondo de una pieza de Ravel las poses de un contorsionista que buscaba la autosatisfacción en un decorado que asocia la noción burguesa de confort al erotismo" (Vázquez Mantecón 2012)

"First super 8 film of Nicolás Echevarría, who had already filmed and experimental piece in 16 mm and saw in the supereighters a sort of "outcasts' community" that he identified himself with, it showed with the background of a Ravel musical piece the poses of a male contortionist looking for self-satisfaction in a setting that associates the notion of the bourgeoisie to the comfort of eroticism"
---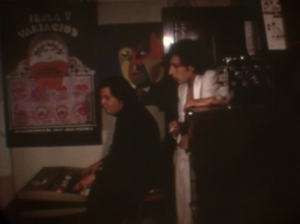 Date produced: 1974
Filmmaker(s):
Description:
"Quizá para dejar claro que abordaba el tema desde un punto de vista artístico, la película comienza con imágenes de erotismo en las artes plásticas (Picasso y Fiona Alexander, principalmente) para relatar la historia de un hombre (Salvador Garcini) que se acerca sensualmente a su amada (Tina Romero) y descubre que tiene una vagina dentada, cosa que lo desorienta y conflictúa. Es curioso que a diferencia del poema de Neruda en el que se había inspirado, la película no mostraba el ejercicio de una sexualidad plena y consumada, sino precisamente de los miedos a ella.
El joven vaga atormentado por las calles de la ciudad. Acude con una especie de gurú (Juan José Gurrola), que interpreta música neuroatonal en un teclado eléctrico, mientras resuena el poema de Neruda. A partir de esto el joven recupera sus fuerzas y recibe una suerte de inciación sexual con una mujer de vestido blanco en la pirámide de Cuicuilco para finalmente volver, todo complejo superado, a la mujer del principio" (Vázquez Mantecón, 2012)

"Maybe to make it clear that the topic was addressed from an artistic perspective, the film begins with erotic images from plastic arts (mainly Picasso and Fiona Alexander) to tell the story of a man (Salvador Garcini) that approaches sensually his loved one (Tina Romero) and discovers that she has a Vagina Dentata, which disorients and conflicts him. It is curious that unlike the Neruda poem it is inspired by, the film doesn't show a free and consummated sexuality, but the fears associated with it.
The tormented man wanders the streets of the city. He goes to a sort of spiritual guru (Juan José Gurrola), that interprets neuro-atonal music in an electric keyboard, while Neruda's poem sounds in the background. From this point the young man regains his strength and receives a sort of sexual initiation with a woman dressed in white in the pyramid of Cuicuilco to finally come back, all complexes aside, to the woman of the beginning" (Vázquez Mantecón, 2012)
---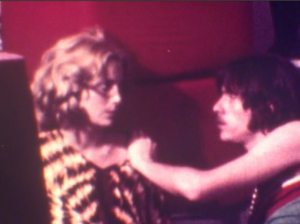 Date produced: 1974
Filmmaker(s):
Description:
"Luz externa fue una de las producciones más ambiciosas del súper 8 mexicano. El guión se basaba en el monólogo de Ernesto, un machín jipiteca, que relata a un amigo las peripecias con su novia Raquel. Posteriormente el guión sirvió como la base del cuento con el mismo título que apareció como parte del libro El rey se acerca a su templo. Tanto la película como el cuento se abocaban a describir el abanico amplio de la juventud clasemediera urbana contracultural que había aparecido a fines de los años sesenta y principios de los setenta: los macizos que acceden al consumo de drogas, las muchachas de buena familia que se acercan a ese mundo, los nuevos conversos a la revolución social o los intelectuales que participan del ambiente con simpatía" (Vázquez Mantecón, 2012).

"Luz externa [External light] was one of the most ambitious productions of the Mexican super 8. The script was based in the monologue of Ernesto, a 'machin' hippie, that tells a friend about his adventures with his girlfriend Raquel. The script served later as the base for a short story with the same title that appeared as part of the book El rey se acerca a su templo [The king approaches his temple]. Both the movie and the short story described the wide range of the middle class urban countercultural youth that emerged at the end of the sixties and the beginning of the seventies: the strong men that had access to drugs, the girls from good families that entered that world, the new converts to social revolution or the intellectuals that sympathize with that ambiance" (Vázquez Mantecón, 2012).
---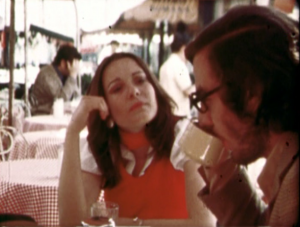 Date produced: 1974
Filmmaker(s):
Description:
"Una cinta cargada de referencias a Jean-Luc Godard (Los Carabineros, 1963) pero sobre todo concentrada en la crítica mordaz al radicalismo de izquierda. Una vez más Marco Antonio Madrid hace el papel de protagonista, un joven de pelo largo, pantalón de mezclilla y saco, que se dedica a ligar en los cafés de la Zona Rosa adoctrinando a las mujeres. Lee a Marx después de hacer el amor, y se junta con sus amigos para brindar por "la muerte de la intelectualidad burguesa". Montero utiliza intertítulos como recurso irónico, una suerte de narrador externo que interpela la historia: "¿Qué es la intelectualidad burguesa?". La lucha revolucionaria del joven y sus amigos está teñida de sentido del humor. En una secuencia que recuerda mucho a Los Carabineros, suben al techo de una fábrica para iniciar la lucha armada (...) Por último un cartel proporciona una última burla: "Y si el sol es burgués detendremos al sol" " (Vázquez Mantecón, 2012).

"A film loaded with references to Jean-Luc Godard (The Carabineers, 1963), but above all focused on biting criticism to the radical left. Once again Marco Antonio Madrid plays the role of the lead character, a young man with long hair, jeans and coat, that dedicates his time to hook up in the coffee shops of the Zona Rosa indoctrinating women. He reads Marx after making love and he gets together with his friends to toast for the "death of the bourgeois intellectuality". Montero uses intertitles as a resource for irony, a sort of outside narrator that interpellates the story: "What is bourgeois intellectuality?". The revolutionary fight of the young man and his friends is filled with a sense of humor. In a sequence that reminds us of The Carabineers, they go to the rooftop of a factory to begin the armed fight. (...) Finally a sign shows one last derision "And if the sun is bourgeois, we will stop the sun" " (Vázquez Mantecón, 2012).
---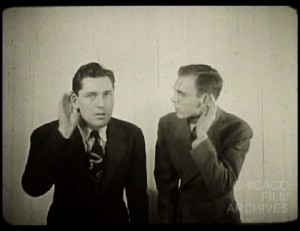 Date produced:
Filmmaker(s):
Description:
Two men perform a song titled "Modern Design" and encourage the film's viewer to participate in the performance.
---
Total Pages: 3