---
---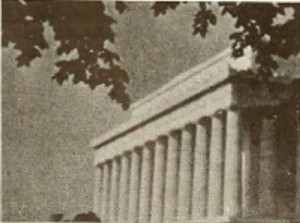 Date produced: 1940
Filmmaker(s):
Description:
"In Holiday in Dixie, Morton H. Read, a Yankee from Massachusetts, has so well understood the essence of the Old South that he has called back from its storied urns a breath which inspires the whole film so intimately that Southern hats should come off to him. His remarkable sympathy with the remains of the Cavalier era has made it possible for him to present them with conviction and fire. Mr. Read first shows us Washington with its dignity and spaciousness, by carefully chosen shots. He pauses for an inspection of the caverns at Luray, and then he goes on to study the lovely cities of Lexington and Williamsburg. We reach the deep South at Charleston and the Ashley River; it is in this part of the film that its maker establishes his vivid emotional identity with a past epoch. A sequence of Negro rural life is brilliantly handled, and the film comes to an amazing climax with scenes of the trees and flowers in the gardens of ancient estates. With music and with a narrative that sets a new standard in this newer phase of personal movies, the mood of the film is not only sustained, but amplified, so that, after the projection, one wonders which of the three — film, music or words — one will longest remember." Movie Makers, Dec. 1940, 599-600.
---
Date produced: 1935
Filmmaker(s):
Description:
"Edited film used by an amateur travel-lecturer documents travel in western and southwestern United States beginning at a rodeo in Phillipsburg, Kansas (trick riding, lassoing jack rabbits, roping calfs, wrestling steers, horse races, bucking broncos and bucking steers as well as scenes of an airplane flyover and of an airplane crashing which possibly was a stunt) and continuing to Black Hills, South Dakota (forest scenery and ca. 1927 construction of Mount Rushmore--blasting off cliff face, scaffolding, men working and completed monument). Shown are roadside scenery, railroad tracks, men cleaning railroad tracks with hose and tank on small train car on the way to an unidentified mountain fishing camp possibly in Colorado (canoeing, fishing in stream, and a smokehouse) and a mountain farm where colts are branded. Cog railway is taken up to Pike's Peak. Travels continue to to the Southwest (unidentified southwestern town possibly Santa Fe with adobe buildings and men and children in Mexican dress singing and playing guitar, American Indian dance performance indoors possibly Zuni, parade of American Indians in unidentified city perhaps Gallup and Navajo band. Scenes of the southwest continue with Navajo in Canyon de Chelly (hogans and herding sheep), prehistoric archaeological sites (Mesa Verde, Chaco Canyon another unidentified cliff dwelling possibly Montezuma's castle) and Taos Pueblo. Film records American Indian dances at a gathering of Indian tribes possibly at Gallup, intertribal horse races and women's tug-of-war. Hopi are shown dancing at Hopi. Also shown are Indian women (possibly Apache or Navajo) and children together and children in cradleboard and the Navajo reservation (hogans, women spinning and weaving under a ramada, herds of sheep and goats and "dipping sheep"). Natural wonders of Grand Canyon, Monument Valley and Rainbow Bridge National Monument are featured.Travel continues to Yellowstone National Park, California (scenery, black bears, hot springs and geysers) and onto the California coast possibly Monterey (seals on rocks). Also shown are an unidentified town with oil pumps and derricks and people waterskiing" via the Human Film Studies Archives, Smithsonian Museum.
---
Date produced: 1949
Filmmaker(s):
Description:
"'Navajoland' entered by Richard V. Thiriot, of Salt Lake City, is a travelogue on that part of the great Southwest where dwell the dwindling and not-to-well-off Navajos. Thiriot has caught the beauty of this colorful country with his camera and Kodachrome film, and concludes the picture with intimate shots of some of the Indians who inhabit Navajoland. Had Thiriot been able to schedule his filming during the stormy weather season and thus been able to capture the colorful skies abounding in Navajoland at that time of the year, his photography would have greater pictorial interest, highly neccesary where subject material is predominantly static. Thiriot used a Filmo 70-DA and Kodachrome film." American Cinematographer, Apr. 1950, 145.
---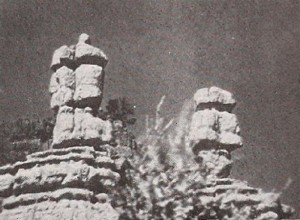 Date produced: 1943
Filmmaker(s):
Description:
"Parks of Paradise was originally intended as a 2000 foot pictorial travelog that would cover every national park and monument in the United States, but travel conditions enforced a limitation, so Norris Smitley has confined the scope to include only the national parks of the Southwest, permitting a more detailed presentation of the material used. Many unusual scenes of popular subjects are shown in the picture, which is further distinguished by beautiful color and meticulous cinematography." Movie Makers, Dec. 1943, 478.
---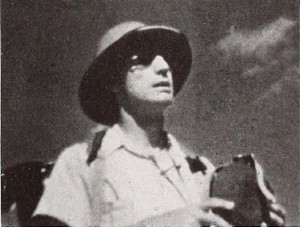 Date produced: 1943
Filmmaker(s):
Description:
"Rainbow Fantasy, in the words of Charles C. Hammack, is "an attempt to produce — not a conventional travelog — but more a story of adventure, a hiking adventure to what is probably one of the least visited of our national monuments, Rainbow Bridge, in southeastern Utah." In achieving this goal, Mr. Hammack has been largely and creditably successful. For him and his young wife, Rainbow Bridge takes on the aura of a lost horizon, a Shangri La protected from the outside world by the blistering desert heat and the brutal desert rocks. He brings this overtone of feeling to his film, both through his imaginative camera treatment of the subject and the intentionally dramatic acting of the two travelers. Mr. Hammack's is a new name in Ten Best competition, but it is one which we believe will be heard again."Movie Makers, Dec. 1943, 478.
---
Date produced: 1936
Filmmaker(s):
Description:
"R. C. Denny, S.A.C, was awarded the Weston Cine Exposure Meter Model 819, contributed by its manufacturers, for 'Scenic Wonders of the Southwest,' an 800-foot subject in color." American Cinematographer, Jan. 1938, 28.
---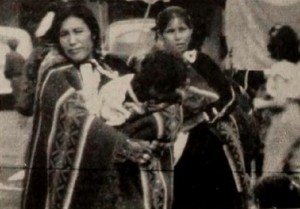 Date produced: 1947
Filmmaker(s):
Description:
"Edward F. Cross covered an extensive territory of national parks and vacation spots in the Southwest and Western sectors of the United States and has brought back an attractively filmed record of his tour. Unique rock formations have been pictured from well chosen vantage points to make the most of light and shadow. This Land of Ours is climaxed by particularly colorful units in a rodeo's grand parade and a dexterous camera handling of Indian dances. A full narrative indicates careful research to supplement the scenes on the screen." Movie Makers, Dec. 1947, 539.
---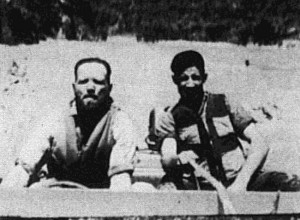 Date produced: 1957
Filmmaker(s):
Description:
"Al Morton's "Wild Water and Bouncing Boats" takes us through Desolation and Gray Canyons on the Green River which flows into the great Colorado River. The Green River starts in northern Utah and joins the Colorado south of Arches Monument in Utah. The picture takes us down the Colorado as far as the Hoover Dam. The country abounds in desert and canyon scenery—to say it is spectacular is a display of modesty. There are canoes and other hand-powered craft on the turbulent rapids with upsets and the struggle to gain an island rock and the shore. There are craft equipped with outboard motors to drive it through turbulent waters and rapids. This film is packed with thrills for those who like rough water" PSA Journal, Nov. 1957, 33.
---
Total Pages: 2