---
---
Date produced: 1950
Filmmaker(s):
Description:
"Sea Theme: M. R. Weinstein, J. C. Couffer and Conrad Hall have collaborated in the production of a thematic and quite pictorial account of a young couple with a sailboat at sea. The variety of moods are enhanced by the carefully chosen musical score, which has been combined with the film. The picture begins by showing the youth and girl loafing in the sun on the ship's deck. A breeze springs up and they go into action setting sails and the wheel for a cruise in the bay. The camera follows the craft, both in long shot and intimate medium on-deck shots as it churns through the water, runs into a calm, then again bends to the breeze and returns to port at dusk. Consistency of photographic quality is a highlight and the sound recording is quite professional. The picture was filmed with a Bolex H-16 camera and a variety of four lenses." American Cinematographer, May 1951, 190.
---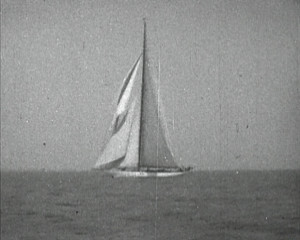 Date produced: 1931
Filmmaker(s):
Description:
"One of a series of films recording the travels of the schooner Elver, her owner V.B. Harrison, crew and guests. Scenes are shot from the Elver including adjustment of sails, sea, waves, buoys, coastline and passing boats, sometimes close enough to see crew in detail." (EAFA Database)
---
Date produced: 1960
Filmmaker(s):
---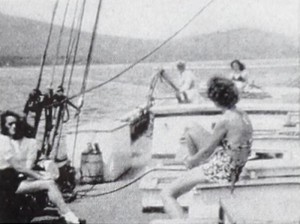 Date produced: 1945
Filmmaker(s):
Description:
"Sidney Moritz likes to record the few vestiges that remain in this rapidly changing country of the days that were. After earlier voyages on an Ohio River "sternwheeler," he made two cruises on the Mattie, an old schooner that now hugs the New England coast and carries vacationers. In Windjammer there is cinematic beauty, with delightful scenes of masts and sails. There is also a detailed and very human record of the way in which the holiday makers — who also help with the ship's chores — enjoy a recreation both salty and salubrious. One is sure that they and the ship's crew — including grim old Captain Grant — had a grand time. Mr. Moritz must have had one, also, if his gay footage reflects his mood." Movie Makers, Dec. 1945, 497.
---
Total Pages: 2