---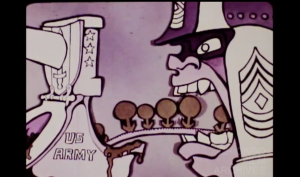 Date produced: 1970
Filmmaker(s):
Description:
"University of Illinois Chicago (UICC) animated student film about being drafted to the Vietnam War." Chicago Film Archives
---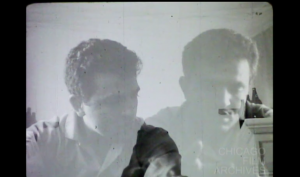 Date produced: 1970
Filmmaker(s):
Description:
"Columbia College student film about a young man receiving and responding to his Vietnam draft card." Chicago Film Archives
---
Date produced: 1969
Filmmaker(s):
Description:
"A short amateur film that show "how to stop a war without trying anything much." Footage of protesters and activists advocating against the war in Vietnam are intercut with altered images of war." via Chicago Film Archives
---
Date produced: 1938
Filmmaker(s):
Description:
"This is a film Mr. Bowdery shot and edited into a form of home newsreel called THE SECOND WORLD WAR -- THE HAND OF TYRANNY. It is captioned with headlines from the 'People's Advocate' newspaper. The footage contains scenes of the exterior of the Vancouver Post Office at Hastings and Granville. Employees being checked at the entrance. Interior of building, protestors in sit-down strike. [Close-up of] trio of protestors, other good [close-ups]. Protestors singing 'The Red Flag', [with] banjo and accordion accompaniment. Unemployed march" (Browne).
The film is also known as Vancouver Post Office Sit-Down Strike.
---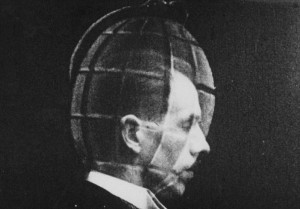 Date produced: 1936
Filmmaker(s):
Description:
"Norman McLaren and Helen Biggar's urgent work of animated agit-prop utilises a mixture of film forms (from found footage to title cards and staged action) stitched together with rapid editing to create an incisive and disorienting polemic against government armament spending. Made in 1936 as fascism was on the rise throughout Europe, the film was the result of collaboration between animator McLaren and sculptor Biggar, made during their tenure at the Glasgow School of Art. The idea was to use a rapid succession of violent images to jolt the viewer into demonstrative action against a new war, decades before such Brechtian techniques were employed by artists like Jean-Luc Godard. The result is one of the most striking and memorable of all animated political films" British Film Institute.
---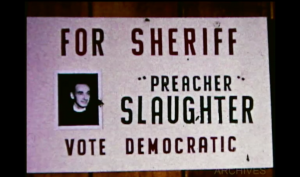 Date produced:
Filmmaker(s):
Description:
A husband and wife hold different opinions about who is to become Sheriff. The wife roots for the Democratic candidate "Preacher" Slaughter, while the husband wants to re-elect Republican candidate Sheriff Carver. Both parties bribe the husband and wife for their absentee ballot. notes from CFA
---
Date produced: 1967
Filmmaker(s):
Description:
"Stereotype leans towards the experimental style to give us an insight on the plight of the Negro in the modern world" PSA Journal, Aug. 1967, 37.
---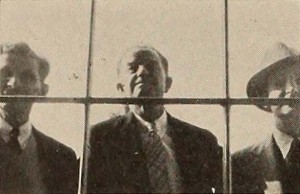 Date produced: 1938
Filmmaker(s):
Description:
"In their adroitly handled John Doe, Citizen, Frances Christeson and Harry Merrick have produced a photoplay of politics in city government that can be compared to a theatrical picture in dramatic values and clarity of treatment. Designed to teach students the value of the vote, the danger of neglecting to understand the issues in city affairs and some of the methods by which machine politicians keep themselves in power, this picture also shows how well amateurs can handle a serious film in dramatic form. Particularly notable, from the movie maker's viewpoint, is how cleverly and effectively the producers have circumvented such apparently insurmountable problems as showing a crowded town meeting in a large auditorium, night airplane shots of rows of homes with lighted windows and the construction of a new sea wall on the city's waterfront. Needless to say, these sequences were not handled by means of large studio sets and hundreds of extras; but they are just as effective as if they had been, and therein lies the genius of these remarkable movie makers." Movie Makers, Dec. 1938, 597.

"A fictional account of an election as it might occur in a small city. Illustrates the indifference of the average citizen to public affairs and emphasizes that if the government is not run by the people the government will run them." Educational Film Guide, 1953, 367.
---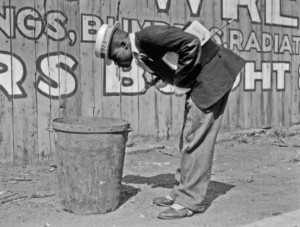 Date produced: 1933
Filmmaker(s):
Description:
"Mr. Motorboat's Last Stand, written and produced by John A. Flory, who was assisted in photography by Theodore Huff, ACL, carries the subtitle, A Comedy of the Depression. It has, however, nothing in common with the typical motion picture comedy but is, instead, one of the very few films made each year that represent an intelligent attempt at experimentation with the motion picture medium. It is a story of Mr. Motorboat, an unemployed negro, who lives as elegantly as circumstances will permit in an automobile dump and who sells carefully washed and polished apples on a street corner. The picture turns into fantasy as Mr. Motorboat appears to ride to work in the morning in one of the cars of the dump that stands motionless without its wheels. Then the fantasy becomes more complete when he makes a bit of money and uses it as bait with which to fish in Wall Street. This he does literally and actually and with marvelous results until the crash of 1929. Simultaneously with the explosion of the prosperity bubble, Mr. Motorboat's competitor smashes his apple stand and the picture ends in a magnificent chase sequence, Mr. Motorboat after the competitor. This picture is photographed superbly well, and the editing is as smooth as that of the professional studio product. It is filled with remarkable directorial touches and cinematic symbolism and, although it suffers to some extent from the haphazard admixture of fantasy and realism, it is decidedly the best experimental film of the year." Movie Makers, Dec. 1933, 522.
---
Total Pages: 4