---
---
Date produced: 1938
Filmmaker(s):
Description:
"This is a film Mr. Bowdery shot and edited into a form of home newsreel called THE SECOND WORLD WAR -- THE HAND OF TYRANNY. It is captioned with headlines from the 'People's Advocate' newspaper. The footage contains scenes of the exterior of the Vancouver Post Office at Hastings and Granville. Employees being checked at the entrance. Interior of building, protestors in sit-down strike. [Close-up of] trio of protestors, other good [close-ups]. Protestors singing 'The Red Flag', [with] banjo and accordion accompaniment. Unemployed march" (Browne).
The film is also known as Vancouver Post Office Sit-Down Strike.
---
Date produced: 1931
Filmmaker(s):
---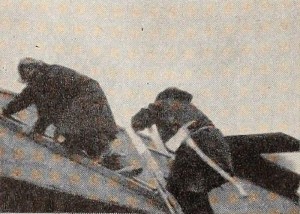 Date produced: 1952
Filmmaker(s):
Description:
"In making Fire-Fighters Field Day, William Messner again has demonstrated his versatility with the motion picture camera. Choosing a subject which has only limited appeal, he makes it interesting nevertheless with good newsreel technique. Shooting the fire-fighting demonstration at New Haven, Connecticut, in one day's time and without advance planning, Mr. Messner captures the activities of the fire-fighters against a varied backdrop of flames, smoke, chemicals and steam. Since part of the action takes place in bright sunlight and part in shadow, the producer had to be alert in changing his diaphragm openings to insure even exposure. In view of the difficult and ever-changing light conditions, Mr. Messner deserves special commendation for the fidelity of his coverage. While the photography was outstanding, the accompanying tape track was a trifle noisy." Movie Makers, Dec. 1952, 340.
---
Date produced: 1930
Filmmaker(s):
Description:
"The newsreel begins with the departure of the ocean liner -'Britannic'- on its maiden voyage from Liverpool to New York; 28th June 1930. Further scenes include an item on the Liverpool and Manchester Railway Centenary Exhibition held in 1930 at Wavertree Park - visitors are seen wandering around the various exhibits, which comprise of both old and new locomotives." (NWFA Online Database)(br>
"The grand rail exhibition at Liverpool's Wavertree Park on 20th September 1930 marked the centenary of the Liverpool and Manchester railway. In this fascinating glimpse of a significant event in railway history, enthusiasts admire the gleaming locomotives, which include North Star and a replica of the Rocket as well as more contemporary models from the LMS, LNER, GWR and Southern rail companies." (BFI Player)
---
Date produced: 1934
Filmmaker(s):
Description:
"Local newsreel events include carnival scenes at Winsford, Cheshire. Dancing troupes, decorated floats and various fancy dress characters march along the country lanes. Also features the Southport Flower Show held on August 24th,1934. Includes indoor exhibits, rock gardens and an outdoor swimming pool. Concludes with the crowning ceremony of Morecambe carnival queen. Crowds of people, sitting in rows of deckchairs, watch the event taking place." (NWFA Online Archive)
---
Date produced: 1934
Filmmaker(s):
Description:
"Local newsreel - includes items on the 'New World Wonder Tunnel' in Merseyside, March 31st 1934; Manchester City football team is welcomed home after winning the FA cup at Wembley - includes scenes at North Edgeley Station and Piccadilly Square - A royal visit to Manchester and Liverpool, July 17th / 18th, 1934. King George V is greeted by large crowds as he opens the new Central Reference Library in Manchester and the new East Lancashire Road in Liverpool. The newsreel concludes with shots of Stockport's floral tributes." (NWFA Online Archive)
---
Date produced: 1934
Filmmaker(s):
Description:
"Popular North West events from 1934 feature here. Stockport Ladies' baths reopens, with young swimmers keen to display their skills. Local people turn out for the Alderley Edge carnival parade, and huge crowds flock to see Sir Alan Cobham's Air Pageant at Woodford Aerodrome. Finally, we leave Cheshire for a trip to New Brighton, where again the crowds turn out, for fun in the new pool." (BFI Player)
---
Date produced: 1933
Description:
"comprises various events of 1932, including shots of the speedboat, Miss England III on Loch Lomond, and a very complete record of the Ulster T.T Motor Race. The reel has been very much in demand and can be hired by anyone, the charge being 4s. for the night" (HMHT 1933: 335).
---
Date produced:
---
Date produced: 1933
---
Total Pages: 3