---
---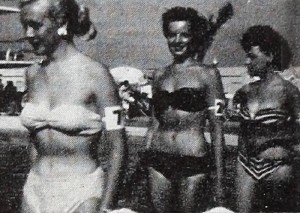 Date produced: 1951
Filmmaker(s):
Description:
"A bathing beauty parade in Florida, blessing the fishing fleet at Gloucester, a tomato throwing fight in — well, it doesn't matter. These are not, to be sure, true scoops in the journalistic sense of the term. But they do constitute what passes for news these days in the newsreels; and, under George Merz's competent camera treatment and incisive cutting, they most certainly make for good movies. Mr. Merz sustains audience interest throughout Movie News Scoops, working in a film form — the topical newsreel — which the amateur generally has found difficult." Movie Makers, Dec. 1951, 412.
---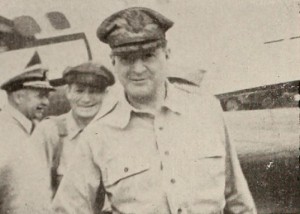 Date produced: 1944
Filmmaker(s):
Description:
"When Lewis B. Sebring. jr., went from the United States early in 1942. as a war correspondent accredited to General Douglas MacArthur's headquarters, he wisely left his camera at home. There was no telling what dangers and difficulties lay ahead. Months later, after the Japanese had been driven back across the Owen Stanley Mountains, after the battles of Buna, Salamaua and others, there seemed to be more time and opportunity for personal movie making. Happily, Mr. Sebring managed to borrow a good 16mm. camera, and New Guinea Newsreel is one of the exciting results. Keyed by the expert titles of a news writer, it presents a series of well rounded sequences on such colorful subjects as a visit by General MacArthur; a cine interview with Major Richard I. Bong, top American air ace of the war to date; an informal exhibition of Japanese souvenirs, and a moving Easter service, somber against the gray dawn of a New Guinea foreshore." Movie Makers, Dec. 1944, 496.
---
Date produced: 1935
Filmmaker(s):
Description:
News Flashes captures "events around Vancouver, ca. 1934-1935: 1. The German warship 'Karlsruhe' ties up in Vancouver. 2. Champion high diver Ray Wood dives from Burrard Bridge. 3. Japanese training ship (the tall ship 'Zaisei Maru') visits Vancouver. 4. A circus visits Vancouver. 5. Jubilee exhibition and parade, Vancouver, 1935" British Columbia Archives.
---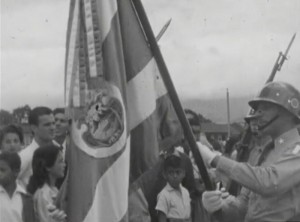 Date produced: 1950
Filmmaker(s):
Description:
"Reportaje Grafico Nacional: Alvaro Chavarria Nunez, who aspires to producing newsreels in his native Costa Rica, presents in this entry a typical effort. The picture is a newsreel of several national events held in this country, and while it displays aggresive camera work, the film result, a dupe print, suffers a great deal because of inferior laboratory work, and therefore the true quality of the photography could not be properly evaluated. Nunez recorded the sound track, using his Auricon film recorder." American Cinematographer, May. 1951, 192.
---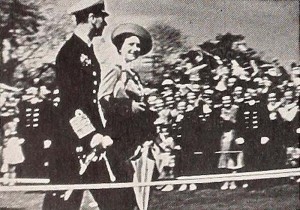 Date produced: 1939
Filmmaker(s):
Description:
"What we have all wished a newsreel presentation of an important event could be has at last been brought to actuality by T. J. Courtney in his fine Kodachrome film Royal Visit — Halifax 1939. Let us hasten to add, also, that this film, besides being the apotheosis of the newsreel presents a carefully connected story of the events of the long anticipated day of the Royal visit in his city. Chiefly outstanding is the skillful and always appropriate use of closeups and atmosphere shots made with great care before, during and after the event and cut in with real skill to heighten the effect. But, most of all, the film is remarkable for its pace and sincere interpretation of public feeling; the early preparations for the Royal visit; the breathless expectation; the high enthusiasm at the time of Their Majesties' appearance, the promise of long remembrance at their departure — all these are clearly shown by Mr. Courtney's cinematic commentary. The complications that must have confronted him on this exciting day must be considered in our approval, too. He succeeded admirably in picturing the general excitement and enthusiasm, but at no time did his camera desert its steady support and accurate framing of the principal subject. The natural, close shots of the King and Queen are unsurpassed." Movie Makers, Dec. 1939, 632.
---
Date produced: 1931
Filmmaker(s):
Description:
"Sport Reel, 300 ft., 16mm., represents a remarkable degree of understanding care given to this type of picture by Charles F. Chapman, M. D. Although this picture is something more of a review than a newsreel, each of the topics presented has a local news interest. Dr. Chapman has preserved the direct and stimulating style of title wordings of the professional newsreels but, in the sequencing of scenes, he has deserted their technique for an original one. This is distinguished by a clever use of closeups to symbolize ideas and for dramatic emphasis. For example, in picturing the local baseball team, he introduces the sequence with a closeup of a row of bats lying on the ground and, when presenting the players, he cuts from a medium shot of them in action to a posed closeup preceded by a title. Further, Dr. Chapman did not forget that good composition and attractive lighting are just as welcome in newsreels as in other types of pictures." Movie Makers, Dec. 1931, 684-685.
---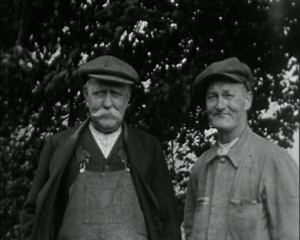 Date produced: 1937
Filmmaker(s):
Description:
"Local newsreel on events in Thetford filmed by Ben Culey, showing the Palace Cinema, which he owned and where people came to see his local news films." (EAFA Database)
---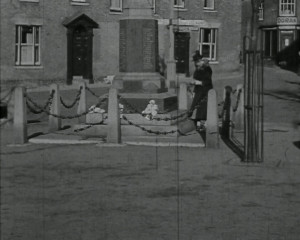 Date produced: 1937
Filmmaker(s):
Description:
"Local sound newsreel, made by Ben Culey, showing Armistice Sunday parade and remembrance ceremonies." (EAFA database)
---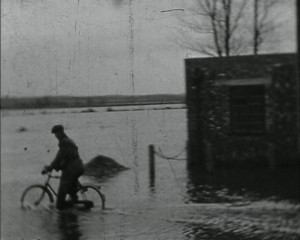 Date produced: 1937
Filmmaker(s):
Description:
"Local sound newsreel, made by Ben Culey, shows the floods at Lakenheath." (EAFA)
---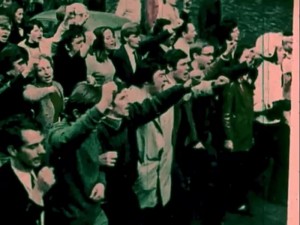 Date produced: 1969
Filmmaker(s):
Description:
Produced by Pyramid Films, the film was originally shown on the Smothers brothers comedy hour television program and is a kinestasis film using kaleidoscopic views of still pictures to summarize the year 1968 (Archive.org).
---
Total Pages: 3