---
---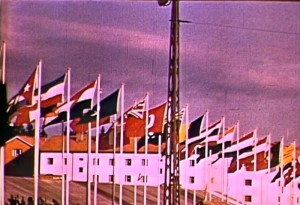 Date produced: 1952
Filmmaker(s):
Description:
"Olympic summer games Helsinki, Finland, 1952." UC San Diego Library.
---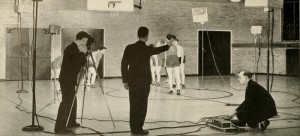 Date produced: 1935
Filmmaker(s):
Description:
"Y West Side, the joint production of Robert Coles, ACL, who directed the film, and Charles Coles and Edwin Schwarz, ACL, who photographed it, is a very successful publicity picture for the West Side Y. M. C. A. in New York City. Starting with the social and dormitory facilities of the "Y," the film carries the audience on a tour of gymnasiums, special exercise rooms, roof courts and pools. The abundance of athletic and exercise equipment is shown clearly in sequences of their use, and the carefully planned action throughout the picture maintains interest and continuity. This film is distinguished by excellent photography and by the successful solution of the innumerable problems in handling large scale interiors and group action. Ingenious adaptations of games and exercises were sometimes required in order to fit the scene to the camera field, determined by the exigencies of the space available. The talents of the three producers were so integrated as to make the enterprise an outstanding success." Movie Makers, Dec. 1935, 555.
---
Date produced: 1935
Filmmaker(s):
---
Date produced: 1967
Description:
"Yea, Verily touches on the experimental and runs the range of film tempo. If you sin you can be forgiven, providing you can find someone who will forgive you. Perhaps forgiveness is subjective after all, for does anyone else really care about your transgressions?" PSA Journal, Aug. 1967, 37.
---
Date produced: 1970
Filmmaker(s):
Description:
"Yellowstone by Jack W. Ruddell, FPSA, of Islington, Ontario, Canada. Jack put his past prize winning talents to good work on this beautifully done travel film. This 10 minute 16mm film was awarded an Honorable Mention" PSA Journal, Nov. 1970, 38.
---
Date produced: 1960
Filmmaker(s):
Description:
"Stan Midgley returns again, this time presenting the "Yellowstone Tetons and Glacier Park." In the wonderful northwest corner of Wyoming you can see spectacular mountains, beautiful lakes, canyons, waterfalls, wild animals and more natural wonders than a tourist can see in a month. There are superb pictures of most of the world's greatest geysers and the changes made by the great 1959 earthquake with before and after pictures. There is Earthquake Lake and its notorious landslide. The Cooke City Red Lodge Highway over the Beartooth Mountains —Ghost Towns and modern towns of Western Montana —Glacier Park, beautiful from the highway, incomparable from the wilderness trail. The ending comes in the golden glory of autumn." Central Union Reaper, Sept. 27, 1966, 3.
---
Date produced: 1931
Filmmaker(s):
---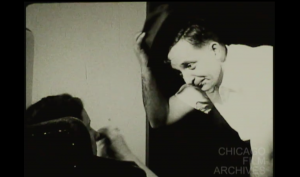 Date produced: 1948
Description:
"After a day of domestic squabbling, an imposing wife and bumbling husband have their furniture appraised. When two men show up as assessors the confusion begins, ultimately giving the husband a chance to prove himself." Chicago Film Archives
---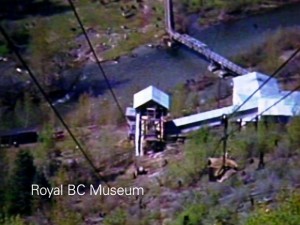 Date produced: 1940
Filmmaker(s):
Description:
"The town of Ymir and the nearby Yankee Girl gold mine. [COLOUR:] Mining concentrator building (with aerial tramway) beside the Salmo River. Mine site, high on mountainside; buildings; small electric train of ore cars; dumping tailings on hillside; dumping ore into aerial tramway; tramway buckets descending very steep hillside to concentrator, and emptying into hopper there. B&W: interior shots (some dark): ore on conveyor belt; refining processes [cyanidation and flotation]; etc. COLOUR: bridge across river for ore cars. B&W: interior of assay office; staff with instruments, performing tests, etc. COLOUR: May Day celebrations: baseball game; rock-drilling contest; presentation of prizes; May Queen pageant and crowning; children maypole dancing." (BC Archives)

The extant reel concludes with footage from elsewhere in the Kootenay Lake Region (Kootenay Lake, Nelson and Kettle Falls), which seems unrelated to the Ymir and... title. This item was part of an apparent series assembled by Morrell under the overall title British Columbia Sketches. Since the series title precedes the item title as shown above, this film was described by the BC Archives as British Columbia Sketches : [reel 8].
---
Date produced: 1931
Description:
"A yachting picture." American Cinematographer, Aug. 1932, 45.
---
Total Pages: 286