---
---
Date produced: 1933
Filmmaker(s):
---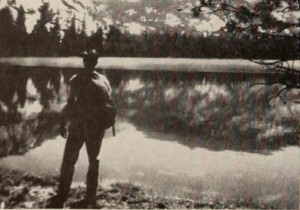 Date produced: 1947
Filmmaker(s):
Description:
"Filming Yosemite National Park with the same refreshing wit that has made his earlier movie on the Utah parks so popular, Stanley Midgley has even surpassed his previous camera work with spectacular angle shots of the famous waterfalls and brilliantly planned pans which heighten the grandeur of this great glacial valley. In the lighter vein, a fast motion sequence of tourist posturings before the Sequoia trees provides some side splitting satire, while the magnificence of the firefall, the High Country and the mirror like lakes is emphasized by imaginative framing. Always the trail blazer, Mr. Midgley scaled Half Dome with his camera; in other sequences, he apparently conspired with an eagle to get some of the dizzier shots of sheer cliffs and precipitous falls. Yosemite on Two Wheels — and Two Feet is a rare blend of humor and technical skill, an artistic achievement that sets a new high in national park filming." Movie Makers, Dec. 1947, 534.
---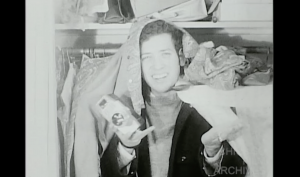 Date produced: 1970
Filmmaker(s):
Description:
"This collaborative student film follows a confused young man throughout his day, as he navigates various environments (church, neighborhood streets, parties, etc), never seeming to fit in. Beatles songs featured prominently throughout." Chicago Film Archives
---
Date produced: 1968
Description:
"Produced by the Hove Civic Society in 1967, this film stresses the need to curb the impact of traffic on environment, to dispel public apathy, and to convince the public that they have a choice where their environment is concerned. It makes brief reference to the Society's dispute with the Borough Council over a proposal to create a six-lane highway along the sea-front; and makes a plea for the construction of by-passes for all resorts on the South Coast (end in Sussex in particular) and for more emphasis on the segregation of vehicular and pedestrian traffic" (The Margate Society Newsletter, Jan 1969, 1).
---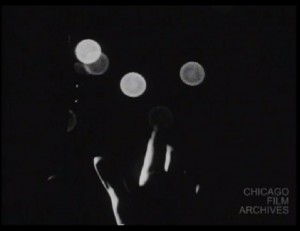 Date produced: 1969
Filmmaker(s):
Description:
"This film seems to pick up the same couple from "I've Got This Problem" (played by Don Klugman and Judy Harris) a few years later, as they attend a swinging bohemian party where they pilfer personal objects from the unsuspecting guests." Chicago Film Archives.
---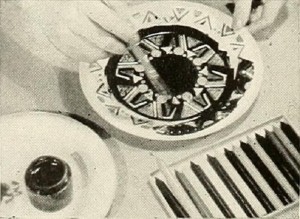 Date produced: 1940
Filmmaker(s):
Description:
"To the fascinating subject of finger painting, Willard Pictures has added its flawless color photography, and the result is Young America Paints. Finger painting is a subject highly suited to movies, in so far as the actual painting is concerned; but, when it comes to showing the results on such an extensive scale as was necessary in this film, a good deal of cinematic ingenuity is needed. Clear, direct presentation marks the entire picture, and the excellent narrative is powerful although unobtrusive. Fresh and interesting angles, together with unconventional lighting methods, serve to give the picture a pace and verve that the subject requires. This movie accomplishes its purpose in a most satisfactory manner, for nobody could see the film without feeling a strong urge to start finger painting for himself. That in itself is the greatest tribute that can be paid to a persuasive type of motion picture." Movie Makers, Dec. 1940, 601.
---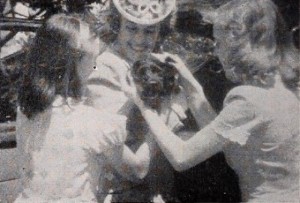 Date produced: 1948
Filmmaker(s):
Description:
"Young Fella is a teaching film; it is also a family film. Again Walter Bergmann presents his charming household and shows the devotion of its members for pets. This time it is a young cocker spaniel that is the star. Subtitles on the proper care of dogs point up the scenes which demonstrate the advice given, as to feeding, bathing, playing and proper use of a run. Young Fella is an appealing pup and a willing actor, but the Bergmann cats steal some of the scenes in typical fashion." Movie Makers, Dec. 1948, 496.
---
Date produced: 1944
Filmmaker(s):
Description:
"A lesson on FDR's Four Freedoms." ("More about an Amateur Cinema League of Nations.")
---
Date produced: 1934
Filmmaker(s):
---
Date produced: 1976
Filmmaker(s):
Description:
"Edited film created by Frank L. Kreznar, an award winning amateur filmmaker, documents Slovenia, Croatia, Bosnia-Herzegovina, Vojvodina, and Serbia. Most of the footage is of countryside or mountainous areas although Kreznar depicts Zagreb, Croatia, and Belgrade, Serbia. The historic Petrovaradin Fortress in Vojvodina, Serbia, is only historic building filmed. The footage of Slovenia emphasizes agriculture, while the footage of Bosnia-Herzegovina includes scenic shots of mountains and waterfalls. Kreznar also shows traditional houses in the rural areas providing a contrast to modern Soviet construction such as Soviet-style apartment buildings. Shots of urban areas also include an emphasis on the lack of cars, high volumes of pedestrian traffic, and the popularity of public transportation. He depicts churches that are still being actively used while discussing the lack of Soviet suppression of religion in Yugoslavia, and he shows the existence of privately held business enterprises such as taxi services and cafés. He also mentions that the majority of Yugoslavian agriculture is under private, family control and that private businesses with five or less employees are allowed to exist. Kreznar discusses the impact of wars between Eastern and Western Europe on this territory, showing various war memorials throughout the film. The film ends with footage of hitchhikers – mainly from countries in Western Europe – attempting to travel through the country" via the Human Studies Film Archives, Smithsonian Museum.
---
Total Pages: 227