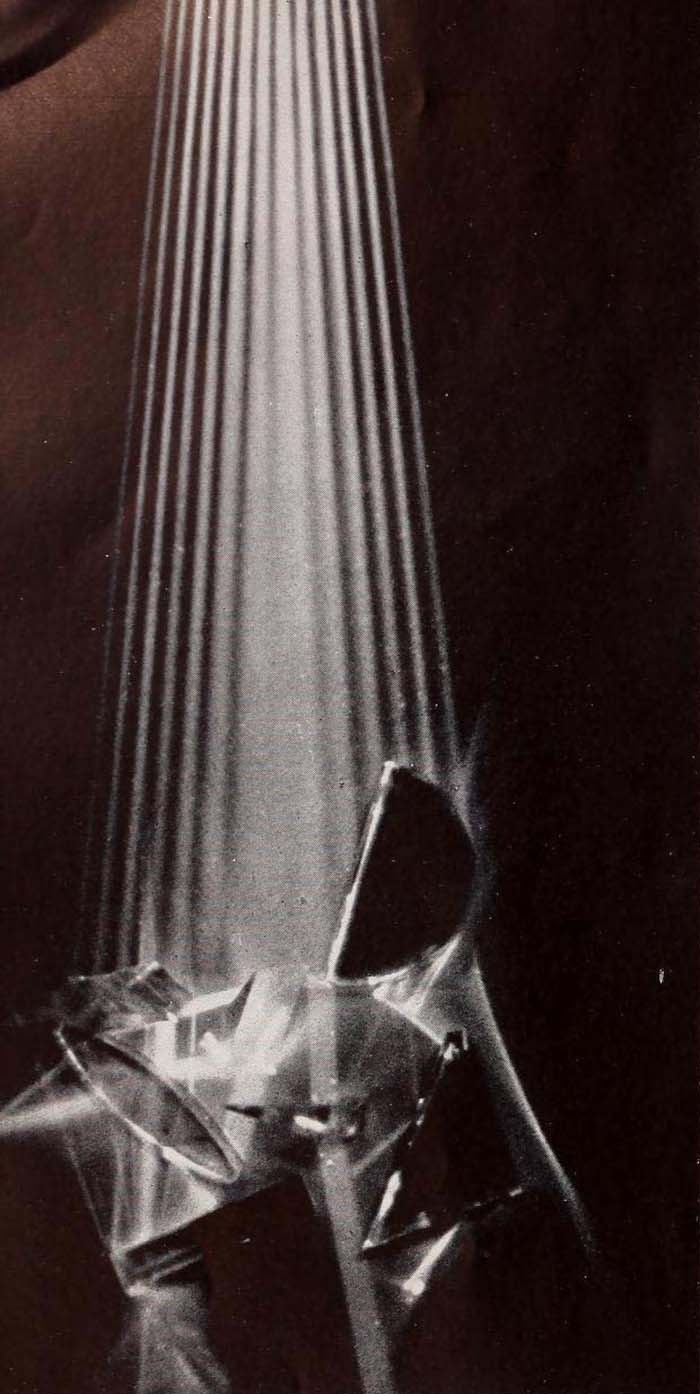 Identifier:
1980.0621.0001 (Source: George Eastman House Museum)
Date produced: 1931
Filmmaker(s):
Languages:
English
Length:
3000 ft
Format:
35mm
Colour:
B&W
Sound Notes:
Silent
Awards/Recognition:
ACL Ten Best 1931
Description:
"The Eyes Of Science, 3000 ft., 35mm., planned and photographed by J. S. Watson, Jr. and Melville Webber, is exceptional for continuity treatment and photography alike. Conceived primarily as an industrial film of a very high order, the final result is a veritable tour de force in the technical accomplishment of film exposition. Telling the story of lens making and culminating in representation of the impressive and complicated optical machinery which plays an important part in modern art and industry, the smoothness of the continuity is plainly the result of careful calculation of the interest value of the whole as well as of every small part. Multiple exposures, lap dissolves, color and microcinematography, as well as a number of surprising photographic effects, give this film a technical interest much above the average. Of these, some of the exceptional examples are the photography of light rays passing through prisms and lenses; a recording of the phenomenon of Newton's Rings in color; a scene showing a subject, together with its image on the ground glass of a camera; strains in a structure revealed by polarized light and many other remarkable shots. In short, the combination of cinematic art and skill with which this film is composed places it well in the front rank of all existing industrials regardless of the source of their production." Movie Makers, Dec. 1931, 657.

"Made in collaboration with Melville Webber for Bausch & Lomb Optical Co. Included: glass making, grinding, and polishing lenses and prisms, manufacture and principles of operation of microscopes, telescopes, and other optical instruments" (Unseen Cinema, 114).
Resources:
The Eyes of Science is explored as an example of "amateur industrial filmmaking" in Charles Tepperman's Amateur Cinema: The Rise of North American Moviemaking, 1923-1960, 222-227.

The film is discussed as an "Industrial" film in Louis M. Bailey's article "Educational Films" (Movie Makers, May 1931, 263).

Discussed in Bruce Charles Posner's Unseen Cinema: Early American Avant-garde Film 1893-1941. Anthology Film Archives, 2001.
Locations:
Subjects:
Genre:
Form:
Tags:
Repository:
George Eastman House (Rochester, N.Y.)
Screenings:
Screened at an American Society of Cinematographers meeting in 1931: Hollywood, CA
Screened by the Cinemat Club of Mt. Kisco in 1932: Mt. Kisco, N.Y.
Screened by the Cine-Still Club in 1932: Philadelphia, PA
Screened by the Richmond Camera Club in 1932: Richmond, CA
Screened by the Hartford Cinema Club in 1933: Hartford, CT
Screened by the Amateur Cine Club of Los Angeles in December 1933: Los Angeles, CA
Screened by Clara Brock, "instructor in fine arts in Erasmus Hall High School," for her students as part of a sample of "advanced amateur films" in 1933: Brooklyn, N.Y.
Screened at South High School's "Science Night" exhibit on November 23, 1934: Denver, CO
Screened by the National Capital Cinema Club in 1934: Washington, D.C.
Screened by the Paramount Movie Club on April 1, 1937: Manheim, PA
Screened by the Minneapolis Cine Club in 1937: Minneapolis, MN
Video Link:
---