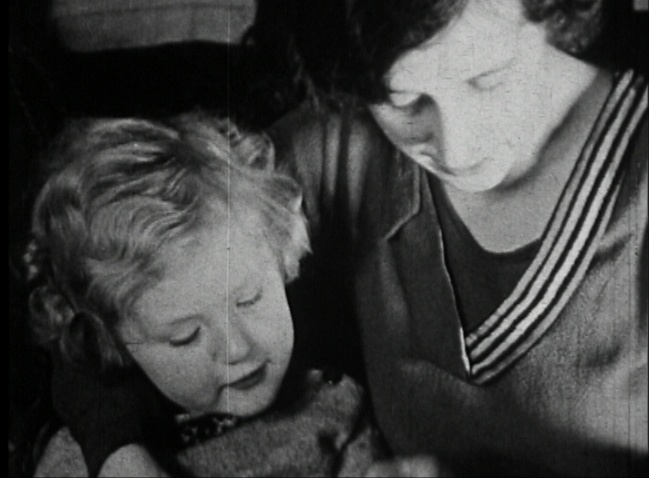 Identifier:
3004 (Source: East Anglian Film Archive)
Date produced: 1935
Filmmaker(s):
Country of Production:
United Kingdom
Languages:
English
Duration:
00:17:27
Length:
400 ft
Format:
16mm
Colour:
B&W
Sound Notes:
Silent
Awards/Recognition:
IAC Film Collection, East Anglian Film Archive
Description:
A short film about the young Martin children.
Subjects:
Genre:
Form:
Tags:
Repository:
Institute of Amateur Cinematographers Collection, East Anglian Film Archive
Viewing Notes:
"Two blonde girls - one just toddling and the other about a year older - upon awakening go into their parents' bedroom to say good morning. The normal routing of washing is delayed by the elder girl going to work on her teddy bear with dad's shaving brush and razor. Mother cooks breakfast. After a well-behaved start to the meal, the youngsters begin skylarking. The flower vase upsets; the tea cosy finishes on the baby's head. Total mess and mayhem results. Mother clears up. Baby is put into pram, and, with elder sister is put into back garden. At mid-day, father returns home for a roast meal. Mother feeds the baby whilst the elder girl bottle-feeds her doll. The baby opens picture-book and her sister fills dad's pipe. Mother readies the children for a trip out. The leave the house - named 'Birling' - and go to a park with a lake. Returning home, the kettle heats on the fire hob, the pot is filled and the children have their tea. Then they play with bricks and a book in front of the tiled fireplace. Having gone upstairs, the youngsters are undressed and given their bath, with the baby attempting to drink bathwater from a mug. Mother dresses baby, feeds her and puts her to bed. Dad reads the paper by the fireside. His daughter kisses him - and her doll - goodnight. The last shot shows the girl asleep" (EAFA Database).
Video Link:
---